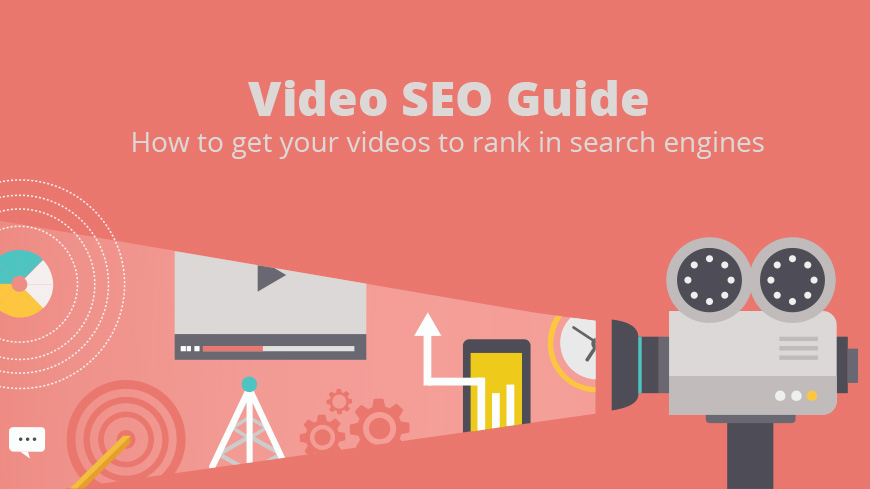 How to get your videos to rank in search engines
In order to get the information for search results, Google uses crawlers that search the internet and gather information from each piece of content. Most times the top results are videos, and Google works to help its users find the videos that are most useful to them. Each day, there are millions of users online and looking for videos, so why not work to make yours one of the best.
Video results are shown not only in the Video search, but also the Everything search also. In general, they will show up as a normal result with some information that is specific to the video, like a thumbnail as well as the full length. When a person clicks on this video result, they will be taken to the page that will watch the video.

One of the most important ways for a video to show up in search results, is for it to be indexed properly. Many times, the information that is on a page that has a video isn't enough to thoroughly describe the video for Google. There are three pieces of information that are required for each video—title, description, and thumbnail. You will have to use a video sitemap or on-page markup to make this information available to Google. Both options are not seen by the visitors of your website and will not affect how the web page looks or how users interact with it. Once Google knows about a video, they can indicate that a certain video is a result when appropriate, but it is not guaranteed that the results will appear as a video.

On-page markup is added to the source code of a web page and is hidden descriptive data. There is a newer markup format that has been designed to work well with the top search engines, and it is called schema.org. Google also works well with Facebook Share and RDFa on-page markups.

The sitemaps are XML documents that provide a description of the video. The sitemaps are submitted to Google and provide them with the important information about it without having to wait for their bots to crawl the video's page.
Videos and Schema.org
Schema.org is recommended by Google to provide on-page markup for videos. The vocabulary for this program was developed by and is supported by the internet's largest search engines—Google, Bing, and Yahoo. When you choose to use schema.org to describe the videos, this lets Google index the videos and show them in search results.

You will need to use schema.org/videoobject to give the description of the videos. Ensure that the video and schema.org markup can be seen without starting any Flash or JavaScript. You can see how your website will look to Google by viewing the pages with videos in a browser that is text only, like Lynx, and then in a more widely used browser once you know that Flash and JavaScript are disabled. A sitemap will also help Google discover your videos, and will provide more information about the content of the video.
Video Sitemaps
Provide Google with information about your videos on your site by using the Google Video extension in the Sitemap protocol. You will be able to create a new sitemap for the video, or simply add the information about the video to an existing sitemap.

Entries for a video sitemap have to include a link to the landing page for a video, as well as some other information that is required. Much of the items in a video sitemap are optional to include, but they will provide vital metadata that works to heighten the video results and better Google's ability to include the video within the search results. Once the sitemap has been created, it should be submitted to Google by using the Webmaster Tools. Google cannot guarantee that every video that is within a sitemap will appear in the search results, or that all of the information in the sitemap will be used.

There are some guidelines that video content in sitemaps should follow. The video content includes URLs leading to players showing the video, web pages that will embed video, and URLs of raw video content that is hosted on your own site. If Google is not able use the URLs provided for discovering the video content, then Googlebot will ignore these entries.

Each of the URL entries has to contain the title, description, play page URL, thumbnail URL, and the raw video file URL/video player URL.

Each sitemap file that is provided must have right at or less than 50,000 entries. If there are more than 50,000 videos, you will need to break them up into multiple sitemaps, and then put those sitemaps into a sitemap index file. You will not be able to nest sitemap indexes within sitemaps. Note that if you are adding more tags, the file has to be no more than 50MB, uncompressed even if you are not yet at the 50,000 file limit.

Google can crawl these video types: mpeg, mpg, mp4, m4v, wmv, mov, asf, avi, ra, ram, rm, flv, and swf. All of the files have to be able to be accessed through HTTP. Any metafiles that request the source to be downloaded through streaming protocols are not supported by Google.

Ensure that your robots.txt file is not blocking any of the items that are with each sitemap entry. This includes the play page, the thumbnail URL, and the video URL.

Google will need to verify that the information included for each video matches what is on the website. To see how the website will look to Google, you should try to look at your pages via a text-only browser like Lynx, or a more conventional browser that has JavaScript and Flash disabled.

You will be able to specify the pages from different sites on the same sitemap. All of the sites, even the one that is on your sitemap, have to be verified using Webmaster tools.
Video Markup Alternatives
Google does recommend using schema.org and video sitemaps to mark up videos, but also supports Facebook's share tags, RDFa markup, and also mRSS feeds. If you haven't settled on which one you'll be using, it is advised by Google to use either video sitemaps or schema.org.

mRSS is supported by Google and is similar to video sitemaps in that it can be both tested and submitted. The mRSS feed has to be under 50MB when it is not compressed, and cannot contain no more than 50,000 videos. If the uncompressed file contains more than 50,000 videos or is over 50MB, you will need to submit multiple mRSS feeds as well as a sitemap index file. Don't forget that a sitemap index can contain an mRSS feed. Once your mRSS feed has been created, you are able to test and submit it just like a sitemap.

Facebook Share tags are those that are input into the header of a page and are only able to describe a single video. The tags need to describe the most prominent video on the page so that Google will not have trouble indexing the video.

Yahoo!'s SearchMonkey RDFa markup is recognized by Google, and the tags are placed on the video object, and can be used for more than one video on the same page.
Testing a Video Markup
Use Google's Rich Snippet Testing tool to test your schema.org video markup. It will extract all of the schema.org data from the web page and then display it in the way that Google would see it. It is possible that you won't see a result preview when the video markup has been found.

When you need to test or submit a sitemap or feed, you have to add and then verify the website within Google's Webmaster tools. The site that contains the sitemap/feed and all sites that are referenced on the sitemap/feed need to be verified. To test the sitemap or feed, the sitemaps section of the Webmaster tools will have a test tool that immediately downloads and will validate your sitemap or feed, indicating any problems within the markup. Once corrected, it can be submitted. If a sitemap or feed with errors is submitted, the indexing will not be affected. Once a correct sitemap or feed is submitted, it may take some time for the change to be processed, but you will be able to view the status in Webmaster Tools.
Video Updates and Notifying Google
When markup data for a video changes, Google sees the change the next time that it crawls the page. You are able to let Google know about the page when you use a normal sitemap or a video sitemap.

After a video sitemap has been submitted, Google will sporadically download it again and update the search results with any data that has been changed. You are also able to notify Google of the changed sitemap with an HTTP ping request or re-submit the sitemap.

If the video does not exist anymore or you'd like to remove it from the search results, you can notify Google by returning a 404 response on the page that the video would be at, or you can use a past expiration date. When you remove video data, you will ensure that the page won't show up as a video but it is possible that the page won't be totally removed from Google.

It is possible to set an expiration date in a video sitemap as well as in mRSS. When you use an expiration date from the past, you will be preventing from being shown in a search results page.

A video will be removed from Google search results when it is found out to come back with a 404 HTTP error code. It is recommended by Google to use this 404 response on any page in which the content is a video that is no longer available. Added to the response code, you will be able to add in HTML to make the content transparent to many users.
Restrictions on Video Platforms
While using video sitemaps, you can indicate the platform in which the video is allowed to be shown on. This could be browsers on mobile devices, computer browsers, and TV browsers. If the video does not indicate any restrictions on platforms, you can totally omit the tag for platform restrictions.

Within the video sitemaps, <video:platform> will be used to allow or deny the video from being shown 0n specified platforms, and there can be only one of these tags per video entry.
Restrictions for Different Countries
Utilizing a sitemap, it is possible to allow or deny videos from appearing in a specific country. The video:restriction tag is where this happens. There is only one of these tags allowed per entry, and should contain a list of country codes. The tag will read video:restriction, and "relationship: will be either relationship="allow" or relationship="deny". If there are no countries specified in the "allow" portion, the video will not be visible anywhere. If there are no countries specified in the "deny" area, the video will appear everywhere. mRSS feeds will use the tag media:restriction.
Pitfalls of Video Indexing
Thumbnails must be at least 160x90 pixels, but no more than 1920x1080 pixels. In addition, when you use the same title, description, or thumbnail, the indexing can be affected.
Make sure that the data for each video is unique so that users don't get confused.
An expiration date that is accidentally set in the past will disallow the video from being seen in any search results.
If the video does not expire, there is no need to input an expiration date.
Your videos should be easy to find and visible on your pages. Videos that are not have a higher chance of being overlooked or difficult to find by Google.
Be aware that your video pages should not have any complex Flash or JavaScript setup. Check this by using a text-based browser like Lynx to view the page and make sure that the correct mark-up is visible.
Back