Last Edited January 24, 2018 by Garenne Bigby in Sitemaps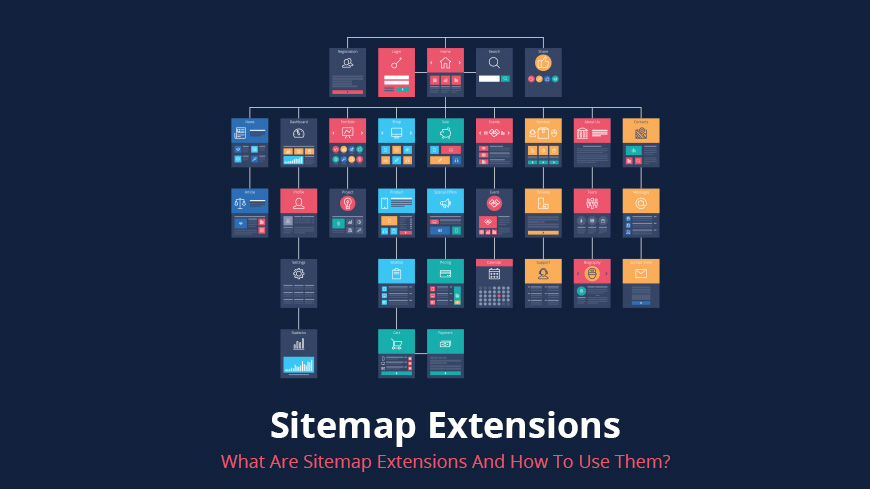 Extensions for sitemaps are an added syntax for certain media types that are contained within a sitemap. These media types would be images, videos, and other hard to break down content that is contained within the site, and the extensions are used to improve its indexing. A byproduct of the improved indexing, the sitemap extensions will provide information from tags on the elements to aid in making the website more accessible. In short, the extensions are used for content that is not just simply words or text in a default language.
Sitemap Extensions Used for Indicating Alternate Language Pages
When a website targets users in more than one language or more than one country, the webmaster can use a sitemap in order to provide Google with alternate language pages, denoted with rel="alternate" hreflang="x". These are the elements that will help Google to serve the right language or regional link to searchers.

To put this into perspective, imagine that there is a website that is created in English and is targeted at those who speak English all over the world. There may also be equivalent versions of this web page that are targeted at those who speak German all over the world, and then a version of the site that is aimed at those who speak German AND are located in Switzerland. The full set of URLs would be as follows:

www.sample.com/english/
www.sample.com/deutsch/
www.sample.com/schweiz-deutsch/

When using alternate language extensions in a sitemap, be sure to make a different URL element for each of the URLs. Each of the elements has to include a loc (location) tag that will indicate the URLs of the page, and a subelement of xhtml:link rel="alternate" hreflang="XX" for each alternate version of the page, including itself.
Sitemap Extensions for Videos
Video sitemaps are a great way to ensure that search engines like Google know all of the information about the content on your website, especially when that content might not be discovered otherwise, like with normal crawling mechanisms. By improving the findability of the video content will improve your own website's appearance in the Google Video search results. When a sitemap is submitted with video information, Google will make the video URL searchable through Google Video. The search results will contain a thumbnail image (this will be provided by you or generated automatically by Google) of the video content, and also the information, like the title, that is contained in the sitemap. Google is not able to guarantee if or when a user's video will be added to their index, because Google relies on a very complex algorithm for this process.

You can actually create a sitemap listing the video content, or you may consider adding information about the video content to an already existing sitemap. It all just depends on which option is more convenient for the user. The Google extension for videos in the sitemap protocol will enable users to provide Google with descriptive information that will make it easier for users to find a specific piece of content. This would be information like the title of the video, the description, the duration, and the like.

It should be noted that Google may use text that is on the video's web page rather that any text that has been supplied within the sitemap that you created.
Adding Video content to Your Sitemap
The entry in a video sitemap has to include a link to a landing page for the video, and some other required information. Much of the elements in a video sitemap are not required, but they will provide metadata that is valuable and useful, thus increasing the searchability and the search engine's ability to include the video in their search results.

Once the sitemap has been created, you can submit it to Google using their Webmaster Tools. While Google does not guarantee that all of the videos that are included on a sitemap will appear in their search results, or that they will use all of the information for the video that has been included in their sitemap.
Guidelines for Video Content in Sitemaps
Video content would include web pages that embed videos, URLs that link to players for videos, or even the URL for raw video content that is hosted right on the website. When Google is not able to discover the video content at the URLs that are provided, it means that Googlebot will ignore them.

Each entry for a video must contain: the title, the description, the page play URL, the thumbnail URL, and the raw video file URL or URL for the video player. Google can only crawl the following types of video files: .MPEG, .MPG, .M4V, .MP4, .MOV,.ASF, .WMV,.RA, .RAM, .AVI,.FLV, .RM, .SWF. All of these files must be accessible through HTTP. When a source has to be downloaded by streaming, Google does not support those metafiles.

You must ensure that any robot.txt files are not blocking any of the items that are included in each sitemap entry. These items would include the page play URL, the thumbnail URL, and the video URL.

Google will need to verify that the information that has been included for each video does match what is on your own website. You may view how the website will appear to Google by viewing your pages in a browser that is text-only, like Lynx. If you would rather use a browser that is more conventional, you would need to ensure that JavaScript and Flash have been disabled.

It is possible to specify pages that are from different websites in one sitemap. All websites, including the one that contains the sitemap, has to be verified through Webmaster Tools.

The tags that are absolutely required for a video extension are the location, the video, the thumbnail location, title, and description. The content location, player location, duration, expiration date, rating, view count, publication date, tag, category, restriction, price, gallery restriction, uploader, platform, and the live status of the video are all optional.
When You Should Employ Sitemap Extensions
Google fully supports an extended sitemap scheme for media types like videos, images, news, and feature-phone-only pages. These extensions are best to be used when describing these media types. This is because they are difficult to parse—and the extensions will help to improve indexing of the website.
Image Sitemap Extensions
When you adhere to the following guidelines, you will increase the likelihood that the images in your sitemap will be found through Google image search results. Also, you may use Google image extensions for site maps in order to give Google more information about the images that are contained on your web pages such as the file size, dimension size, the location, title, caption, and license. These image sitemaps will help Google to discover images that would otherwise be overlooked, and will allow you to pinpoint images on your website that you want Google to crawl and index. It is possible to use separate sitemaps to list images, or you can choose to add information for images from an existing site map.
Image Tag Definitions
To start with, the very first required tag is "image", denoted as <image:image>. This will enclose all information about one single image. Each URL tag (denoted as <url>) may contain no more than 1,000 image tags.

<image:loc> is the URL in which the image is located. The case may be that the image URL is not on the same domain as the main site. This is no problem when both of the domains are verified in the Search Console.
<image:caption> while optional, this is the caption of the image. This portion of the metadata assists in accessibility of the website as a whole.
<image:geo_location> also optional, it is the geographical location of the image. A sample of this would <image:geo_location>Paris,France</image:geo_location
<image:title> The title of the image, and is totally optional.
<image:license> this is a URL to the license of the image.

While some of these tags are optional, these are the things that are vital metadata contained in a sitemap. This metadata serves many important purposes. For one, this metadata is what is communicated to search engines and will influence how the website or image will show up in the search engine thanks to crawlers. On another hand, this metadata will help with the overall accessibility of the website. When these additional descriptions of the image are added, accessibility tools will relay the information to users that would not be able to find it out otherwise.
Feature Phone Sitemaps
It is important to know that you should not create a feature phone sitemap unless there is a specific feature phone version of a web page design for feature phones. Feature phones are phones that are not smart phones. Smart phones use mobile versions of websites when accessing them from the internet.

You may create a sitemap that is optimized for mobile phones by using a sitemap protocol in addition to an extra tag and namespace requirement. You can generate a separate sitemap listing for the video content, or you may add information about the video content to a site map that already exists, whichever option is more convenient for you.

There are some guidelines that you need to be aware of when making a mobile site map; when using a sitemap generation tool, you must first check to ensure that it can create mobile sitemaps. Include the mobile tag to ensure that the mobile URLs maybe crawled properly. URLs that are serving multiple markup languages are able to be listed on a single site map.

The sitemap for a mobile URL will need to contain the <mobile:mobile/> tag. It is absolutely required, and will need to be put inside any <url> element in order to indicate that the URL delivers content that is optimized for any feature phone.
News Sitemap Extensions
News articles are elements that are hard for a website crawler to analyze, thus there may be a need for a sitemap extension specific for news articles. There should only be URLs for articles that have been published in the last 48 hours—any articles that are older than that can be removed. They will remain on the News index for the full 30 day period, but will clog up the sitemap if they remain there. It is not possible for Google Sitemap Generator to create a news sitemap, because it would include URLs that do not match up with specific news articles. There is an abundance of third party tools that are available in order to help you make a Google News Sitemap.

Using sitemap extensions is just one part of being able to build a website that will find success. Whether it is an extension for an alternate language page, a video element, an image element, or for a feature phone, these sitemap extensions will call for information about these specific elements. When a user decides to utilize these extensions, they are opting to provide search engines will very important information about the elements. This will aid in a more accurate crawl and possible produce the website in search engine results more accurately. When a user decides to provide additional information about the extensions, such as their descriptions, the website begins to foster accessibility. While not all tags and elements are vital, they will never harm the website's metadata—only help it. This added syntax takes very little additional effort and will do nothing but improve a website. It will help to improve the indexing process of a website with these types of content that are hard to analyze by a website crawler, when there is little information provided by the sitemap.

All of these items that are used to sitemap extensions are elements that are difficult for a search engine crawler to decipher, such as a static image, a video, and even news articles. Though they are not absolutely necessary, they are recommended for improving a sitemap, which will in turn improve the website.
Back