Section 508 is part of the Workforce Investment Act of 1998, which itself is part of the Rehabilitation Act of 1973. With this, Information and Communications Technology, or ICT, is gathered and filed for people with disabilities to have easy access. They're able to get to this information regardless of whether they're employed with the federal government, making it much simpler for them to find the help they may need. Through this act, agencies are required by law to make such technology, be it online training or even their website fully accessible for anyone to see at any given time. Such cases like a person with disabilities job-hunting or seeking help programs doesn't need to jump over any special hurdles to get to the information they require.
It's gone through several facelifts over the years as times changes along with social needs. Many people often hear the term 'section 508' and while some may understand that it could apply to their business, they don't know what it means. How do you know if it applies to you? Must you be in compliance with it, or do your factors make you exempt? Is exemption even possible from this? And where do you go to get more information on it? Fortunately, these questions are all fairly easy to answer. They're commonly asked questions by virtually all business owners, big and small. And with the concept of working with disabilities gaining ground over the last century, it's a stream of constant problems that require an equal stream of constant solutions.
Thanks to the refresh in 2017, guidelines were made even more stringent to allow for the millions of disabled people who often struggle to find everyday information that many of us don't think twice about being able to reach. We don't usually have a reason to think about it; it's just there. This is why it's even more important that we take the needs of disabled people into account while we build our businesses and subsequent websites.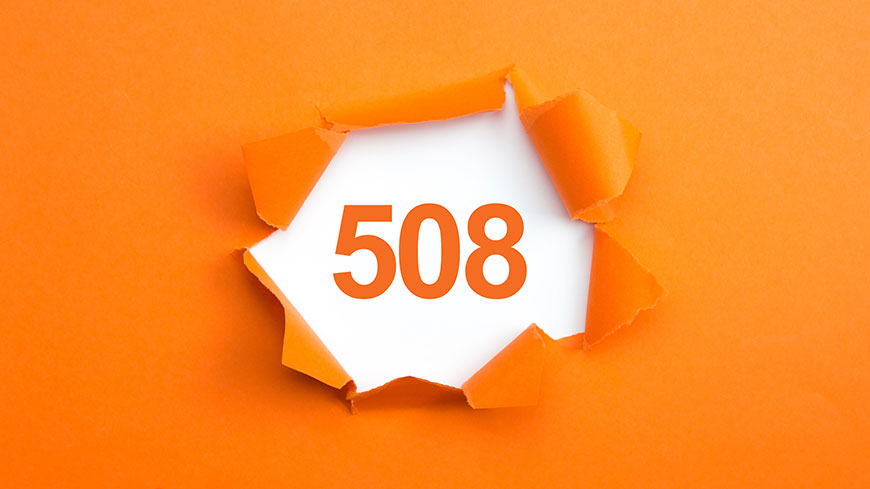 Information and Communications Technology (ICT) is any piece of equipment where data of any kind may be transferred or received, such as;
Anywhere that can be used to transfer data of any kind for any business connected to federal law is any place where you'll likely find compliance with Section 508. Libraries, printing places, post offices, hospitals, offices, etc. If it transmits data, it counts and must be factored into any possible changes made in attempts to be compliant with the standards.

FAR  
Under the Federal Acquisition Regulation, anyone with any physical or sensory disability has granted permission to access any kind of government form or other similar information from any available website or other source of data. The criteria under which certain software applications and other various forms of media and operating systems vary by the source of the data. Any of the mentioned types can also cover it. A final rule announced in January of 2017 updated the section 508 standards and the added guidelines, effectively covering the segment under section 255 of the Communications Act as a result.

Related Laws  
Sections 508 and 501 are often mistaken for one another since they both talk about the same basic subject; people with disabilities. However, while section 508 talks about the distribution of information and it is readily accessible to those who are disabled, section 501 discusses reasonable accommodation for anyone who is currently employed with the federal government. It also covered those who have merely applied for such a job. Section 508 is one of several disability laws, which include the Americans With Disabilities Act, the Telecommunications Act, the Fair Housing Act, and the Rehabilitation Act.
The basic function of these, as well as Section 508, is simply to protect any citizen of the US with disabilities from discrimination against their person on basis of those disabilities alone. This includes anything from job discrimination to transportation, etc.
Next, there's section 505, which closely correlates with section 501 in preventing employers from discriminating against disabled employees. It also prevents them from discriminating against individuals who may wish to find employment while dealing with some sort of disability.
Section 504, along the same lines, forbids federal agencies from such discrimination against disabled parties and requires accommodation to a reasonable extent for qualified individuals who gain employment with them.

Agency Policies  
Thanks to the 2017 revision of section 508, agencies across the country went over the standards on the policies of the various sections covering disability protection and updating them as needed. Any agency following these laws is required to not only make their own information visible and accessible but also the information about these specific laws as well.
What is Section 508?
The purpose of this act is to require all federal agencies to make sure their electronic and information technology is fully accessible to everyone, including those with disabilities. When the refresh added in 2017, all guidelines and requirements were updated to better match the most recent innovations in communications technology. All vendors and partners of targeted federal agencies are required by law to comply with this act. There are precisely three prominent laws that all relate back to Section 508:
Section 508 simply makes it easier for people with less ability than the average person, such as walking, speaking, or sensory deprivation, to access the same programs, rights, and advantages that a fully non-disabled person would be able to get. It also works alongside Section 501 in preventing discrimination through these programs by forbidding certain information or else covering up the path to it for people who might have a harder time seeking it out.
Any agency that uses any form of ICT, such as telephones or computers, are required to make sure that all equipment is geared to be operated by anyone dealing with just about any impediment.
Who Does Section 508 Apply To?
Primarily any legal organization operating under permission of the federal government is required to be compliant to Section 508. If you own a business, your wish is for as many people to access it as possible. But in order to be successful, you have to make sure that it's capable of reaching that many. For example, if you have a website, it's perfectly viewable by someone who can see, but a person who is blind using a screen reader must be able to interpret what's been posted without any more difficulty than a visually oriented person might have.
A screen reader is a tool that persons who are blind can use to listen to what's posted on a website. This is done through the HTML interpreting the site's contents and spelling out in audio-feeds for the person to listen to. In order to comply with Section 508 on your website, certain factors must come into play.
All non-decorative images must make use of alt-text describing the image thoroughly

Link texts must be descriptive of where they're linking to

Heading tags must flow smoothly through the hierarchy of subjects
You might also run into colorblind people who wouldn't necessarily understand the color cues you might attach to different link tags on your website. Therefore, to counter this, you have to make sure your cues are described well and distinctly in order to be best understood. There has to be a clearly defined color contrast between the text on the page and the backgrounds behind it. An excellent way to pinpoint any issues for yourself is to view your site in black and white and see how easily you can make distinctions from various aspects of the page. The proper break-down of all of this is that regardless of your business, how you run it, and where, it is required by law to be fully understandable by all people.
If you're an institution that receives federal funding, then you're required to comply. Agencies, non-profits, and any public education program, etc., these are all organizations that must make sure that every ounce of information they release is fully reachable by any standard. Several forms of communication means are also covered under section 508. These include:
Mobile apps

Websites

Most digital media

Kiosks
Even information kiosks you might find in a mall or on the street are required to comply with section 508. It's not just a matter of media control; it's an essential way for the disabled community to maintain their valuable independence. By refusing to adapt and remove any potential barriers to your product, you're not only in violation of the law—you're restricting the independence of your disabled consumers by withholding this information from them.


How Do You Become Section 508 Compliant?
If you work anywhere near finance, healthcare, customer service, human resources, legal, or any position that requires you to spend time with people, the chances are that you'll make use of some sort of allowance to a person with disabilities in order to best suit their needs. If this is the case, then you're officially required to be compliant with section 508. All it means is that your disabled customers must have the same access to anything you provide as any abled customers you might have. The Americans With Disabilities Act ensures equal opportunity for people who struggle with everyday life thanks to a handicap, but it's section 508 that enforces it electronically as well.
If your job falls into any customer service category, it's also your job to make sure your business meets the strict standards it employs. Since this is your own legal obligation, it's imperative that you start immediately. Any electronic information your business makes use of through storage, communication, presentation, production and website duplication, CD, DVD, etc., must all fall under the specific guidelines put forward by section 508. It's a bit tedious and hard to understand, but it's a necessary evil in the world of business in this country.
Firstly, you need to make sure you fully understand what your goals are. What do you most want people to see about you through your page once you release your site onto the web? Figure that step out first and then go over your game plan to figure out what about your website needs to stand out the most. From there, you can make any necessary changes to make your site more efficiently accessible.
There are plenty of resources at your disposal that you can make use of, such as the W3C Web Accessibility Initiative which offers probably the most widely standardized guidelines for accessibility. It provides in-depth tools to understand what a website might look like before and after it's been revamped for compliance to Section 508. Next, you can assess your site and pinpoint whether or not you only have a few simple changes to make, or honestly whether you should completely scrap what already have and start over from scratch.
You yourself will have access to a VPAT, or Voluntary Product Accessibility Template, which is a document designed to give you a rundown of how accessible your product actually is. These also help federal agencies weed out compliant businesses from those who are somewhat lacking. Once you pinpoint the places, either in your site, your business or any physical information you might have out, it becomes easier to pinpoint where you need to adapt and become more comprehensible.
A few things you need to be on the lookout for are certain factors that may actually be impossible to make use of under section 508. PDF files or Portable Document Forms are often ready for printing as is and can't be altered. Similarly, they're not compatible with screen readers, which means that they don't comply with the standards. If you must use them for your business, you need to make sure you have an alternative means of getting that information into the hands of everyone. This includes anyone who might not be able to make the best use of a PDF, be it electronically, which could potentially be accessible by a screen reader, or else in audio-format for someone to listen to manually.
There are several ways to test and make sure that your information falls correctly under the standards. While it's ultimately your own responsibility to make sure your business falls under the correct standards, you are able to choose any number of these testing methods. While it is possible to perform the various tests internally, this isn't recommended, as you're liable to miss certain factors that might not pop out at you immediately. Instead, there are 508 compliance tests you can purchase online. These are various types of software designed to scan websites and look for weak spots. They'll then provide you with suggestions you can make use of best to improve your website to fit the 508 standards. 
The problem here lies in the fact that it's not foolproof and it can actually alter content negatively, rendering unusable for your purposes. It's a reliable method, but one that should be taken with a grain of salt just to be safe. There's no denying that the standards put forth by section 508 are complex and make building an accessible website more difficult than you probably expected it to be. This also includes all documents that may wind up attached to the website, since these also need to be evaluated for compliance to section 508 before they can truly be used.
In effect, your best hope at properly complying with section 508 in this chaotic and busily structured workplace is to find an experienced and knowledgeable accessibility expert whose job it is to make sure that all federally connected agencies are compliant. These experts specialize in creating plans that can tailor to the business in question to help it to best meet the required standards for optimum effect. When it comes to finding such an expert, you can go by reputation.
More often than not, you'll track down several, end up speaking with them and find yourself working with the one who seems to understand you the best. This one will be able to understand the goals you're working toward and will be able to narrow down the best route toward 508 compliance that does the least amount of altering or even damage to your overall product and appearance.


Is It Possible To Be Exempt from Section 508?
Sometimes, modifying something entirely to comply with Section 508 can cause 'undue burden,' which is described as significant difficulty or expense incurred in doing so. And while this is a wholly legitimate rule, the company claiming Undue Burden must explain to great detail and effect why they cannot comply. They must also provide proof that their information is still accessible in some other form to disabled people. As stated by the Ginger-Cohen Act of 1996, national security systems are exempt to a limited extent, such as military command, weaponry, intelligence, and cryptologic activities. However, this is the extent of the exemption and must be fully enforced in every other government facet.
Without the exemption of undue burden, it's required by law to go to every length to make any and all information accessible to anyone. However, this only applies to direct results. While it does apply to anyone attempting to provide a work service for employees, it doesn't mean that the equipment used to achieve these results must necessarily be compliant to section 508. If someone uses crummy computers to deliver a website that is compliant to section 508's policies, then the state of the equipment makes little difference. The final product met with the required standards and that's all that ultimately matters.
 
Issues Addressed By Section 508
Any number of issues recognized by the federal government fall in line with Section 508 compliance. Anything that makes some daily tasks more difficult for one person than they usually are for the many. These include such issues as:
Visual and audio disabilities

Physical impairments, such as amputees

Nerve damage

Neural disabilities such as epilepsy

Speech impediments
Any potential biological handicap must be covered in some way that is entirely compliant to section 508 by law. For example; sometimes, on a website, you'll get a prompt asking you to type in a series of random numbers and letters that will prove you're a human and not a robot. In this same box, you'll often see a little bullhorn symbol that was put there so someone who might be visually impeded can get an audio cue for this prompt instead of a visual one. Similarly, if you're on a streaming site like YouTube, there will often be a little options box in the lower corner that offers the choice for subtitles attached to the video for hearing-impaired people to listen in. This way, the same source of information is reachable by several different forms of accessibility, making them fully compliant with section 508.
Similarly, you've probably seen those small raised bumps on surfaces all over the place. That's braille, designed for fully or partially blind people to read with their fingers and interpret what's being said on the sign above the dots. This way, they can just do the task themselves, and they don't have to worry about asking someone to translate what's being said. There is any number of conditions a person might be struggling with that can be averted with the right, and often simple, technique to make this simple task that much easier for them to accomplish. It isn't that complicated once you address the most common needs and make allowances for them where they'll best be applied in any of your information distribution.


Overview of Section 508
It's ultimately not a bad thing to be better connected to your consumer base, especially if your base covers a large proportion of disabled individuals. Aside from complying with federal law, which is usually just the easier option, it also serves as a good social standpoint to better your reputation among your consumers. If they feel like their needs are being taken into account in your business, then they're more likely to come back and keep taking you seriously. It's not so much a dredging chore as it is an opportunity. It's an easy way to see where you're lacking the most of your workspace, in the various processes you might make use of for production, in your workplace culture, and in the morale of your consumers and employees. It's almostimpossible to avoid federally acquainted businesses and organizations these days, so as a business owner, it's in your best interests to comply. Anyone who works in education, the healthcare industry, financial, housing, etc., it's all going to fall under the strict standards of section 508.
Ultimately, all it is is excellent customer service tactics. Customers just want to feel like they matter in your crazy, chaotic world. They want to feel like their views are as important as any other person who comes in looking to work with you in some form or another. By working with an experienced accessibility expert to improve the content of your site and your business, you're telling your customer base that their independence matters immensely to you. Your number one priority is making sure they're able to access exactly what they're looking for while browsing your website. Your relationship with your customers will improve through your ambition to their betterment. As an added bonus, your company's relationship with the government will stay intact, since you now show a willingness to obey the laws set in place to protect these disabled customers.
You show that you have what it takes to fight the discrimination they likely face every day by making their experience browsing the internet slightly more enjoyable and relaxing. This is just one less thing they've got to worry about in a life where they might have a few more worries than the average person. You're not only taking their independence into account; you're factoring in their comfort levels and treated them like ordinary, everyday human beings. You'd be surprised just how important this sort of mundane treatment is to some people. To these people, it's not mundane at all; it's honestly a bit extraordinary, and this extra effort is likely to win you a few fans, if not regular clientele in the years to come.
Back