While accessibility measures are meant to be an inclusive means to provide people with disabilities the same opportunities as those without disabilities, they are also used to improve the general user experience for any service, device or infrastructure.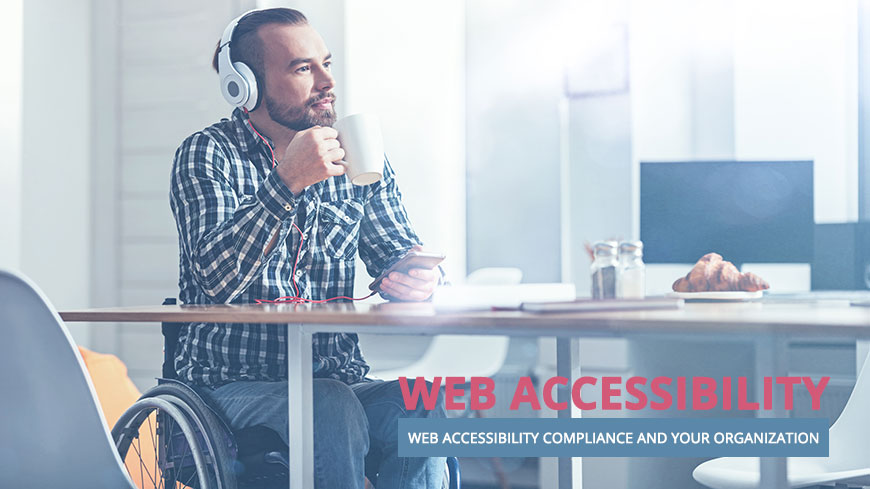 Much of what we consider good architecture, for example, is precisely accessibility-driven architecture. We want open hallways wide enough to fit things in our houses—we want to be exposed to sunlight at the right times—at the right angles.
Accessibility becomes an issue when we fail to realize that different people have different needs and definitions of easy use, particularly as use relates to technology.
As technology is taking more of a central role in our personal and professional lives, allowing people with various visual, hearing or physical impairments to use computers as freely as possible is an important goal for any institution—be it a university or a corporation.
Whether it involves having video lectures in subtitles for students with hearing disabilities or making fonts on your website larger for the elderly or people with vision problems, there are a number of ways to improve accessibility in your organization.

What does accessibility mean in terms of technology?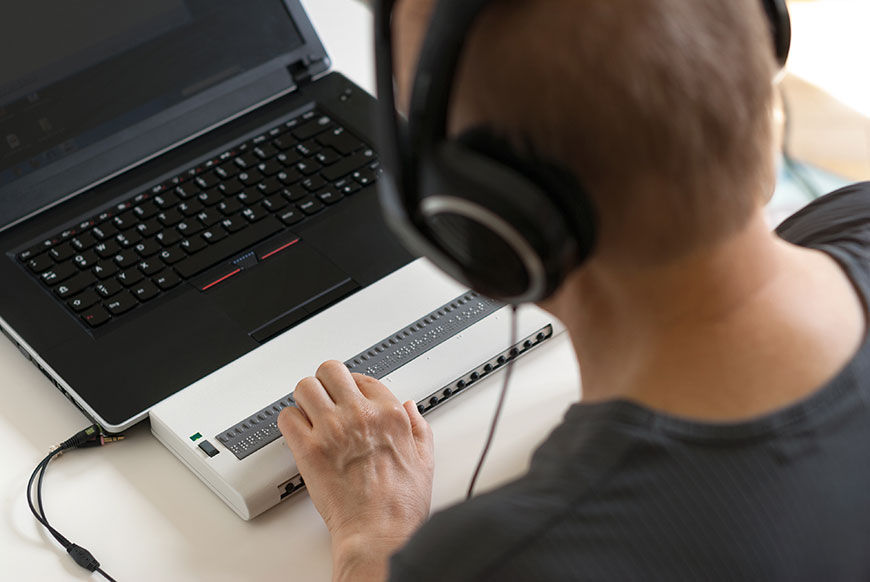 Accessibility from the technological perspective is about allowing people with disabilities so use technologies with the same level of fluid ease as a user without a disability. Ultimately, accessibility is a matter of ethics, as it involves giving people equal opportunities.
If people with disability are to overcome their challenges and reap the benefits of living in modern society, they must be put on an equal level playing field as everyone else.
There are various kinds of disabilities that can hamper a person's use of technology, websites in particular. There are visual impairments, including blindness and motor impairments, which prevent the use of the hands. There's also auditory impairments—deafness and seizures including those caused by light-sensitivity, and various intellectual disabilities.
Each of these requires a unique response from the technology sector to overcome the problem. The authors of websites are the ones who develop and use techniques to ensure accessibility.
Through the years, there have been developed various tools to help get around these challenges. There are Braille terminals and screen readers for the blind, keyboard overlays for those who suffer from motor difficulties, sign language videos for the deaf and others.
But merely having these tools are not enough, for it is difficult to know how far you should go in providing accessibility without some kind of reference.
This is why standards have been developed, and based on the standards, various regulations. From Israel to the U.S., China to Germany, countries have been implementing disabilities legislation for years. With the rise of the internet, they have been forced to include in these legislations clauses regarding electronics and information technology.
The disabilities legislation of many countries draws on the World Wide Web Consortium's (W3C) Web Content Accessibility Guidelines—the international standards when it comes to being web accessibility.

W3C's Web Content Accessibility Guidelines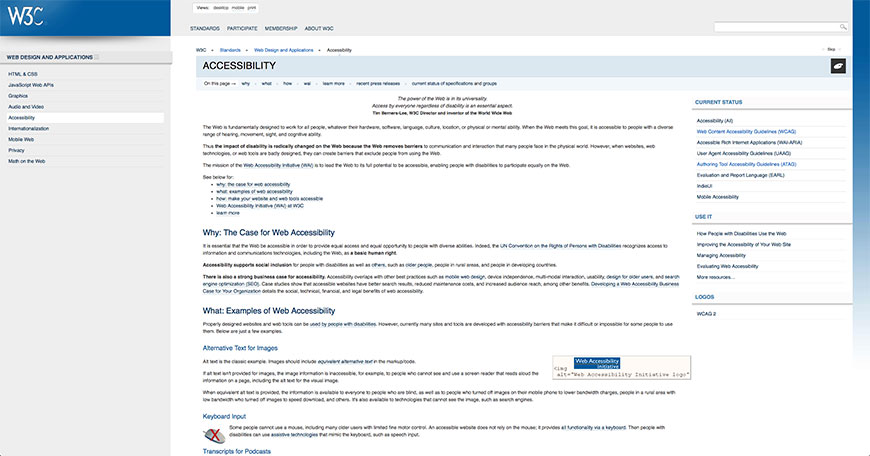 The W3C is the main international standards organization for the internet, and under it, the Web Accessibility Initiative establishes the Web Content Accessibility Guidelines, now in their second version. While intended largely for people with disabilities, the Guidelines also refer to users with limited use (e.g., using mobile devices).
The current WCAG 2.0 became the International Standards Organization (ISO) standard in October 2012. The document lists 12 guidelines under four principles (perceivability, operability, understandability, and robustness). While the techniques that website authors use to achieve these goals may differ, the guidelines and principles do not change.
To take an example, under the principle that websites have to be perceivable, you find the guideline that the website should provide text-alternatives for non-text content. This allows the text to be changed to other forms that people might need (e.g., Braille, speech, etc.). Under operability, you find a guideline that prevents websites from publishing material that is known to cause seizures.
To help authors assess the accessibility of a given system, the W3C also provides a checklist of items grouped under three priorities. These can be simple (e.g., identifying row and column headers whenever a table is used) or more complicated (e.g., making scripts and applets accessible through assistive technologies).
Having seen what accessibility means and the guidelines that exist to ensure it, we move now to the essential steps you need to take to ensure accessibility in your organization.

1. Planning
Any accessibility plan should involve high-level administrators (e.g., university provosts), be policy-centered and publicly known, involve a timeline with clearly defined goals, and include an incentive scheme (for both compliance and non-compliance).

2. Locating Origin
Once you have an accessibility plan, you have various options about where to start. You can go right to the library system, or focus on remote access. You can try to ensure the accessibility of instructional materials and online courses or the redesign of information search. To determine the best place to begin, you can use any combination of the following three things:
Accessibility Audit
An accessibility audit is a process, much like the financial audit, that goes through your entire system searching for accessibility weaknesses. The audit will help you to see which of your technologies or services are not up to standards with accessibility regulations. To conduct the audit, you can hire an auditing agency or perform it yourself. WebAim, for example, provides free web accessibility auditing.
Alternatively, you can study the World Wide Web Consortium's (W3C) Web Content Accessibility Guidelines and craft your own audit. Using their checklist, you can go through any points of interaction that exist between your technologies and services (e.g., websites, printers) and users with disabilities.
Additionally, you can do a survey of existing users to see what needs to be changed and attend training to learn how to properly enforce W3C Guidelines. 
Accessibility Testing
Testing accessibility and usability is an important task that must be done regularly. Real users, with or without impairments, are a valuable resource in determining the ease of use of your websites and services. While testing can be somewhat time- and resource-intensive, thing are some things you can use to get the ball rolling: live in-person testing, remote testing, simulations and assistive technologies.
Testing should be comprehensive and iterative. You should strive to do such testing on all new products and services you offer, and continually re-assess your existing infrastructure.
Automated Testing
Automated testing should be used as a compliment to the other two techniques. It sometimes misses obvious lapses and sends out false alarms. To do an automated test, you will need software. Some packages are available for free (e.g., WAVE by WebAim), while others will cost you but are highly robust (e.g., Odellus' COMPLYFirst).

3. Training Staff
Staff training should be at the heart of your accessibility plan, as they will be ultimately the ones to use it. Regarding both software and hardware, the staff has a huge role to play in ensuring accessibility becomes a practice and not just an idea. Here are some things you can do with your employees.
Train them all on accessibility principles and standards, paying special attention to web authors

Include accessibility in training programs

Give staff resources to use

Ensure that staff come in contact with accessibility experts
There are various training techniques and paradigms to choose from to get the job done. Some focus on one aspect of accessibility while others provide more general overviews. They also come in a range of prices. One notable example is Advocacy by Refocus, a service that provides tools for people with disabilities, and that has received support from the U.S. Department of Education and the Institute for Human-centered Design.

4. Procuring Accessibility
When deciding to implement accessibility principles, it is important that external vendors are made aware of your plans. It is one thing to have accessibility embedded into your organization's framework, but as no organization operates in a vacuum, other entities with which you interact need to comply as well.
When it comes to technology, this is most relevant in terms of procurement, the process by which an organization purchases the equipment it needs to operate. The software and hardware you purchase have to comply with accessibility standards. Therefore, the first step you should take in relation to your vendors is to make clear that you can only purchase accessible technology.
Following this, you can check to see if the technology is indeed accessible by looking over the vendor's Voluntary Product Accessibility Template (VPAT). A VPAT essentially describes how compliant a product is with Section 508 of the U.S. Rehabilitation Act. This Section deals with the accessibility of Electronics and Information Technology (EIT) to people with disabilities.
Importantly, you also have to make sure that any software changes (e.g., customization, updates) will also be accessible.
A good resource to help with procuring accessible technologies is the Purchasable Accessible Learning Materials (PALM) initiative of the U.S. National Center on Accessible Instructional Materials. PALM promotes the use of accessible materials in classrooms all across the country.

5. Maintaining Accessibility
Ensuring accessibility is an ongoing process, and therefore needs regular evaluations and maintenance. A schedule for testing should be part of your plan, and a monthly status report is mandatory. Share the results—both the successes and the failures. These are examples of compliance standards:
U.S.
The American with Disabilities Act (ADA) stipulates requirements for devices that service people with disability. Included in the section regarding assistive technologies, you will find mentions of text-to-speech input, braille display, voice activation, large-print interfaces and alternate keyboards. These should all comply with the W3C's Guideline standards.
Moreover, it is necessary to include the VPAT in procurement activities. In cases where a product is not compliant with standards, it is required that the vendor take steps to make it so. The user of the technology (e.g., the university) reserves the right to modify the technology as it sees fit to make it more accessible. 
Canada
The Ontario Council of University Libraries is a good example of an organization that works to ensure that products it purchases and the content it produces comply with accessibility standards. It requires that content be perceivable to people with 'physical, visual, or perceptual disabilities and be usable with assistive devices, like screen readers and screen reading software.'
The formats used are made to comply with Canada's Accessibility Laws, including the Information and Communication Standards of Ontario Regulation 191/11, the Accessibility for Ontarians with Disabilities Act, 2005. The underlying basis for these laws is, in turn, the W3C's Web Content Accessibility Guidelines 2.0.

Accessibility is a Constant Effort
Every day, new technologies emerge that making life just a little bit easier. Apps come and go promising all sorts of enhancements in our day to day lives. In the workplace and the classroom, there are now more amenities available to use than ever before. Life has never been this easy.
But this applies only to those of us who can use these technologies. Unfortunately, the internet revolution threatens to leave out large groups of people, many of them because of conditions over which they had no control.
Accessibility is the solution to this problem. With insightful and sustainable solutions to the problems that people with disability face, new technologies can allow them to take part in modern communications technology with the same ease as those without a disability. The starting place for these solutions is the accessibility campaigns that individual organizations implement.
Whenever you choose to bring your accessibility campaign, keep the following in mind.
You should have a monthly report that highlights recent successes and areas that need improvement

Collect data on a constant basis

Conduct regular audits on accessibility as you would with other aspects of your organization's activities (e.g., financial auditing)

Reward staff that comply with accessibility standards and practices, while penalizing non-compliance
People with visual, auditory or physical impairments deal with various challenges throughout their day, from the minute they rise to the when to go to bed. Making social activity accessible to them is of paramount importance in any society which cares about the wellbeing and integration of all its members.
A big part of that social change starts at the office or university. It is here that many people spend most of their time, and making it accessible to those with impairments should be a matter of axiomatic principle.
Back