Last Edited January 25, 2018 by Garenne Bigby in UX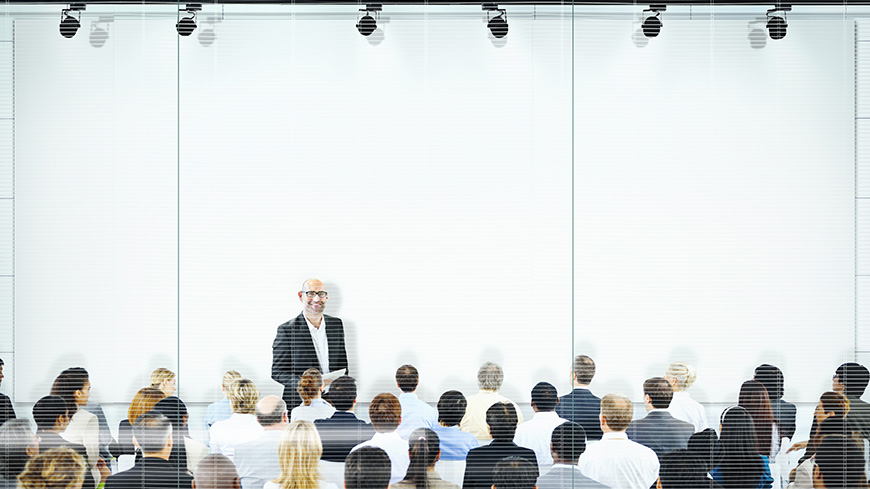 These days there are conferences and conventions dedicated to everything: TV shows, movie genres, pets, and even information architecture. While the information architecture and user experience conferences might not have been getting the recognition that they deserve, they are becoming more and more important for the success of technology experts. They are held all over the world at different times of the year, and some are even available to stream online if you can't make it in person. Those who attend will be able to take part in presentations, Q & A panels, and networking lunches to pick the brains of experts in the field.
You can find all of these events on social media so that you can get more information about any that you may be interested in attending. From there you can buy your ticket and plan for a dramatic change in the way that you approach UX and IA after attending. Whether it is a single day or whole week event, there is sure to be an event that fits your needs, so find what you are looking for and get ready to be inspired by some of the greatest minds in the industry.
The theme of this one day show is Information Strategy and Structure. The event will be held from 10:00 AM until 4:00 PM. There will be a handful of speakers at the event, including Carol Court, Gordon Plant, Peter Kay, Paul Wilson, Dan Ramsden, Angel Brown, and Charlotte Edwards.

The day will be broken up into 3 separate sessions. First, at 10:30 AM Charlotte Edwards and Dan Ramsden will present "What's the point of IA?" Following this, "Using strategy to get out of the rabbit hole" will be presented by Angel Brown at 11:30 AM. Lastly, at 3:00 PM "The Century of the City and the Digitization of Everything (Keynote)" will be presented by Paul Wilson.

The address of the event is:

St. George's Bristol
Great George Street
Bristol, Avon
BS1 5RR

This event would be idea for anyone that is interested in more than just information architecture; it will cover topics like user experience, design, and user centered design as well.
If you cannot attend World IA day in person, you will be able to attend this event online. The speaker roster includes Lynn Boyden, Jaime Levy, Eric Beteille, Eugene Kim, Chris Chandler, Amy Haupl, Elaine Chu, Jackie Joyce, Lara Fedoroff, Marlowe Beckley, Taj Bates, Weszt Hart, Sarah Stern, Grace G Lau, Jennifer McCutchen, Nate Bolt, and Carol Rossi. This event aims to ignite and inspire all of those in attendance so that they will carry on feeling as though they can work toward success and maybe even pass on their new found wisdom to someone that they know needs it.

The day is packed full of events from 9:00 AM until 5:00 PM.

8:00 AM Will consist of Registration, Networking, and Breakfast.
9:00 AM Enjoy the Welcome and opening remarks by Grace G Lau.
9:15 AM is a segment titled Shoot for the Moon: how UX strategy can transform the world, which will be presented by Jaime Levy.
10:00 AM Taj Bates will present the segment titled Be an Information Superhero.
10:30 AM enjoy your morning break
10:50 AM The Numbers Behind Visual Content: Are Your Pictures Worth 1,000 Words? is presented by Eric Beteille
11:20 AM Other People's Problems presented by and Lynn Boyden Chris Chandler.
12:15 PM Lunch and Learn
12:15 PM IA Mentoring Booth
1:45 PM Workshop
2:15 PM Converging Practices: IA, Content Strategy, Taxonomy, SEO which will be presented by Marlowe Beckley, Carol Rossi, Jennifer McCutchen, Jackie Joyce, Elaine Chu and Amy Haupl
3:10 PM Have your Afternoon Break
3:30 PM Agile Heuristics: A tool for implementing IA heuristics with every design, presented by Lara Fedoroff
3:40 PM More Than The Game: The Extensive World of a League of Legends UX Designer, presented by Weszt Hart
3:50 PM Spokeo Personas will be presented by Eugene Kim
4:00 PM Team Safety: How to measure and develop high performance teams, presented by Sarah Stern
4:10 PM Nate Bolt gives the Closing Keynote
4:50 PM Grace G Lau gives Closing Remarks

The event will be held at:

Philosophie
1615 16th Street
Santa Monica, CA 90404
This multi-day conference will cover a range of topics, including: user experience, service design, management, research, information architecture, design leadership, and content strategy. While there are too many specific events to list, the speakers in attendance include: Stephen Anderson, Abby The IA" Covert, Lynn Boyden, Misty Weaver, Donna Spencer, Andrea Resmini, Bern Irizarry, Keith Instone, Stacy Surla, Sarah Rice, Tom Reamy, Sarah Horton, David Sloan, Karl Fast, Jennifer McGinn, Yossi Langer, Sara Wachter-Boettcher, Jorge Arango, Gary Carlson, Rachel A. Price, Jim Kalbach, Scott Kurbie, Michael J. Metts, Jason Hobbs.

The event will be held at:

the Hyatt Regency Vancouver
655 Burrard Street
Vancouver, BC
V6C 2R7
This one-day gathering can be called an "unconference" for those who are involved in user research, user experience, interaction design, usability, and information architecture. It provides an open environment for individuals to share as well as learn in a friendly and sociable setting. Those in attendance will either run or participate in brief 20 minutes sessions that can be anything from demonstrations or discussions.

The 3 main speakers are Patrick Sansom, Tim Minor, and Luke Hay and will have all of the events fit in from 10:00 AM to 10:00 PM.

10:00 AM Starts with registration and breakfast.
10:30 AM will hold the introduction and session grid presented by Patrick Sansom and Luke Hay.
11:00 AM will be comprised of the morning sessions
1:00 PM Lunch break
2:00 PM will be comprised of the afternoon sessions
4:30 PM Tim Minor will present the UX quiz
5:30 PM starts the after party

The event will be held at:

The Skiff
30 Cheapside
BN1 4GD
This can be called Norway's most important conference about the experiences of digital users. The main speaker is Eva-Lotta Lamm, who will cover topics regarding web design, user research, user experience, service design, interaction design, information architecture, and content strategy. The first day will last from 9:00 AM to 6:00 PM, and the second day will last from 9:00 AM to 4:00 PM.

The event will be held at:

Rica Park Hotel Sandefjord
Strandpromenade
9, 3212
This event is a practical, community-driven UX event held in the heart of Oxford. It is organized by the team responsible for UX Scotland and UX Cambridge, and is a high value, low cost event for the UX community. This will be the second year for the event, and it is expected to be larger than the one in the previous year. Those who attend will be able to learn from their peers and leaders within the industry in a way that is comfortable but exciting, and will be able to take away some new skills that can be immediately put to work.

This event will be held at:

Said Business School
Park End Street
OX1 5NS
Oxford, England

It will cover topics like web user experience, user research, user experience, mobile user experience, responsive design, interactive design, information architecture, and more. It is an event that is driven by the community that gives practical user experience information. When you leave the event, you will have great new ideas and skills that you can use to improve your user experiences, as well as a broader professional network that will help you for many years to come. The focus is mostly practical and brings in industry professionals and decision makers that want to provide a great user experience to their clients.
Similar to UX in the city Oxford, it has been put together by those who built US Cambridge and UX Scotland. It is a low cost, high value even for those who are involved with the user experience community. The topics that will be covered include web user experience, user research, responsive design, mobile user experience, interaction design, and information architecture.

The key speakers that have been announced so far are David Sloan, Darci D, Ben Sauer, and Donna Lichaw.

The event will be held at:

The Studio
51 Lever Street
M1 1FN
Manchester, England
A wonderful, practical user experience conference that is set in the center of Edinburgh, which is also hosting pre-conference workshops on Tuesday, June 6th. This is the fifth year of the event, and it is expected to be even larger than the previous 4 have been. Major announcements are still yet to be made. The two confirmed speakers are Jared Spool and Alberta Soranzo, and will cover a range of topics including web user experience, responsive design, mobile user experience, lean user experience, information architecture, and interaction design.

The event will be held at:

Our Dynamic Earth
Holyrood Road
Edinburgh, Scotland
EH8 8AS
Learn exactly how the user experience makes an impact on businesses and organizations. The three confirmed speakers are Aral Balkan, Vitaly Friedman, and Ela Osterberger. They will cover topics like content strategy, interaction design, information architecture, usability, user experience, user experience design, and user experience design.

On the 29th, there will be 2 whole-day workshops. The first workshop is Vitaley Freidman's workshop on eCommerce, and the second workshop will be announced soon.

On the 30th, there will be 7 speakers that will be presenting inspirational talks as well as case studies regarding the user experience and how it impacts organizations and businesses.

When you choose to attend, you will be taking steps toward improving and developing your own skills, you will be able to share your moments and ideas with the UX community, and you will be learning from none other than the best in the field.

The event will be held at:

Arsenic-Center d'art scenique contemporary
Rue de Geneve
57, 1004
This week will be packed with all different types of UX events that include things like informal lunches, networking dinners, case studies, and site visits. Friday will consist of different half-day meetups where attendees can choose the most important UX topics to them so that they can use more skills through hands-on experiences with their expert instructors.

Speakers include: Michael Winnich, Peter Merholz, Marsha Haverty, and Mohamed Musbah.

This week's events will be held all across Kitchener-Waterloo in the most inspiring venues such as the CIGI Theatre and the Communitech Hub.
This event can be called Europe's leading IA and UX conference, as it is quite a unique event that brings together those who are experts in IA and UX with those who may be just getting started in the fields. The theme for this year's event is Adaptation and Designing for Change. The aim is to explore how people adapt to their physical environments while those physical environments are being adapted to suit changing needs of users. Because this niche is constantly changing, there is constant flux in the field.

This event will be held at:

Elite Hotel Marina Tower Stockholm
Saltsjoqvarns kaj 25,
131 71 Nacka

The event coordinators are still looking for submissions on topics related to the theme of the conference and IA and UX like the relationship between IA and physical architecture, for example. The conference is shaped around an international community of professionals in the UX and IA community. It is run completely by volunteers with some operational support from the Association for Information Science and Technology. The conferences aim to enrich lives in a safe way.
Back