Knowing how to connect with your audience will help you better push your products and content. But choosing the right placement to generate ad venue is important, too. AdSense is one of the best and easiest ways to start earning money from your website. It works through partnership with Google and other internet search engines to take what your potential audience and customers already like and help sell them on those interests. You can connect it with certain websites that specialize in blogging, handmade products, and even custom services.  It's likely you've visited a website and seen an ad specifically tailored to you courtesy of AdSense. Maybe you were scrolling through your favorite social media site, and you see an ad for your favorite type of food. You might even see an ad for something you researched before buying.
Typically, those results are labeled 'Sponsored Results,' which indicates that the advertisers have paid for that ad space. This is how AdSense works to address viewers directly and generate ad revenue. The ad revenue from using AdSense is upwards of over 2 billion dollars every fiscal quarter. This is a result of ads not only being shown on websites but shown in the places to potential customers who will seek out the advertised products. Even if you're already making a small profit from your website, having AdSense is a surefire way to increase your revenue.
What is AdSense?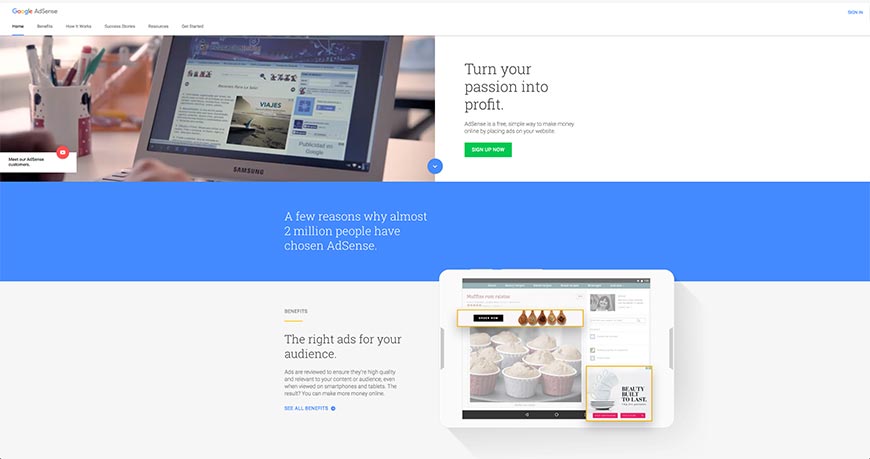 At its core, AdSense is a line of coding. This coding is a computer script that reads the content of your page. But that isn't the only source of information for the advertising network. Along with your content, the coding pulls other information from the viewer's previous browser history. This information is used to create custom ads that work differently from normal advertisements. Typically, an ad is placed on a website in hopes that it might appeal to you, the consumer. With AdSense, the ads are created with items, merchandise or even events that you already expressed interest in.
For example, if you were previously scrolling through a virtual mall looking for pet supplies, it's likely you'd see an ad offering the same products you were browsing. This is the result of AdSense quickly pulling your information and using it to make decisions on what to sell you. Being able to display your ads via AdSense is the result of being the highest bidder in an auction system that pits advertisers against each other. While they compete for the space on your site, you do not have to anything additional.


Adsense Best Practices


1. Rate Your Content
Depending on what kind of work you're producing, AdSense might not be the best option. Because the script pulls from existing user data and must appeal to practically any viewer, AdSense does not show controversial material or adult topics. In this way, it is a fairly family-friend script. Having G-rated content means that you'll have access to a wider audience without risk of anything lewd or age-inappropriate popping up on your page.

2. Formatting Your AdSense
The actual process of acquiring AdSense is very simple. All you need, besides good content and an established website, is a Google mail (Gmail) account. If you don't have one, you can either make one or have a dedicated AdSense account. The application review process takes up to 8 hours before getting approved. After being approved, you will now have access to a menu of different ad types. You can choose the size, location and even nickname of the ads you use. You will also get recommendations on which style can produce the most revenue. When deciding if you want display or text ads, it's best to choose both styles.
Another option that you can customize is how AdSense should use backup ads. A backup ad is kind of like a placeholder in the rare event that the script cannot find a suitable ad for your content and viewer. During this setup phase is also when you'll decide how your text ads will look in terms of size and color. Typically, you want your ad to get noticed but not to be a major distraction from the other features of your site. Choose a color scheme similar to the rest of your website to help text ads feel more integrated.
Once you've configured the ad options to your liking, simply click the save button and it's ready. In a separate word processor or file, you'll want to save the generated Ad code for future use.

3. Choose Your Placement
This might seem like a simple task, but it can play a pivotal role in how your revenue is generated. Where you place the ad can be the difference between it being seen or just scrolled past. On most sites, ads are placed on the sidebar. This allows for the ad to be an independent widget that does not interfere with the main content of the page. One example of how to add this to use your page is to use the Wordpress site design feature. Using the ad code or codes generated by your choices, place the ad code in the widget appearance box. This will slightly alter the AdSense code and limit where the ads will be. If you find yourself overwhelmed trying to remember where and how all your ads are placed, there are other plugins to help manage that, too.

4. Standard Options
It might be exciting to choose as many options as you can for your ads. After all, you want the ads to stand out so that people will click on them and raise your profits. However, some ads, when placed improperly or too large, can be off-putting to your audience. Your goal is to get people to click on the ads, so you have to place them in areas that are appealing.  Ads placed at the top and fitting the standard pixel size of 336x280 typically tend to fare best.  When choosing the length of your ads, you want to be mindful of the design and layout of your entire website. If you choose something that spans the entire browser page, it might hide some of your content. It might also annoy your viewers and drive them away.
Conversely, choosing something small and tucked in a corner will limit how many views and clicks that you can realistically get. Be mindful of pop-up ad placement as well, as they tend to hover over text and make it harder to see. The most popular style for ads is an almost perfect square that is on either the left or right side of a page. This allows your viewers to acknowledge it but not get distracted.

5. AdSense Privacy Settings
There is a requirement for privacy settings to be paired with your AdSense script. Mainly, it is a requirement for you to allow cookies—which are the collection of data across multiple websites. Allowing these cookies is how AdSense is allowed to work and create ads for your viewers. If your existing site has a privacy policy page, all you have to do is add the AdSense language to it. If you do not have one, you can choose to use the AdSense privacy policy in place of creating your own. What is the purpose of the privacy policy? This policy is what allows you, your advertisers, Google, and other vendors to use a browser's cookie history in order to generate ad content.
Having the policy displayed, either as a permanent text blurb (i.e. this site uses cookies) or as a pop-up lets your viewers know immediately that their data is being collected. This also gives them the chance to opt-out of data collection for your website, along with any others that use third-party vendors. There will be some variation in the law because the internet hosts many countries with different regulations. Still, it is best to let your audience know that using your site, with cookies enabled, will lead to the specific creation of ads catered to their personal tastes and previous website views.

6. Terms of Service
Like most online website controls, there are rules to using AdSense. Not following the rules can do more than affect your potential profits. If your website is found to be breaking the rules, you could be banned from using the service. One major offense that is tempting to new users to click your own ads or to recruit your friends and family to do the same. This violates the terms of service and should be avoided.
The algorithms being used to place the ads on your site are also capable of tracking where the ad clicks are coming from. Instead, monitor your Page RPM (Revenue per Mille) and determine ways to increase your ad clicks. Besides no self-generated clicks, there is another rule to be followed. Many Wordpress users will want to put the AdSense code into a floating widget. Floating widgets allow the ads to move through the page as your viewer does. However, this is a violation of the AdSense terms of service.

7. Consider Your Audience
You are the best judge of who you're directing your content toward. Using that judgment will help you get the most of the AdSense codes. You might even want to remove yourself from the creator role and explore your site as a viewer. Ask yourself pertinent questions to help enhance the viewing experience. For example, why would someone choose your page instead of another? When they are on your page, what are they looking for? Does the ad block the delivery of my content? How many ads are too many? Does my page feel cluttered or is it open and inviting? Do the ads distract or enhance my content? Answering these questions as a casual viewer will help you create a better overall experience where your content works with AdSense rather than against it.  
Another key component to properly combining your ads with your audience is to consider age, any possible vision or hearing disabilities and the use of motion. Depending on the age of your viewers, some things might be inappropriate. While a younger person might like an ad designed as a pop-up game with loud noises and flashing colors, an older viewer might find it distasteful and get turned away from browsing your content any further.

8. Be Honest About Using the Ads
These days, consumers do not like to be misled. Tempting headlines that turn out to be clickbait articles can push potential viewers, and revenue, away. Clickbait is a term that refers to drawing people in (hence 'click') with tantalizing or interesting topics. Unfortunately, these types of pages use images that turn out to be ads. Only after clicking them and being stuck in an endless series of clicks to try and find the content you wanted does it become clear that the images are actually just ads.
Calling ads by any other name might make your viewers feel tricked. Because you determine where the AdSense places the ads, you don't want to place them in an area where they could be clicked by mistake. This means not putting ads near any of the following: menu, download links, contact information or any other navigation buttons.
Having clearly designated spaces for your ads will lend credibility to your site. It is also imperative that your formatting allows the ads to remain visual marketing. Choose colors and text that stands out and doesn't match the imagery on your site.

9. Exercise Ad Control
The idea of getting profits using AdSense can be exciting because this is a non-active way to gain revenue. Other than having a website, all you have to do is provide places for the ads.  Those who are looking to gain revenue quickly might make another common mistake—ad oversaturation. Having multiple ads on a single page does not guarantee any high revenue than having one or two strategically placed ads on your site.
If you want to use more ads but keep your site clean, you can choose from a variety of link units, formatting or search bars. One thing to remember is your audience. You want to present your information, which includes the ads, without bombarding them with too much at once. Too much unrelated content will push your viewers toward other websites and have a negative effect on your own revenue generating.

10. Highlight Your Content
The ads you get from AdSense are not the primary focus for why anyone is visiting your site. AdSense runs on data collection via cookies and user-specific information. Your site should not just be a backdrop for the ads. On areas where you find you have the most to say or on a topic that is serious, direct your viewer towards that instead of ads. Much like commercials on television, audiences tend to ignore ads and instead search for content with substance. When choosing a topic for your website, be sure to pick something that you have a wealth of knowledge to share. AdSense relies on your audience's interests to create ads for them.

11. Use AdSense with Other Marketing Tools
Though it's quite an easy addition to your online workspace, AdSense is not designed to be a get rich quick scheme. It requires a great deal of work to get the most of AdSense. In order to get higher payouts, your site has to have a consistently high amount of traffic. This means you must have engaging, share-worthy content to attract and expand your audience. Even with high amounts of traffic, your ad revenue numbers will be higher or lower in some months. As a means of boosting your overall ad profits, you can try affiliate marketing in conjunction with the AdSense tools. Affiliate marketing is basically renting out your existing ad-only spaces to other businesses, sponsors or sometimes even other bloggers. They pay you for the space but you also get some independent reward from having your own ad revenue collecting system.

Final Words
Having great content is only part of getting the most out of your website. Content connects you with your audience but there's more to it than that. Using AdSense will create revenue from well-placed ads without you doing anything extra. Even for new or unique visitors, the script will pull from their favorite or more familiar sites. These targeted ads are meant to appeal you as familiar. They also help guide you toward making purchases.
AdSense helps eliminate the guesswork of figuring out what possible products your audience might like by directing them to products they have already expressed an interest in. This is also a fantastic tool to help lead people to your content, too. To get the most out of AdSense and appeal to a specific audience, keep your content regular and consistent. Don't jump across topics just for the chance to generate different kinds of ads. Over time, as your topics begin to diversify and your viewership grows, you can address the different topics.
Back