You've just started your own business and realize that pamphlet and word-of-mouth advertising will only get you so far. After all, just about everyone is online these days—and you often turn to Google to compare quality and pricing for products and services near you.
So online presence is an absolute must. But do you hire a web designer, which can cost anything from $2000 upwards and will create additional costs every time you need to update your site?
While there is merit to hiring a web developer to help iron out any wrinkles in your design, website builder software and programs allow you do just about everything a professional designer does—at less than 1% of the cost. You'll also have full access to and control over your site's back-end, meaning you'll be able to login to change content, upload images, and expand your site without calling for support.
If you're a small business owner, including photographers, writers, musicians, artists, or even a start-up baking company, then you don't have enough money to hire a web developer, making website builders the perfect solution.

Website Builder Pricing 101
When you're starting out, it can be tempting to jump at the cheapest option, or even the first free option you come across. However, some website builders have hidden costs—for example, allowing you to build your site free of charge but then sending you a bill when you want to publish. Also, there are three common issues with even the truly free website builders:

Problem #1: No Domain Name
After spending a good amount of time building your site from the ground up, you're finally ready to go live, right? Wrong. You need a domain name, after all—the web address. It is where many of the free website builders fall short because they provide you with a domain name that looks amateurish, such as MyBusiness.My-Free-Site.com. In fact, it isn't even a real domain name—it's a sub-domain.
You may not think it's a problem at first, but having a web address as a subdomain doesn't look professional—and your target market isn't likely to take you seriously.
Credibility is highly important when marketing your business online, especially if you expect to generate any income from it. An actual domain name, such as MyBusiness.com, is far more preferable to MyBusiness.My-Free-Site.com.
Some of the website builders we'll be exploring do offer a free real domain name, but there are further restrictions that we'll explain in due time.

Problem #2: Plan Limitations
As mentioned above, it's very tempting to choose the first free website builder that you come across, but as always it's the fine print that makes or breaks a deal.
Often, these free options are insufficient, and for any "extras" that paid plans include, you'll need to pull out your credit card anyway.
If the themes and layouts available in the free package don't tickle your fancy and you know there's a better one for that website builder, you'll have to pay extra for it. Features like a contact form, search function, or videos will incur additional costs too. Something as simple as a personalized email (This email address is being protected from spambots. You need JavaScript enabled to view it. for example) won't be included in a free website builder either.
Perhaps your business model is an online shopping site, or at least allows for this feature? This type is known as an eCommerce site—and you'll need to pay for this ability on a "free" website builder.
If you require technical support, want to add more pages or images, or view your site's statistics, you can expect a bill in your inbox. Unfortunately, this list could take up an entire article by itself.
"Free" website builders often do this, upselling and cross-selling until you very quickly find that you've spent more money on the free package than you would have on the cheapest option by the same software. So while the free option may be great as a testing ground while you decide whether or not to use the software, long term you'll be better off upgrading to the next available package.
Spending that extra little bit of cash each month may seem like a burden, but in the long run, you'll be saving.

Problem #3: Lack of Control
Of the three most common major issues with free website builders, having no control over your site is most certainly the worst. You've spent a few solid hours (days even) building your website: tweaking the layout, adding existing content, writing new content, uploading images, creating an eCommerce shop and adding your products.
And one day you check your site and find it's gone. Not just down, error code 500 "site temporarily unavailable"—we're talking the 400 error code range, "no such resource found" or "the place does not exist."
In a panic, you log in to your site builder and conclude that the location indeed is gone—no layout saved, no content, nothing. Just an empty template or a "how to get started" welcome tutorial message.
So you call support because the service fee seems insignificant in comparison to your entire site had disappeared, right?
Only you get put on hold for what seems like an eternity, and when you finally do get through you receive a recorded message along the lines of:
Unfortunately, your site violated our terms of service for free accounts, and we had to disable it. To get your site live again, please upgrade to one of our paid packages.
Sounds like quite the nightmare, right? And it is. There are many forums where unsuspecting users who haven't read the fine print for their free accounts discover the unpleasant truth. Whether it's a free trial period or even a downgraded paid account, free website builder options can cause more frustration than they're worth.
At the end of the day, spending $5 to $20 a month on your website builder will end up saving you money, time, and ulcers.

What to Look for in a Website Builder
There are a few other factors besides pricing to consider when selecting a site builder, such as usability, uptime, and speed. A good website builder should be easy to use, and you should be able to design your site the way you want it to be without resorting to hiring a professional or signing up for any courses. It goes without saying that every website building software will provide templates, but you should consider the number of available options in this regard too—the more layout styles you have access to and can choose from, the more likely you are to find one that matches your intentions.
You'll also want to manage, edit, and update your site from time to time, and the software you choose should be very user-friendly in its available management tools. Uptime will be largely dependent on the software's servers and coding. Most website builders deliver 99.9% uptime (as tried and tested by independent and therefore objective) thanks to good server management and clean coding.
Site speed is also determined by your coding, but can also be vastly improved by optimization tools. Many website builders don't have built-in optimization functions, so you should be on the look-out for software that offers a vast array of plugins. Plugins aren't a make-or-break deciding factor, but they can become more important for boosting your site's performance in the long-run.
To make things easier for you, we've compiled a list of 35 website builders—starting with our top recommendations.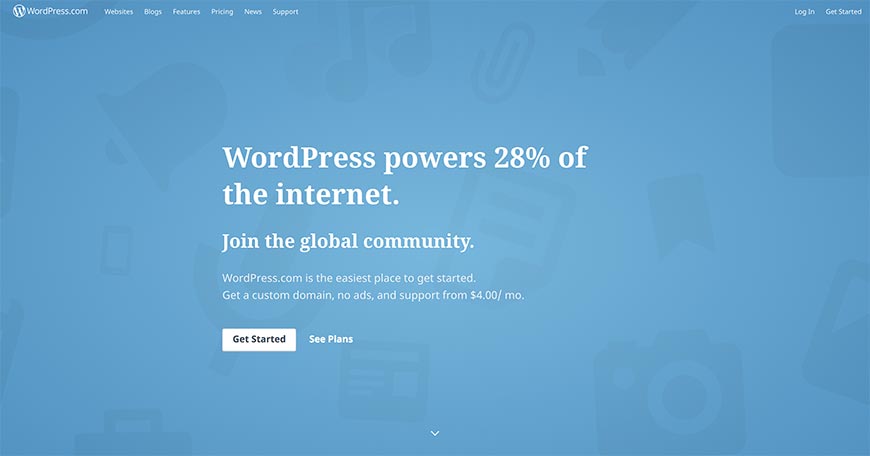 WordPress is by far the most popular website building software available, free or otherwise—and it's easy to see why. Mostly considered the best option for those who want to design and manage their website, WordPress originally started off as a blogging platform. The free package is quite limited, but their premium and business plans ($99 and $299 a year respectively) offer everything a new business owner could ask.
Some of the many reasons to consider WordPress is that you get hundreds of free themes, primary support, and a decent amount of storage space—even with the free plan. The main catch is that you'll have to make do with a WordPress subdomain name and ads, but this will disappear by upgrading to the cheapest plan—Personal, at $36 a year.
With tens of thousands of available plugins (many of which are free, others varying in the price range), you'll easily be able to customize your WordPress site to match your wildest dreams and aspirations no matter what package you take. Whatever it is you feel your site needs, WordPress either already has it or has a plugin for it—including analytics.
In fact, even the free plan comes fully equipped with Jetpack Essential Features, which include SEO, spam protection, social sharing, and—you guessed it—site statistics. As a bonus, many web hosting companies offer cPanel and Plesk packages that have a full WordPress installation included at no extra charge.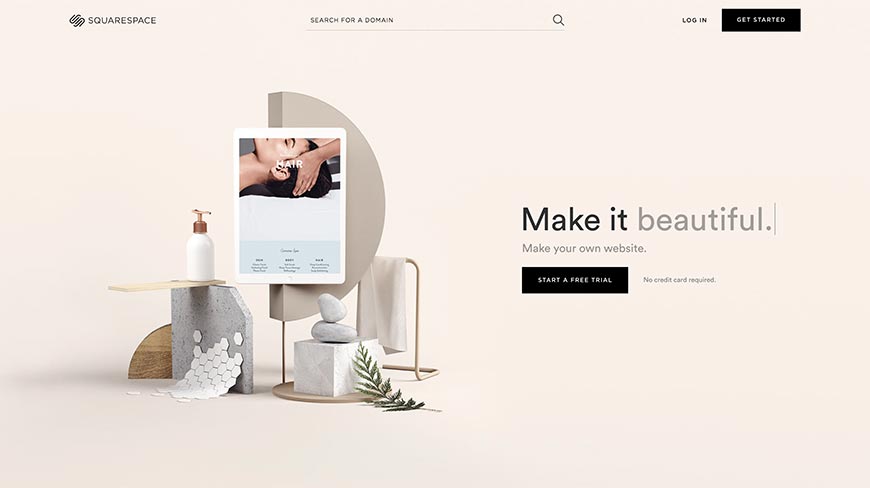 While Squarespace doesn't offer nearly as many templates as WordPress, in comparison to WP's free options SquareSpace's forty accessible design is probably the highest quality layout themes available.
Squarespace also offers an easy-to-set-up method for getting your professional domain name. Of course, the free domain name only applies if you opt for an annual billing cycle when signing up.
Signing up for an account is relatively painless, with instant activation and a 'live by default' feature. This 'live by default' promise sounds a little too good to be true, as it takes 4-8 hours for any domain to propagate worldwide, but it's to be assumed that the site will go live as soon as propagation is complete.
At roughly $216 a year, Squarespace's Business package is cheaper than a WordPress site and does have the bonus of an SSL (Secure Sockets Layer—a security measure that ensures data submitted, such as banking details in online purchases, remains private). However, you will be paying $5 extra per email account you set up, which can end up pretty steep if you have a few staff.
All in all, Squarespace is an ideal platform if you have high-quality image content associated with your business (think photographers, art galleries, and wedding planners). In fact, if your business is visually oriented, we'd recommend it—otherwise, you may be better off with another website builder, as the Squarespace themes do require a lot of photography to look and feel right.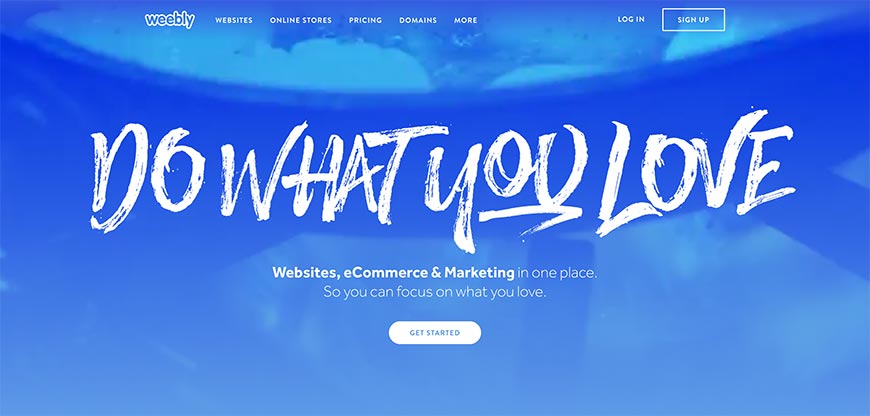 Weebly was a hard one to place—experts are quite divided on this website building software, with some putting it second on their list while others advise avoiding it. In all fairness, Weebly does have a lot to offer—even more so than SquareSpace. In fact, Weebly sites tend to load a lot faster than most other website builders, but you ultimately pay for this superior speed with increased downtime.
All in all, Weebly is a great option if you're planning on building a strictly eCommerce site. Allowing you to create from a vast array of templates and customize them, you'll be able to showcase your products in style. As will all real eCommerce site builders and plugins, the backend allows you to manage your inventory, track orders, and manage taxes. You'll also be able to add a coupon feature and abandoned cart functions, as well as track deliveries.
Of the packages available, you'd be best advised to opt for the Business Package, which will set you back $300 on an annual billing cycle but includes domain registration and renewal (Weebly usually charges $20 for the domain).
One of the major downsides is that each email account will cost you an extra $4 per month. Email marketing is part of the Powersellers package, but it's not at all a small business option, costing $456 if you opt for the annual billing cycle.
Overall, we would still recommend Weebly as a site builder for smaller e-Commerce business sites.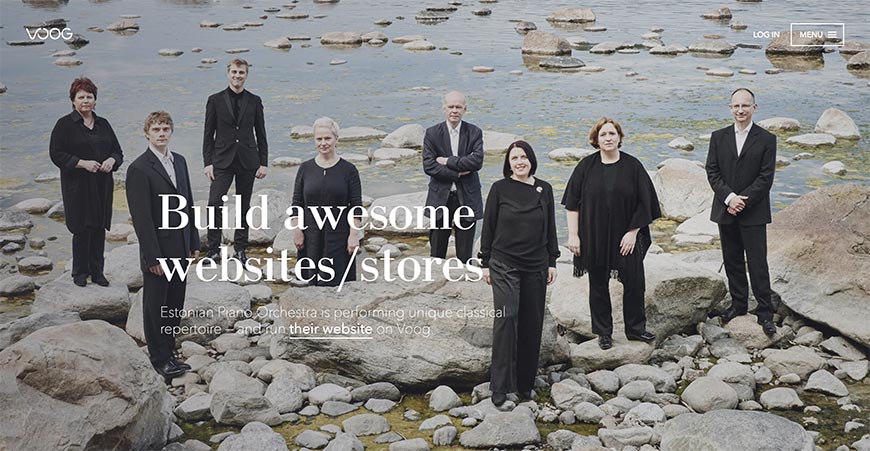 While certainly not the most diverse and feature-rich website builder on our list, Voog most definitely captured our attention. One of the reasons is that Voog is hands-down the best multilingual website builder available. A small flag icon will appear on your site, which visitors use to select their language—something that small businesses in countries like Canada and South Africa will certainly benefit.
Voog is also incredibly easy to use, without needing any design tricks or confusing dashboards to create your site—you just upload your content to your site and arrange them the way you choose. You'll also be able to do so on any device from anywhere in the world, and your site will be fully flexible—allowing users to enjoy the full experience whether they're using their PC, tablet, or smartphone.
There's no installation, updates, or configuration process—everything is done straight on the web and updates to the software are automatically applied for you.
You'll also be able to buy a domain from Voog whether you use the software or not, with pricing starting at about $13.50 a year, and if taking the Plus Package at $120 a year (annual billing cycle, you'll get a free custom domain.
For an online store, you'll want to opt for the more expensive Premium Package, at about $524 a year, as you'll certainly need the SSL secure connection for online payments, but otherwise, the Plus package is a high recommendation.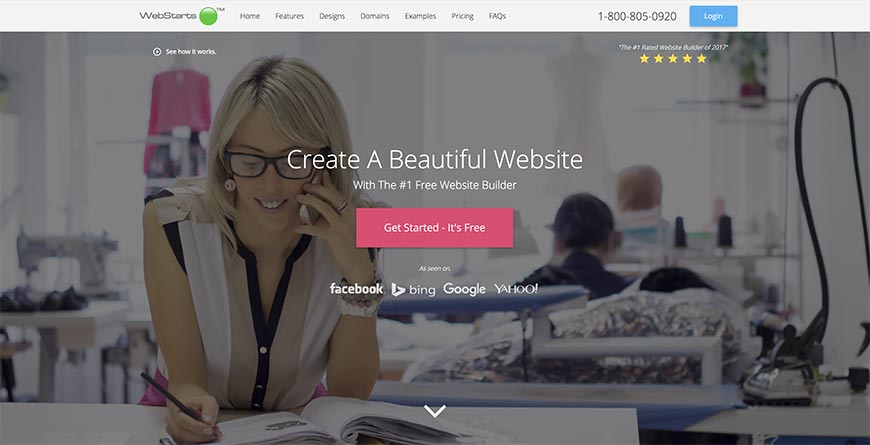 WebStarts is a fantastic website building program that, for some reason, often gets put too low on the totem pole. As with many website builders, WebStarts is cloud-based—meaning you won't have to worry about servers, FTP (File Transfer Protocol), or IP configuration. They also claim that their domain name registration is instant, but as mentioned before domain names do take up to 4-8 hours to propagate worldwide.
The editing function is incredibly easy to use, with a drag and drop method to create a "what you see is what you get" website building experience and allowing you to create a truly unique site.
Many of the features included will cost you extra when using other website building platforms, or at the very least require additional plugins. These include mobile optimization, search engine submissions, contact forms, and social media integration.
The free package is somewhat limited, and even the cheapest paid option requires a WebStarts subdomain. Emails are also a slight issue, as you'll have to take the Business Package (about $240 a year) to have this function included—and you'll be limited to five accounts.
What does make up for this is the fact you'll get $500 worth of free advertising with the Business Package, as well as an email marketing suite, eCommerce ability, and a hefty 40GB of storage space.
All in all, if you're looking for a decent alternative to the big names in website building programs, WebStarter is a great place to start.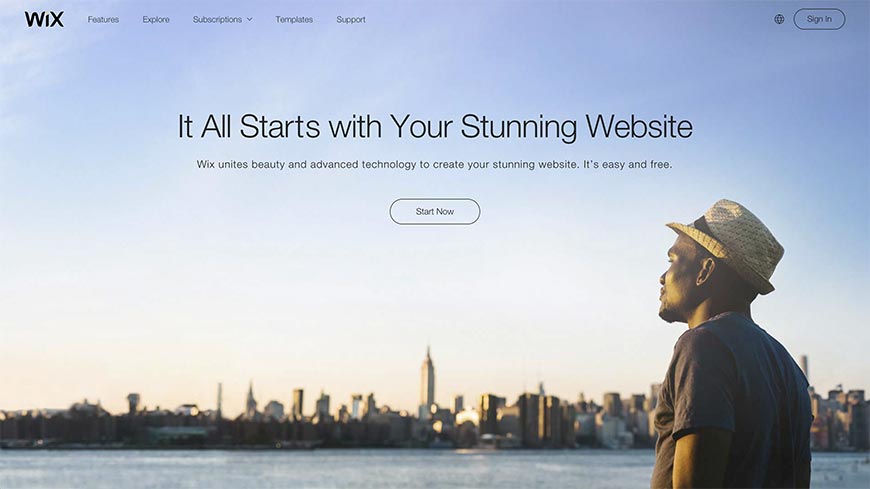 Wix is a fantastic website building program for anyone wanting complete control over their site, and feature-wise holds its own against our other top recommendations. There are over 500 templates (which are updated to reflect current trends) to choose from, and the website building process is rather flexible too, allowing for substantial site customization. The entire procedure is straightforward, and changes are possible without much difficulty—simply clicking on site elements in the back-end will do most of the work for you.
And if you're personally happy with mechanical designs, Wix's Artificial Design Intelligence feature allows you to do so in one simple step.
Signing up for your Wix account is a breeze too, and you'll be activated instantly. All of the available plans do offer a free 14-day trial period and include a free domain for the first year—provided you opt for annual payment—after which you'll be paying about $10 a year. The packages themselves aren't badly priced either, with the Combo starting at $120 a year and the VIP at $300. If you do plan on having an online store, you'll have to take the e-Commerce ($204 on an annual plan) or VIP Package.
One major drawback for Wix is deciding to change your template at any point results in a blank canvas—meaning you'll have to upload all your content again and start from scratch. Another is the fact that you'll be paying $5 a month per email account, which very quickly becomes expensive.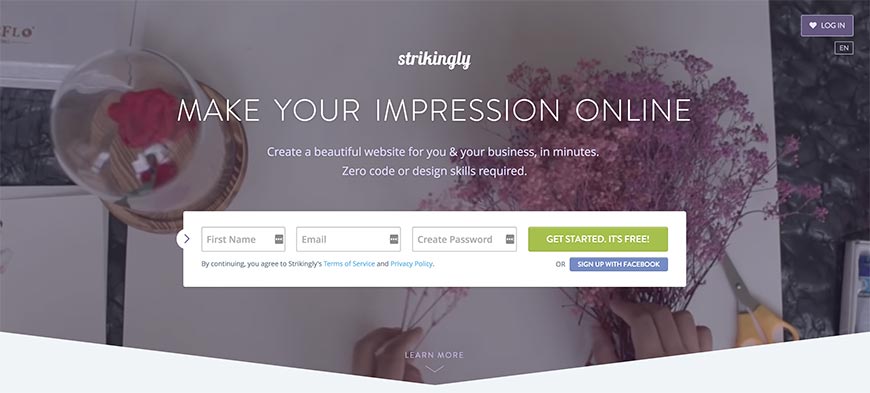 Strikingly is a website builder designed with the inexperienced in mind. Even if it's your first time developing a site, it shouldn't take you longer than half an hour. One of the major drawbacks is that you'll be limited to one page.
Regardless, Strikingly does have a lot to offer—eCommerce functionality, social feed, sign-up and contact forms, and an analytics feature that allows you to stay on top of how many visitors and views your site is generating. You'll also be able to create galleries, video backgrounds, sliders, and password protection.
The Limited Yearly Plan ($96 a year) includes a free domain but doesn't afford you most of the above features and functions, so to get even the minimal requirements for a professional business site you'd have to opt for a Pro Yearly Plan at $192 a year. With either, you'd also be able to connect an existing domain name if you're rebuilding an existing site and receive 24/7 support. The Pro Plan also comes with the standard 14-day free trial period.
One especially nice feature of Strikingly is that you'll never be limited to just one site—even with the free package (which, admittedly, is incredibly limited and forces you to use a strikingly.com subdomain). The Limited allows you to build two sites with the features of that plan, plus unlimited sites with the free package's limitations, and Pro allows for three Pro sites. Emails are another complicated matter, requiring some expertise to set up.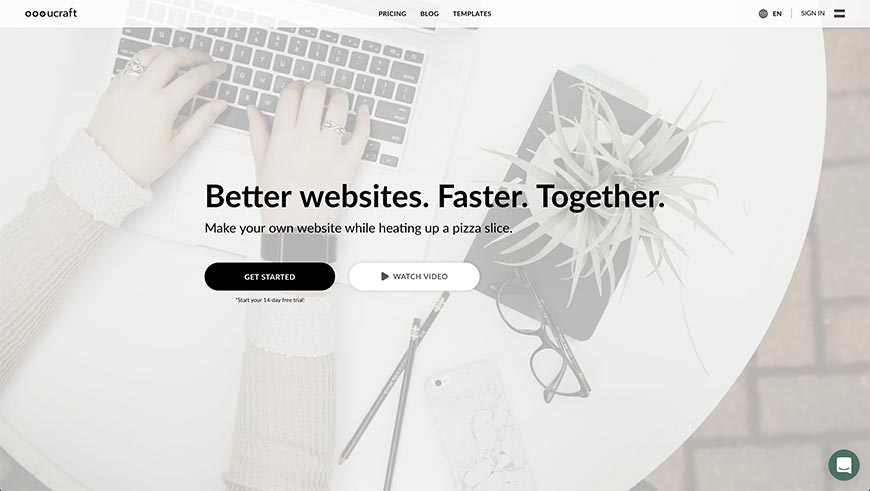 Ucraft offers a wide variety of templates, with options tailored to specific users—artists, blogs, and (of course) small businesses. Each template is highly customizable, so you'll be able to upload images, titles, and content in a way that meets your requirements, then change fonts, colors, borders, text size, and element size (to name a few).
Although designed for blogs, the Ucraft Articles App can be useful for a small business and is useful for online shopping sites.
As with many of the website builders we've mentioned (and will still be looking at), Ucraft offers cloud-hosting—meaning you won't have to hire server space (it is always a good idea to keep backups on your local workstation though). You'll also have the option of connecting your existing domain name to your site or getting a free one when you select an annual billing cycle.
You'll certainly want to opt for the annual billing cycle with the For Builders package (at $77), as the Starter option is for bloggers wanting only one page on their site.
While the templates, SEO functions, logo maker, and Articles App come free of charge with the package (monthly or annual), the eCommerce plugin will set you back an extra $29 a month. You might want to add $2.99 to your initial payment to get the Designer Tools, which is what makes Ucraft so customizable. It is a once-off payment though, and well worth it.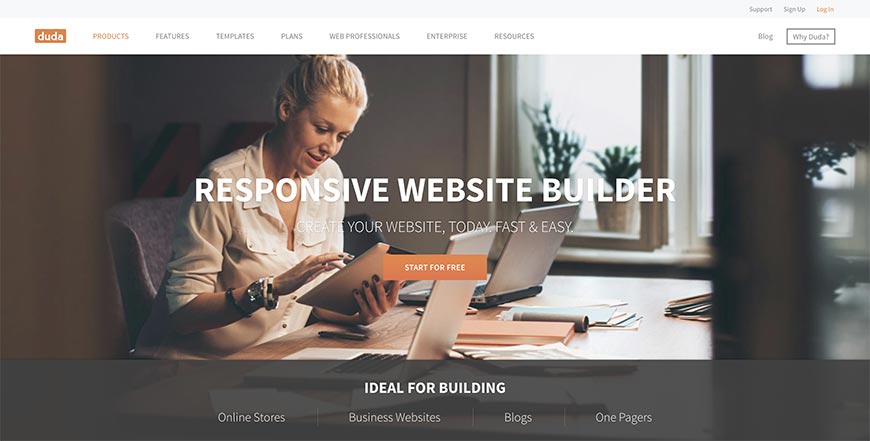 DudaOne is a website builder geared toward intermediate site owners rather than absolutely beginners, as it can be difficult to get a handle on at first. There is a broad range of templates to choose from, which keeps growing, and you'll be able to design your layout from scratch if you so choose.
While many other website builders optimize your site for mobile platforms automatically, DudaOne recognizes that auto-optimization options aren't always optimal. You, therefore, have the ability to edit each version of your site personally, giving you absolute control over how it displays no matter the platform.
You'll also be able to add various site widgets—pop-ups that advertise specials or encourage subscriptions, contact forms, a call function for mobile sites, and Facebook integration, among others.
DudaOne also has an impressive built-in eCommerce feature with the ability to set minimum and maximum checkout amounts for clients. More importantly, you'll be able to integrate more than thirty online payment options, such as PayPal, PayFast, and Visa Card transactions. You'll have to take the more expensive of the two available packages for the e-Commerce function, which is fast becoming an important feature for businesses operating online.
The 100-product option will cost you $270 a year, and upgrading to the 2500-product version of the package as your business grows increases the price to $441. While this puts DudaOne among the more expensive website builder options out there, if you're serious about having an online store as part of your business then it's one of the best.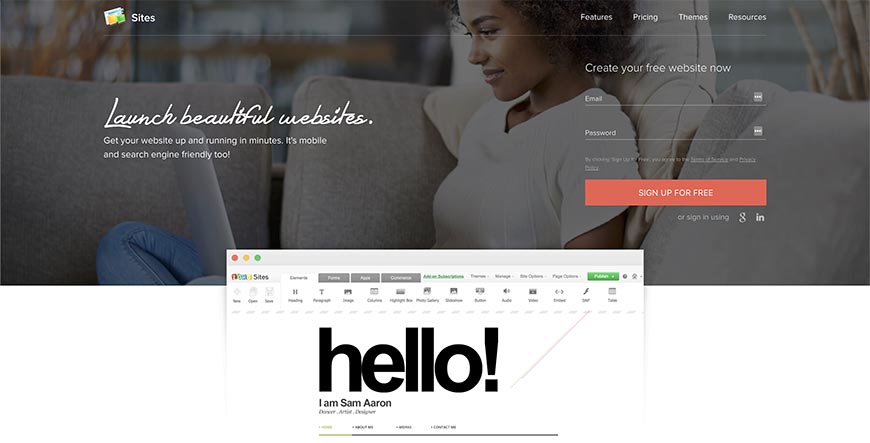 Zoho Sites offers small businesses the ability to easily create an online platform to interact with existing clientele and attract new visitors, without having to spend too much money on their site.
As always, the free plan doesn't allow you to create a custom domain and will result in ads posted on your site. Even the Basic package ($50 on an annual payment cycle) is quite limited, but at least you'll be ad free and have your domain name.
The Standard Plan ($100 a year) seems to be the most popular, but for the full benefits of Zoho Sites' available features, you'll want to opt for the Professional package. It is a very reasonable option though, at only $150 a year.
You'll certainly get your money's worth as well—there are a wide variety of available themes to choose from as a foundation for building your site, and all of them are heavily customizable. You'll also find that your site is instantly mobile-friendly, without creating an additional subdomain for the mobile version.
As always, you'll need an SSL connection for eCommerce sites, which both the Standard and Professional packages offer, but you'll also need PayPal integration. Only the Professional plan includes this function. But, unfortunately, you'll be limited to 25 products at a time.
All in all, the Zoho Sites Professional Plan is one of the best website builder options available at a reasonable price, even if it is a relatively limited one.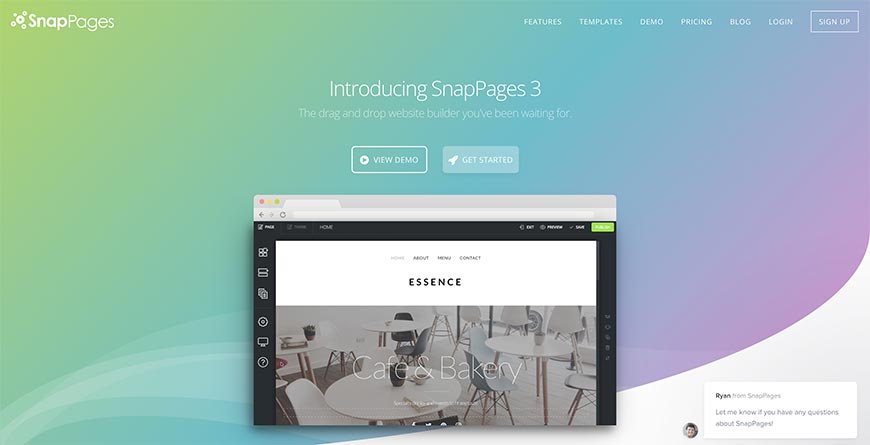 SnapPages provides the basics—and little else. It's not high on our list of recommendations for a small business' website as a long-term option, but it's not last either. As a starting point—especially if you're running a one-person show—it's nothing short of brilliant.
The blogging feature is incredibly functional, allowing you to promote your business with scheduled posts, categorization and tags, and a commenting option that you'll be able to incorporate into your marketing strategies.
Form submissions are also an advanced feature in SnapPages, offering a full range of communication options.
The editing process is quite a breeze, allowing anyone and everyone to develop their professional looking site without difficulty, and the templates provided are all coded to instantly and effortlessly scale your site and adjust the layout for mobile devices.
You'll also be able to integrate third-party services such as YouTube, Shopify (for eCommerce), and MailChimp (an email marketing service that comes highly recommended) with ease using SnapPages' code snippet feature.
All in all, SnapPages has been carefully and professionally developed to be as easy to use as possible and give you a site that you can be happy with as a business owner. Even so, they go the extra mile by offering full support.
Both the Basic and Advanced plans allow for you to point your domain to the software (Personal, the cheapest option, only allows for a snappages.com subdomain), and at $120 to $180 a year SnapPages is certainly one of the most affordable website builders available.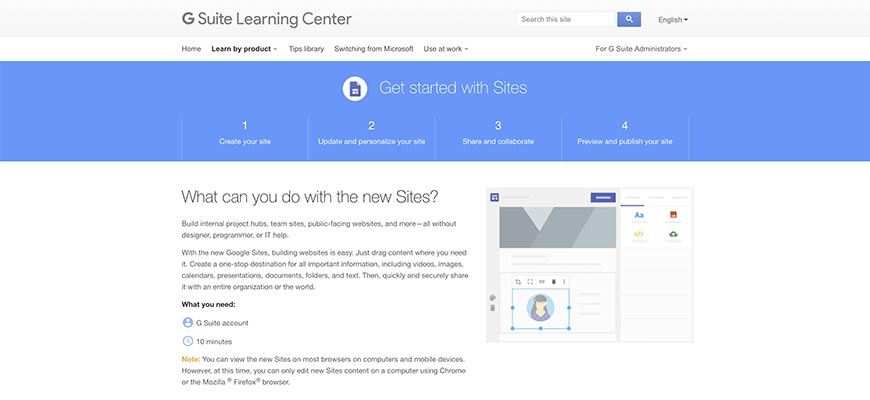 As a part of Google's illustrious G Suite, you'd expect their Google Sites feature to be pretty top-notch, right? It's incredibly well-integrated with the Google Apps range, as well as Google Docs, Drive, Calendar, Maps, and more. But of course, the website builder is from Google, so what else would you expect? And—after all—many of the other options we've listed also offer this ability, so this isn't that much of a plus.
Google Sites—both the Classic and New versions—is free (provided you have a Google profile) and is very easy to use. But at the end of the day, most experts are of the opinion that it's too simple.
The Google Sites website builder is fantastic for developing a collaborative site or intranet (a virtual private network that only you and your staff members can access, so handy for large corporations). Unfortunately, the themes are far too simple for a real business website, and the feature set isn't designed with the business model in mind at all.
You'll be able to connect a custom domain name of your choice, but if you need more than the insufficient storage space offered with the free version you will need to upgrade to either the Standard or Unlimited Google Apps plan. It will cost you $5 to $10 per user per month, though—so each staff member in your employment will cost you $65 - $120 a year.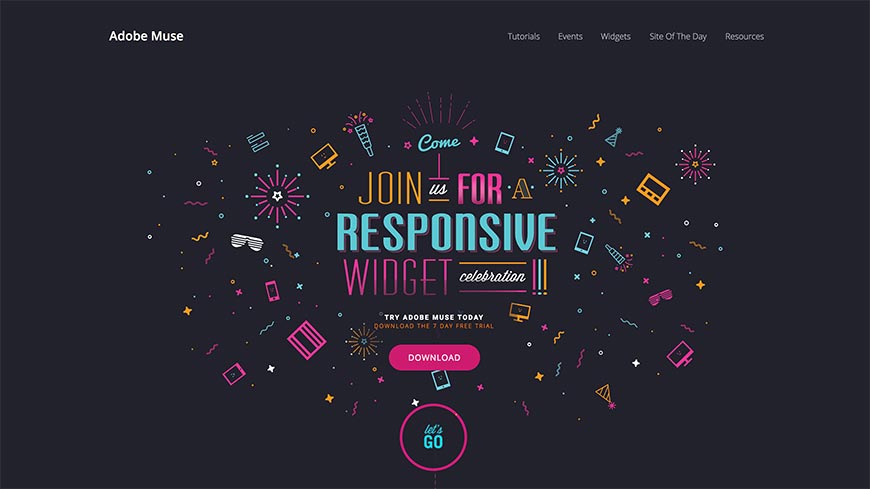 Adobe is another top-rated suite that offers fantastic applications. Photoshop, Illustrator, and InDesign are three of their most widely recognized offerings, used by photographers and designers the world over.
Unfortunately, Adobe Muse seems to be another case of an otherwise highly commendable company falling sadly short of the mark.
Muse looks and feels very much like a recycled version of Photoshop, almost as if Adobe decided to build a similar app with the ability to export websites. Which is fair enough, considering they probably received many requests from their users for something along these lines, but it would certainly have been nice had they put more thought into the design.
It's not exactly an easy website builder to use either, putting it low on our list of recommendations for anyone without Adobe experience, but if you're familiar with any of their apps, you should find it a breeze. It's commendably flexible, but about 60-plus editing options are crammed into a mere eight toolbar items—making for a somewhat confusing and overwhelming experience.
It's also rather expensive. You can opt for the Business platform with only one Adobe app at $360 per year per license, but to get the full Muse experience you'd have to take the $840 per year option, making it easily the most expensive builder on our list. You'll also have to fork out an additional $15 minimum for your domain name.
If you're an established design company looking to redo your site, Adobe Muse may be a viable option. But for everyone else? Too complicated, and far too expensive.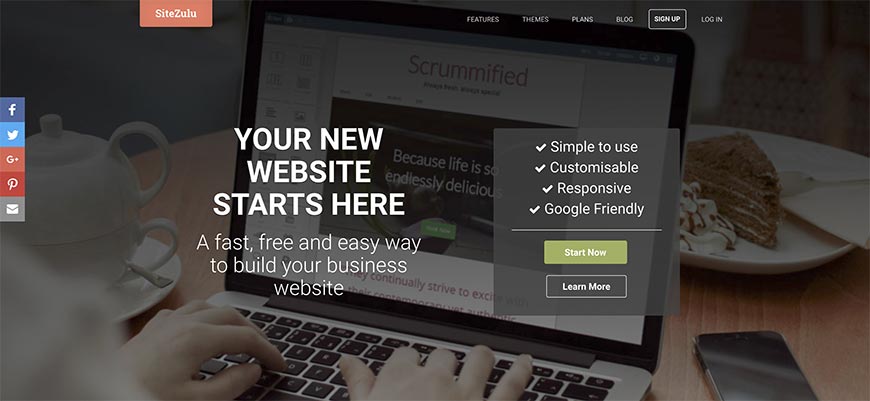 One of the few redeemable features of SiteZulu is it's relatively easy to drag and drop interface. A neatly organized sidebar tool lists all of the elements available for building your site page by page.
Unfortunately, the features aren't so easy to figure out. Hovering over the options results in a myriad of icons popping up and taking over your screen, making it difficult to determine which feature performs what function.
To be fair, there are a lot of beautiful themes that are relatively up to date with current website trends, and they're all highly customizable. You'll be able to personalize your background, categorizations, layout, even fonts, and colors—putting it ahead of many similar website builders. Your site is also automatically optimized for all three viewing platforms: desktop, tablet, and mobile.
You'll have to opt for the Professional package if you need to build an online shopping site (or even just incorporate an e-Commerce section), which costs a remarkably low $81 a year. SiteZulu is also planning on introducing a fuller package—the Professional only allows for a PayPal gateway and two email accounts—shortly, which will go for $135 a year.
Unfortunately, this e-Commerce function isn't faithful to the definition—you can't add a checkout section, personalize receipts, or create product variations.
It's a cheap and convenient option for sure, but all in all, SiteZulu doesn't feature very high on our list of recommendations because there are better options for a similar price.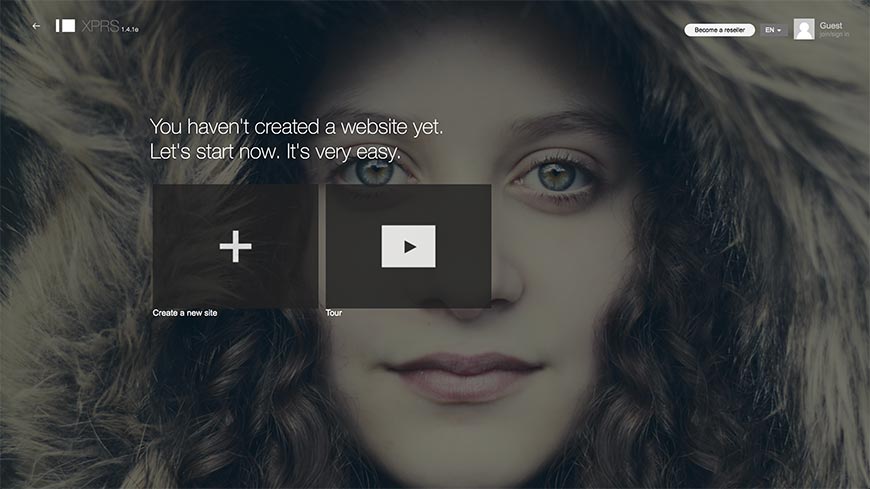 XPRS markets itself as "a better WordPress," and while some reviewers are convinced, we certainly aren't. While there is a selection of templates, designed to match the latest trends in web design, XPRS also incorporates a building design they call polydoms, which turns the design process into something like a game and makes the website builder fully customizable. It's also SEO-friendly, and will automatically reshape your content for tablet and mobile phone viewers, something that many website builders don't offer.
The eCommerce function (a recent development) is powered by ShopRocket and allows you to turn your site into an online store. ShopRocket includes credit card checkout, analytics, and a management console, but we've found that it struggles in comparison to the e-Commerce features and plugins of other website builders.
XPRS is entirely unlimited regarding storage and bandwidth, as the software stores all its sites on Google's and Amazon's servers. Although XPRS is free to use for bloggers and small businesses, they do offer some paid packages that are better suited for entrepreneurs—although these packages focus mostly on reselling hosting spaces.
The packages are also comparatively expensive, starting at $350 a year (the bare minimum if you don't want the XPRS logo pasted all over your site). You'll also have to pay for your domain elsewhere and then link it to your XPRS site, which is another inconvenience to bear in mind.
Do we recommend XPRS? Absolutely—but only if you don't plan on adding an online store to your site.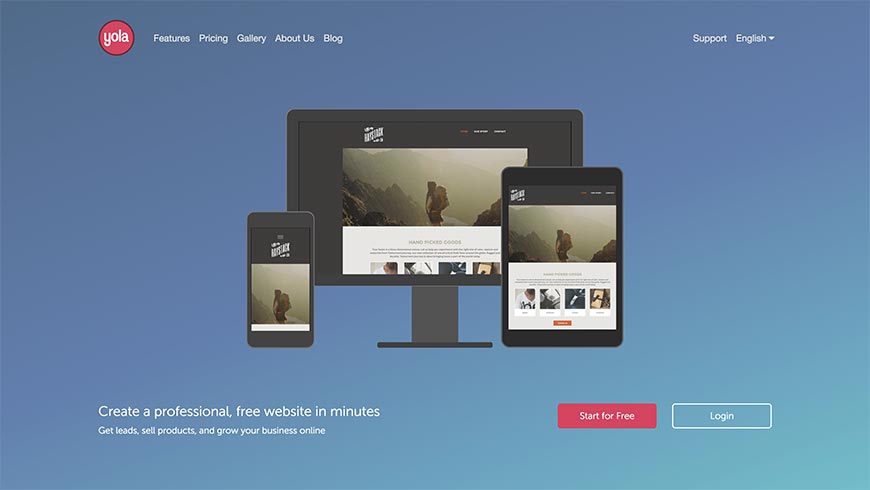 Yola has met with some very mixed reviews, with some placing the website builder above WordPress. Personally, we can't see why. At first glance, Yola is one of the better-priced website builders available, with their Bronze Package selling for $50 a year (annual billing).
However, even the most expensive Yola package available, the Gold Plan, is frustratingly limited—and comparatively overpriced at $200 on an annual billing cycle. Just about everything is going to cost you extra: $10 a year per email address, $10 a month to add the ability for an online store. At the end of the day, an eCommerce site with as little as three email accounts and the maximum features Yola has will set you back at least $350 on an annual payment cycle, which doesn't quite add up to even half of what you can do with the most expensive WordPress package. You'll also quickly get frustrated with the templates available, all 215 of which are very outdated.
You won't even be able to customize your site much either, meaning you'll probably end up switching from one template to another in the hopes of finding something even vaguely similar to what you have in mind for your site.
Although the signup process and site activation are quick, all of the up-sells and necessary add-ons you'll need to pay for to make your site vaguely operational will quickly become not only annoying and frustrating but comparatively expensive.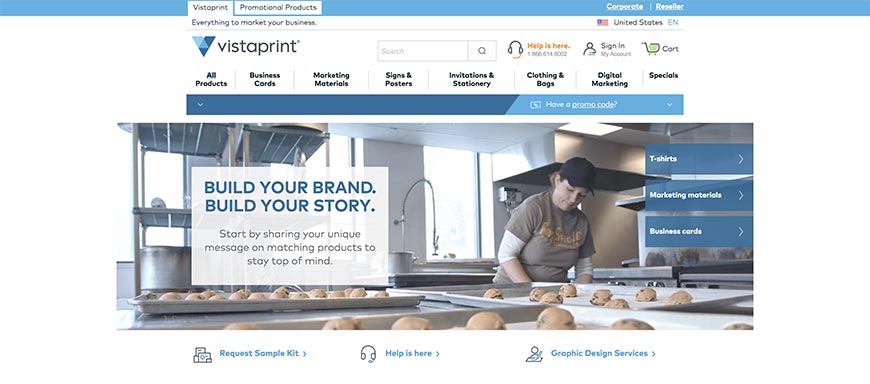 VistaPrint is a company that seems to offer it all, including a do-it-yourself website builder. One of the many problems in providing a whole host of services is that it's easy to become a jack of all trades and master of none, and this is certainly true of VistaPrint's website building program.
Some of the typical features are available, such as an unlimited number of pages, phone support, free hosting, and a mobile version. The cheapest option (Starter package, $65 a year after a free one-month trial) forces you to use a vistaprintdigital.com subdomain and leaves much to desire.
The Standard Package, which appears to be the most attractive option, adds site activity reports, 12 email accounts, basic search engine optimization, and the ability to link your customized domain name, all for $216 a year. The Premium Package only includes the option to add eCommerce and social media marketing above everything else already provided by the Standard and will set you back $300 a year. Considering how little the website builder has to offer, this seems to be a costly option.
For anyone not wanting to design their site, but also not wanting to hire an expensive web developer, VistaPrint does offer three packages that include the hosting and design for your site. Again, these leave much to be desired, and you'd be best off opting for the Premium Agency Package at $800 a year, but considering your design is included it can be an attractive option for any small but established businesses that would prefer to pay off their web designer's fees.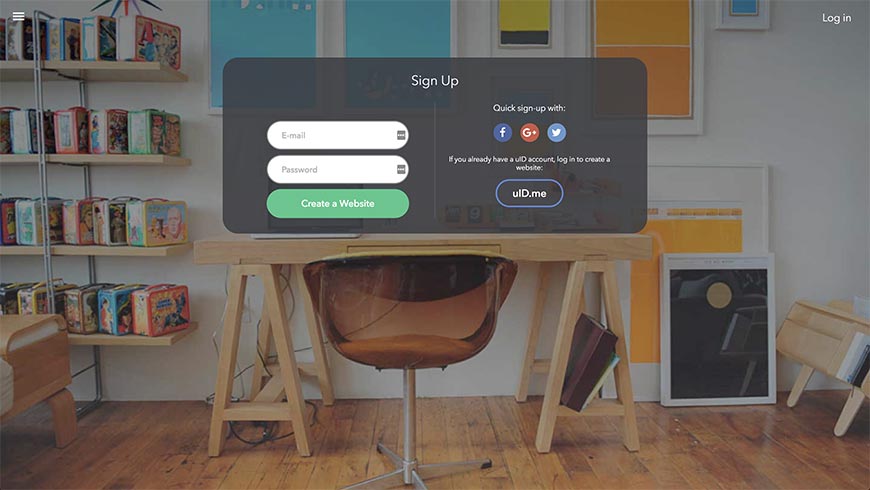 uCoz is something of a misdirection, as it's only applied to the personal website package. For businesses, you should use their uKit software and uShop for an online store. All in all, though, the platform is easy to use, with full coding control and a wide variety of tools and features. uBiz takes it a step further, and uShop focuses on eCommerce functionality, but all three are hugely customizable.
Some extra features worth mentioning include uSocial, which adds the ability to integrate social media platforms on your site (integral in online marketing schemes), as well as the My Sites application. The latter allows you to keep in touch with how your competitors' sites are faring compared to your own, which can give you the upper hand in making changes to your site to keep you competitively current with industry trends.
Although the website builder itself is freely available, you will have to pay for even the most basic of template designs. Unfortunately, it's also better suited to creating a personal or business related blog than a real business site, but as it's easy to customize and they offer generous support, you should theoretically be able to get around this without much difficulty.
One of the ways we suggest going about this is making use of a News page as a home feature, incorporating permalinks, a commenting section, and a "read more" option that will help direct your viewers to more content on your business or industry.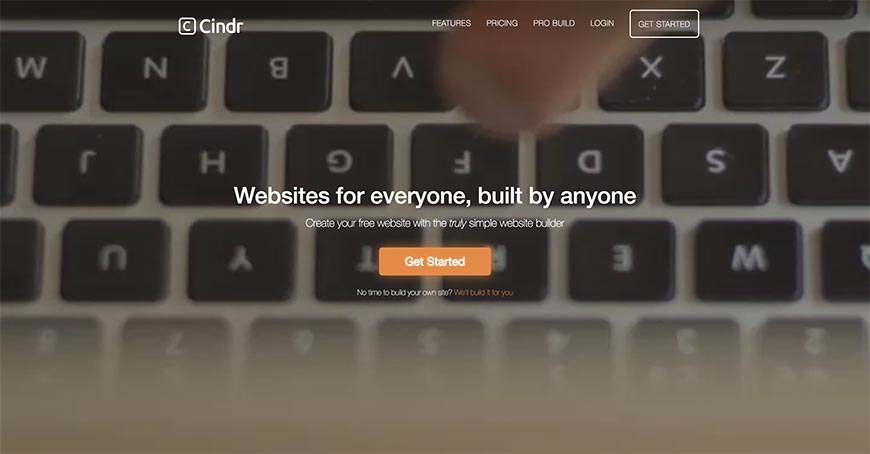 Cindr balances on the line of becoming worth a recommendation and sinking into a permanent avoidance status. But at present, it's still worth taking a look. The software offers more than 100 templates, which they call Blocs that you can use as a foundation and customize to your heart's content when building your site. Essentially, the process involves shifting and stacking element blocks to create a page layout, then uploading your content into them.
This content can also be YouTube videos, tracks from Sound Cloud, social media pages, and comments, and other embedded features depending on your needs. Cindr claims to be eCommerce friendly and allow for PayPal integration too, but we're not so convinced on the online shopping functionality of this website builder.
As far as domains are concerned, you'll have to register one elsewhere and then ask the Cindr support team to assist you in pointing it to your site. It only takes a few click according to their site though.
And to be fair, their support system does seem to be very up-to-speed, so even if you do find yourself out of depth with this website builder help is only a click away.
You'll have no limit on the number of pages you can create for your site, which is always nice, but there are so many other limitations that you'll probably find yourself migrating to a better site builder eventually. But what else would you expect from a website builder that only costs $108 a year?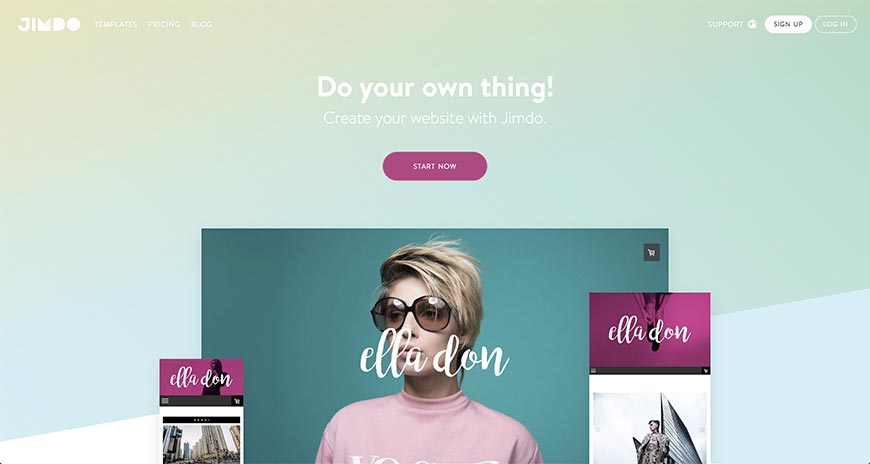 Jimdo is a website builder that uses the vastly popular stacking scheme, so you can build your elements to form a layout using one of their available templates as a starting point. The models available are rather good too, except they force you to incorporate a sidebar—which current sites don't use. Worse, you won't have much editing scope with any of the elements.
There are also far too few templates—a meager seventeen. And although you'll be able to switch from one model to the next with ease, this limitation can easily make for a frustrating situation.
Overall, Jimdo's user experience is pretty standard. If it's frustratingly limited, it's at least easy to use. But then again, one may be a symptom of the other. Images are another major concern: they appear blurry and pixelated, which can instantly reduce your credibility as a serious business site.
Jimdo does find its strength in eCommerce, allowing you to create variations and categories for your products, as well as customize the checkout section and add several payment options. One of the most excellent features of the Jimdo eCommerce platform is the highly customizable email receipts, which many other website builders seem to have overlooked. Unfortunately, the product editor is wrongly placed in Jimdo's configuration and can be a little unwieldy at times.
For $240 a year (no monthly option), you'd be better off using a more sophisticated website builder. Unless, of course, you're happy with a 15-product, 1-page site, and only one email account.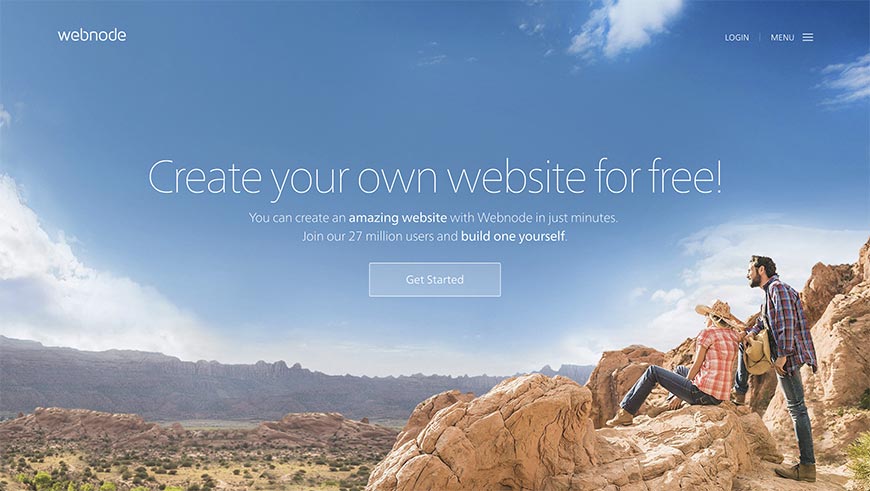 Webnode made the traditional step forward as a website builder by introducing a sections-based building platform. Unfortunately, the templates are incredibly rigid and don't allow for much customization, meaning what you see is what you get—and you have to work around it. And you don't have much choice, to begin with, either: the software only offers 17 templates, meaning there's a good chance your site is going to look somewhat identical to most others. It's a basic website builder with limited options, and this can be quite frustrating.
That said, despite being so limited in term of templates, there is a wider range of themes to choose. And while the section templates are very rigid, the themes are all relatively up-to-date with modern site layout trends. Where these items do fall short is the inability to make fundamental stylistic choices, such as the color scheme. You're likely to find yourself tearing your hair out because you've finally found a theme that matches the look of your construction business site, but can't change the scheme from pink to a more appropriate gray (example).
While most of the website builders we've mentioned so far give you the choice of a monthly or annual billing cycle, Webnode only accepts yearly payment—meaning you'll have to pay a minimum of $143.40 (Standard package) upfront for a site you're not likely to be satisfied using. If you need to incorporate an e-Commerce section, this hikes up to $239.40.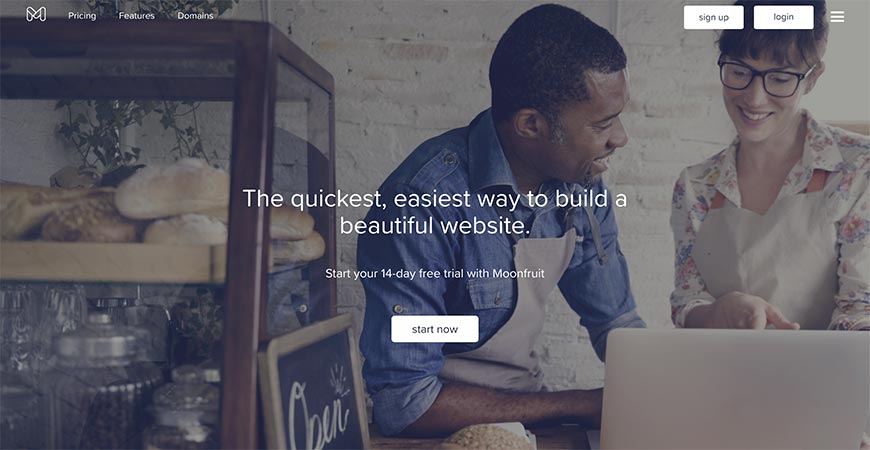 Moonfruit offers users a virtually blank canvas editing platform with a poorly designed an old interface. There is a selection of about 50 themes to choose from, but unfortunately, it's very trial and error when it comes to using them—and to switch themes, you'll have to start the entire website building process from scratch each time. None of the themes are very responsive either, and you'll likely struggle to personalize any of them—increasing the likelihood of changing templates at least once.
It can be somewhat confusing to use, but is relatively straightforward, allowing you to add text fields, radio buttons, drop down tabs, check boxes, and even file uploads. Photos will more likely appear slightly fuzzy than not, unfortunately.
There's also a basic eCommerce feature that lets you create product variation and categorization, and add promo codes, but you're regrettably limited to PayPal Express. Another unfortunate aspect is that you won't be able to customize your email receipts either, which can be a major factor.
The billing process is admirably simple at least, which is a breath of fresh air considering how terrible many of their contemporary website builders are in this regard. Ordering, paying for, and (if need be) canceling services is relatively pain-free, and their Standard package is quite adequate for a small business site. Priced at only $92 a year (with a 14-day money back grace period), Moonfruit is also competitively priced.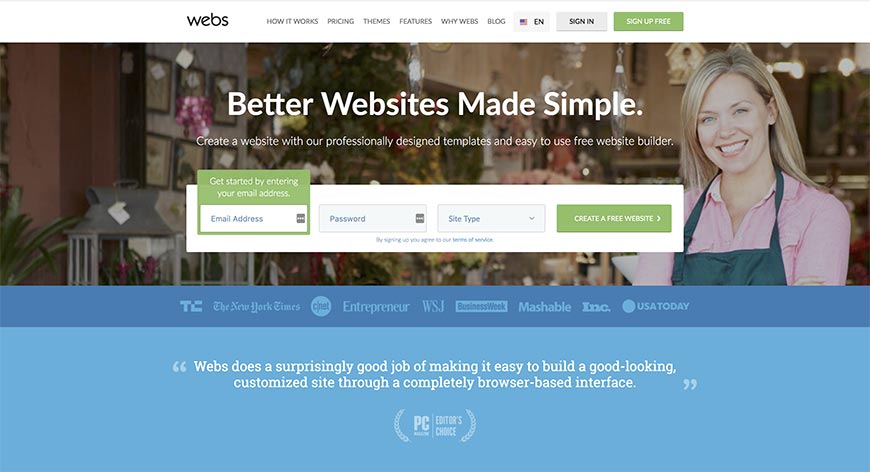 Remember Vistaprint, which we mentioned a few website builders back? They took over Webs in 2011, and since then minimal attention has been given to this formerly great software.
The templates are still quite contemporary—better yet, they're also customizable, so you'll be able to adapt the themes to meet your desires quickly. There's also a decent social media integration feature, and a powerful SEO tool built right into the builder that helps you to optimize your site.
The mobile site feature is a bit confusing though, and it's not clear whether you have to build the mobile version separately and then synchronize it with your desktop version, or if it's already synchronized. All in all, it's still a powerful feature, and your images are sure to display perfectly on both mediums.
Custom domains, email addresses—it's all there. As is the online store and eCommerce feature, which holds quite well considering a Webs package only costs $276—which doesn't make it the cheapest, but it's still comparatively low priced considering what it does offer.
Nothing seems to have disappeared at least, and Vistaprint is still making a modicum of effort when it comes to offering Webs customers support. They've also promised to give it more attention once their website builder is properly up and running. In the meantime though, you'll want to give it a wide berth.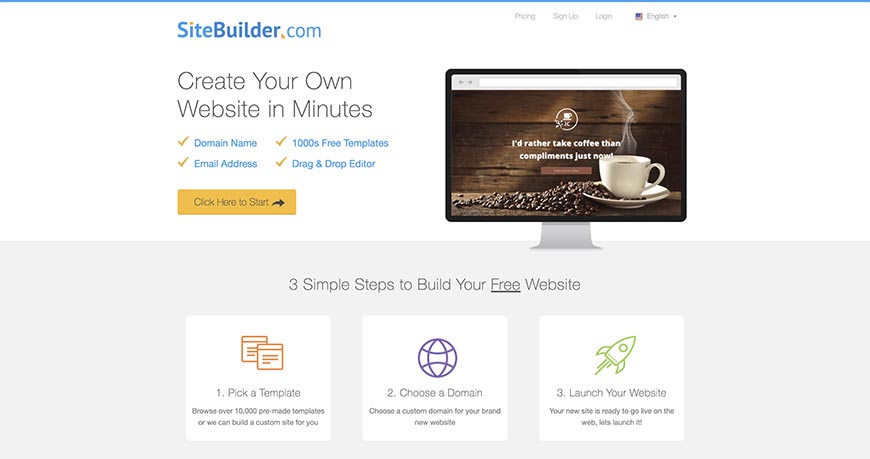 SiteBuilder comes with mixed reviews: some praise the website builder, while others put it quite low on their list of recommendations. You get a free custom domain name with SiteBuilder, as long as you opt for one of their premium plans, and you have the option of adding an unlimited number of email accounts, which is always a bonus.
Another plus-point is how easy it is to use, and there are thousands of available templates to choose. All of their templates are marvelously customizable, and you won't struggle to personalize your layout either.
On the other end of the spectrum, it can take as long as three hours to get your account activated—never mind the usual 4-8 hour propagation period for your domain.
The Pro plan, their most attractive option, will cost you a measly $65 a year, but you'll want to take the $96 Premium package at the very least. Still, considering what you get for your money's worth, SiteBuilder remains one of the most viable and cheapest website builders available.
There are two major catches, though: an eCommerce package—an exact duplicate of the Premium package, except you can add an online store to your site—retails at $144 a year, and the SiteBuilder billing system is nothing short of a nightmare.
Considering most web hosting companies offer their customized version of SiteBuilder (such as the dreaded GoDaddy Website Builder 8, coming up on our list), you're probably better off opting for one of those.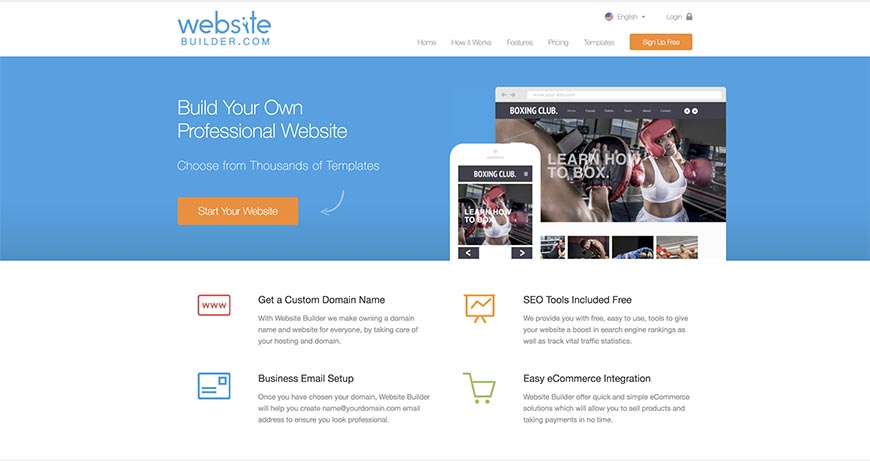 To be perfectly honest, WebsiteBuilder.com is a good example of the same software being marketed under a different name. It's the same as SiteBuilder, sitelio.com, and sitey.com.
As per usual, the editing process involves stacking section blocks on top of and next to each other to build your site, and you have thousands of templates to choose from when starting out. Templates can be very versatile or specialized, with one-page website templates and professional business site options available.
There's also a nifty option you can tick to enable a mobile version of your site, which you can either leave as automated or edit individually. Unlike most other website builders, you'll also have the same option for the tablet version of your site—which, admittedly, is a huge plus.
Despite being very much the same as SiteBuilder, WebsiteBuilder.com's pricing is slightly different. The trendy Premium plan is an excellent option at $72 a year, but the $84 Business plan would be far more applicable. As always, the e-Commerce function comes at a price—$144 a year, to be exact.
WebsiteBuilder.com are a little more upfront about their terms and conditions at least, and let you know right from the start that you'll be charge $15 to keep your domain name if you decide to move away from their services at any point.
Unfortunately, just like its twin, their billing system is a headache waiting to happen. Avoid by all means possible.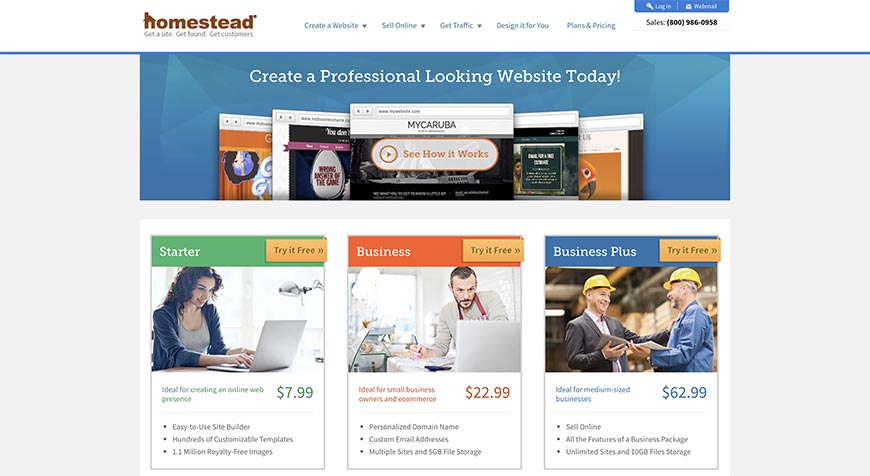 Homestead is regrettably similar to SiteBuilder and WebsiteBuilder.com and seems to have been pretty much abandoned by the developers since Intuit acquired it in 2007 (although they gave it some effort until 2016 at least).
As such, it's incredibly easy to use, but equally outdated. Many of the features are listed as an add-on, typically costing $15 a month. These include a Simple Store function (advanced eCommerce will set you back a few extra dollars), even with their most inclusive package available—the Business Plus plan, at a hefty $756 a year.
To be fair, there are a few extra perks, such as a royalty-free library of images you can source for your site, additional templates, and a generous 30-day free trial that would put Homestead a step ahead of the highly similar SiteBuilder and makes an effort at making it worth the extra cost.
At the end of the day, if you do decide to use Homestead, we would recommend that you opt for the Business package (as opposed to Business Plus). There's not much difference between the two plans really, and this plan—which is also notably more popular—will only set you back $276 a year ($456 if you opt for the Simple Store function). Their billing system is also a lot more trustworthy, even if it does require a credit card for sign-up.

As often happens, the GoDaddy Website Builder 8 started off with genuinely good intentions and an attempt to fill a gap in the market when they realized most of their clients were bemoaning the fact that developing their sites took too long.
Designed to be a sleeker version of their Website Builder 7, it's the professional opinion of many experts that this particular software is not only a downgrade but a huge mark against GoDaddy's otherwise good name.
Templates are incredibly rigid. You add your content to copy-paste section blocks, and even with the most "blank canvas" block, you won't be able to make even the most basic changes. Every time you need to break your text into separate paragraphs, you'll need to paste a new section block!
It would be relatively easy to get around if you had a wide variety of templates to choose. Unfortunately, as part of their effort toward making Website Builder 8 as quickly as possible, GoDaddy's developers have limited users to seven themes.
The newsletter and eCommerce abilities of GoDaddy's Website Builder 8 are at least adequate, and if you can get past the many other limitations, you should be quite happy with the results. It's pricey though—the least limited package will set you back about $490 a year.
All in all, if you're going to host your site with GoDaddy, you'd be well advised to avoid Website Builder 8 and install a better website building tool.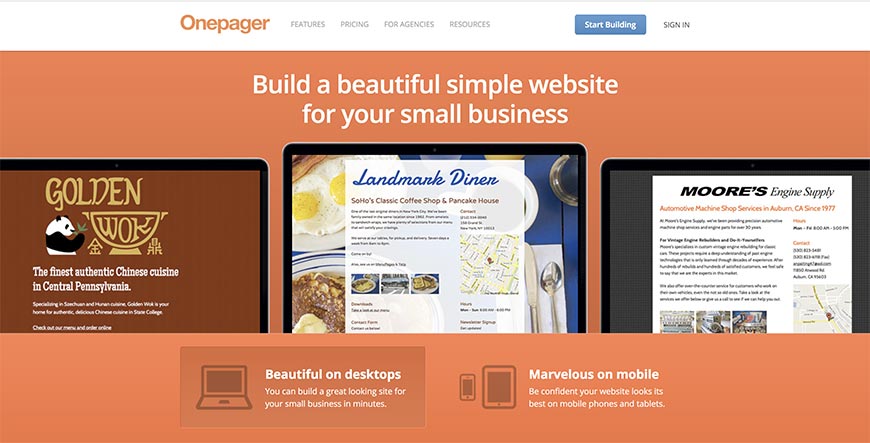 Onepager is very aptly named, as you'll be limited to creating a site with only one page when using this site builder. The form builder function is admirably basic but very limited. You'll only be able to add basic text content and images which (regrettably) end up very blurry. You'll also be able to add a basic subscription form for a newsletter, but you'll be forced to use the Onepager newsletter service, which (again) is very basic.
There are about sixteen template themes to choose from, but in sticking with the tradition of overly simplified website builder models these are all rather outdated—for example, they all include a textured or patterned background, which doesn't come across as very professional when developing a business site.
Of course, if you can find a pattern that matches your industry—the wooden floor option has the potential for flooring, carpentry, and other woodwork business models, for example—then it can still be a nice touch.
The customization tools are also lamentably simple, using sliders rather than figure inputs for changing basic elements like font size. It can be handy when quick changes are necessary, but having to gauge each item with the naked eye can get frustrating—especially if you want to be precise in your measurements.
All in all, Onepager is a quaint website builder for very basic small business sites, and their Starter package at $76 a year should be more than adequate.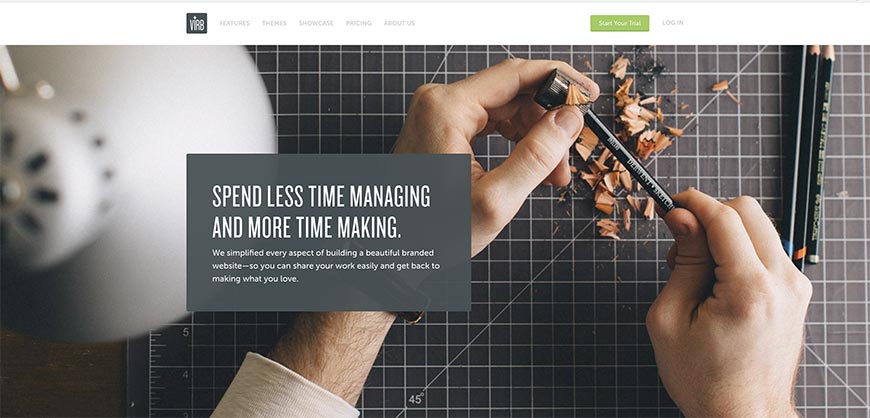 Virb used to be a highly recommended website builder until the company was taken over by GoDaddy. Since then, several features have fallen by the wayside and their Twitter account is only ever used for notifying the stragglers of downtime. On their site, the Roadmap section was previously used for detailing upcoming developments and new features—but seems to get permanently frozen since GoDaddy's acquisition in 2014.
There's still a wide range of themes and templates available—all of which are fully customizable—and built-in mobile optimization. Anyone with a knowledge of CSS and HTML programming will also be delighted to find that Virb gives users full access to these features, but they aren't a requirement.
A lot of the functions that haven't dropped are beneficial indeed. You'll still be able to integrate music, videos, and events by incorporating SoundCloud, Instagram, Facebook, and a host of other applications.
Virb struggles a little with live support, but they do at least provide tutorial videos and a community forum—so if you do get stuck, someone will (hopefully) be able to help.
For as little as $120 a year, Virb is surprisingly up to date for a website builder that hasn't been touched much by its developers in the past several years—and you won't have to pay extra for a (very) basic online store page. You will have to pay for an eCommerce app like Shopify to get said store page operational, though.
Still, for all its merits, it's tough to ignore all the bad reviews Virb has received since GoDaddy took over.

Originally developed in partnership with Jimdo as a white-label version, 1&1 eventually parted ways with Jimdo with the intention of becoming a better version. Unfortunately, it failed, which is why 1&1 appears so far down the list from its parent website builder.
The editing process is catastrophically disorganized. There are plenty of highly customizable elements to choose from, but the tools and functions are so all over the place that you'll quickly have five pop-up tabs open to editing one minor feature. In many cases, the "save changes" button is hidden behind the sidebar, making writing a frustrating process.
Where 1&1 does step ahead of many other similar website builders is the footer section, which you can indeed edit. The only problem is, you'll only really be able to modify the copyright message you'll be putting there.
One of the few redeeming factors is that you'll be able to register your domain with 1&1 for very cheap, and they throw in a free email account and SSL for you.
E-Commerce is another area of confusion, though: 1&1 advertise an eCommerce product in a ploy to have you upgrade your package, but if you want an online store you'll have to install a PayPal store app from their website.
Their billing system is as much of a headache as everything else. For your first year on the Premium plan, you'll only be paying $180 (without the e-Commerce app), but after that, your bill gets doubled. Canceling your subscription is a 20-minute, 8-page process that culminates in your having to make a phone call.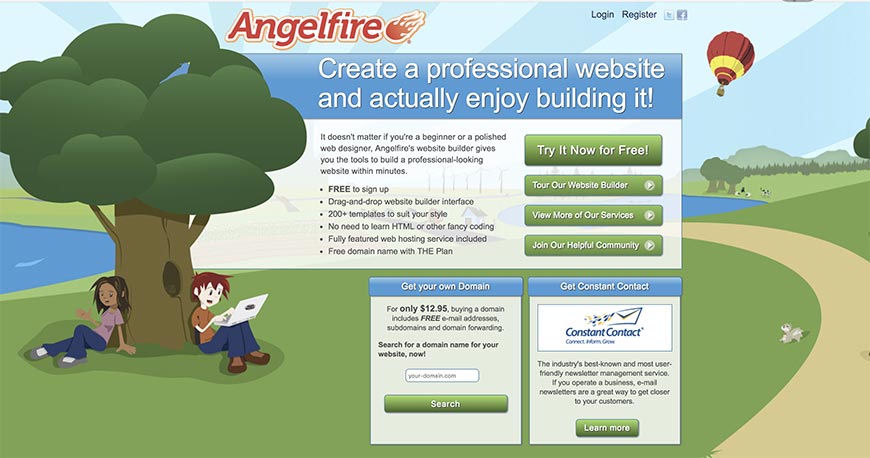 Everything from the login page (filled with extraneous details that take up your whole screen) to the real editing platform feels incredibly dated. And while the editing process is admirably natural, there are so many superfluous add-on options that you'll easily get distracted (and possibly end up building a very gimmicky site instead of the professional business site you want and need).
It isn't helped much by the fact that the website builder's editing features are spread sporadically in a way that makes little sense. Even worse, there aren't any useful tips or indications as to what function you'll find where you're left to wander around the maze without a map or compass, as it were.
No matter what features you use, your Angelfire site is always going to end up looking like a rushed school project done in Microsoft Word the night before it's due.
This outdated atmosphere is made somewhat ominous by the fact that the Angelfire social media accounts are inactive—their Twitter account is inactive since 2012. Needless to say, you'll be entirely reliant on community forums for any support, and for all intents and purposes, Angelfire seems to have been abandoned by its creators.
If you have time to kill and want to get a few laughs in, go ahead to try it out for free—but if you're serious about your business and its online presence, we firmly suggest you give Angelfire a very wide berth.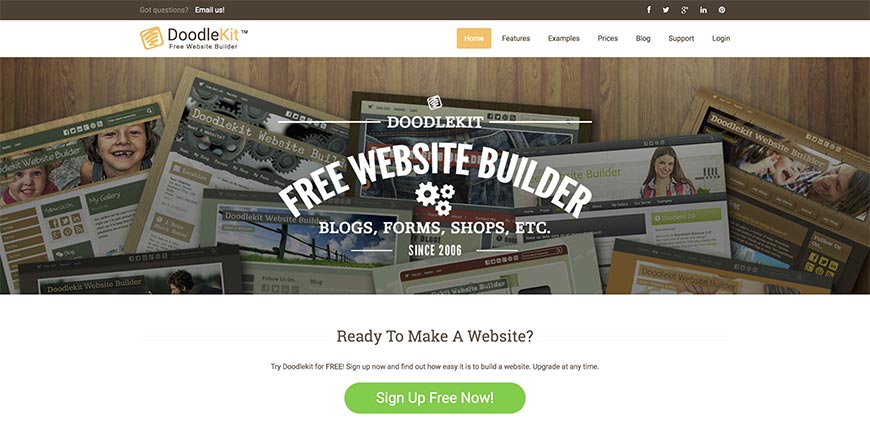 Starting off on a positive footing, Doodlekit is initially a comparatively cheap option at only $120 a year and offers a free domain name with unlimited email accounts for your site. Your account will also be activated instantaneously, which is always a plus.
Unfortunately, everything goes horribly downhill from there. Your domain takes 48 hours to propagate—more than six times the usual worst case scenario. And if you want to incorporate an online shopping experience, your bill will rise to $300 a year.
The eCommerce function isn't worth the title: it's a basic, inadequate shop page without any checkout process, forcing customers to make a PayPal transaction for each item instead of filling a shopping cart for one final payment.
Outdated certainly seems to be a growing trend with website builders like Doodlekit and Angelfire (above). Although there are about 170 themes available to choose from, most of them feel like they were sitting in an attic.
The editing process is another nightmare, of course. Each element has to be a separate page, and in truth, there isn't any real editing process: you just click on red buttons strewn over your site (often obscuring your vision) before getting redirected to a form that needs to be filled in to create individual elements.
And once again, you're forced to incorporate the sidebar. Not only is this a very dated style, but you won't even have the luxury of editing it to make the most of a bad situation.

When logging into web.com's editing section, you'll find at least a quarter of your site is hidden behind two huge sidebars, meaning you won't have any idea of what it looks like until you publish. To make things worse, it uses a poorly developed layering system, meaning you can quickly make an hour's hard work disappear by attempting to move or replace your background image.
Technically, there are a variety of templates you can use to base your site on, but with an editor this complicated you'll probably delete everything and start from scratch with a blank canvas—especially as most of them are very dated.
You'll also find it difficult to keep your site design consistent unless you're incredibly careful, as there's no way to define global settings. Every page has to be created from scratch, making it an even more painful process to design a business site with more than one page.
There's almost no direction on the web.com page and no accurate indication of how much you'll be paying—just the initial fee for the first month. You'll be spending about $264 on a basic site, with an extra $37 for domain renewal starting with your second year and between $28 to $480 a year on an SSL certificate to host an online store.
It makes web.com an expensive and disappointing website builder. You could end up spending as much as $781 a year on a small eCommerce site.

Another outdated website building system, CityMax makes designing your site an unnecessary migraine. The entire editing process is only filling out forms in the hopes that what you're typing is what you're going to see. Every time you complete a page (or a couple of elements thereof), you'll have to select the preview option to check on the visuals, forcing you to go back and forth when most website builders offer a what you see is what you get experience.
The process is made even longer by the fact that you'll often have to sift through 20-page types before beginning each section, and then fill out an average of three forms just to add a single element.
There is an e-Commerce function built in, but it's no better than the rest of the site builder—you have to hunt to find the "enable shop" feature, and struggle with the same tedious process of developing a very outdated looking online shopping page.
Sure, you can make the design process a little quicker by using one of CityMax's themes, but you'll have to heavily customize them to avoid a tacky and highly forgettable look—and you're incredibly limited in this regard too, unfortunately.
Considering you'll be coughing up $25 every month (CityMax doesn't offer an annual billing cycle option), it's also frustrating that it can take a whole day to make contact with them when you inevitably decide to cancel. Even worse, all it takes is your domain name—there's no security check whatsoever.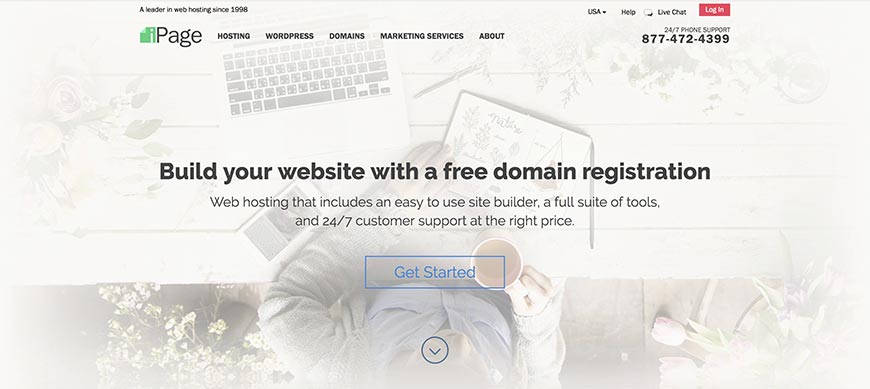 iPage is firmly marked as a website builder to avoid at all costs. For one, it's advertised as a desirable option, with $100 Google AdWords and $100 Bing credits for online marketing (along with $300 other benefits such as a sitelock, cloud storage, and WordPress tools) included in the incredibly low introductory fee of $42 for their Essential plan. But the key word there is "introductory"—after your first year, your bill shoots up 300% to a minimum of $156.
Even worse, the order process automatically includes a host of ill-explained and mostly unwanted upgrade features, all at an extra charge of course. And the cancellation process is no better, with iPage attempting to charge you a $15 domain fee regardless of whether you registered your web address with them or not. To be fair, this isn't an unreasonable expectation if you did indeed make use of their supposedly free domain registration, that is noted on their site.
The editing software itself leaves much to be desired too—it's very flashy and looks like it can do a lot for you, but it's frustratingly limited, unless you pay for extra features at exorbitant prices, of course. It's relatively easy to use and can be integrated into almost any other website building platform as you see fit, but you'll pay through your nose for it.
All in all, there isn't much to say about the iPage website builder software other than a cautionary word of advice to avoid it entirely.
Conclusion
Our best recommendation is WordPress—it's easy to see why they're the most popular website builder and content management system in the world! No matter your skill level or requirements, WordPress either has it already integrated, or offer a host of plugins to fill the gap.
At the end of the day though, it's your site that you'll be building—so you need to be satisfied with the website builder you use. We hope our list of recommendations (for and against) helps you make an informed decision.
Back