Last Edited January 4, 2021 by Garenne Bigby in Content Audit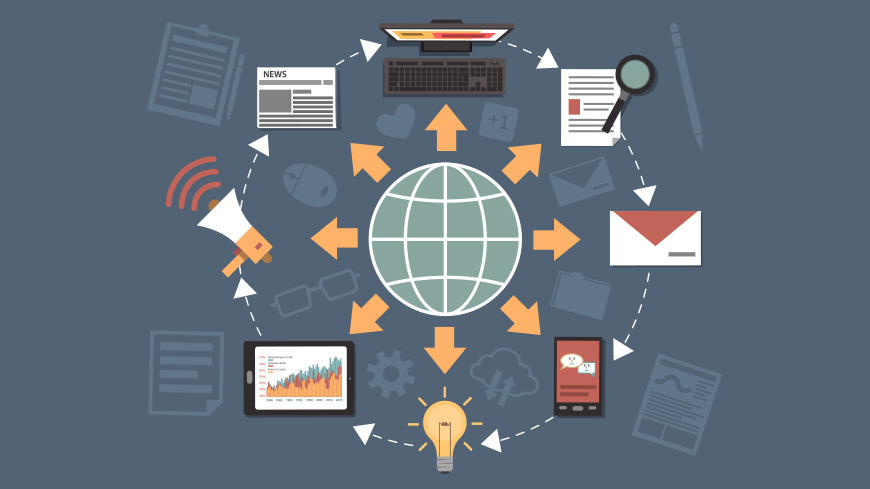 In previous articles we've talked about content marketing and auditing tools, DYNO Mapper's Google analytics integration features and how sitemap tools can make your life much easier. We are going to take things a bit further in this article and talk about how analytics and content audits go hand in hand. Most people don't realize that they can use analytics for content auditing purposes, but by utilizing your analytics data you will have the ability to rise to the top with fantastic content for search engines and visitors.
As a refresher I'd like to talk about content inventories and audits as a prerequisite to this process. A content inventory is kind of like taking inventory of a store's stock of electric or baked goods, except it's dealing with all of your website content instead—including all text, images, documents and applications. To gain a true understanding from your content inventory you will need to assess each piece of content on your website to make sure it's in the proper location and up to date.
If you're someone who has a large information-rich site like a blog, a content inventory can be a monstrous task. You could compile your inventory on a spreadsheet so that you can sort through and filter the data with ease, but that can be very time consuming. Another reason why utilizing a sitemap generator would be beneficial because these tools can finish a complete inventory of a website (regardless of how large or small) in moments.  
While content inventories do tend to vary in what they capture, they often include the following data for each piece of website content:
Unique Content ID

Description (the title of the content item)

URL

Format (HTML, PDF, DOC, etc. Hard copy, electronic file and links)

Author or Provider

Physical location (in the content management system, on the server, etc.)

Meta Description

Meta Keywords

Categories/ Tags

Dates (created, revised, accessed)

General Notes
After you've completed a content inventory of your website you will be ready to turn that inventory into a content audit. A content audit will help to transform and mold your website for the better, boosting its visibility and ranking in the search engines. It is recommended that you perform an assessment of the raw data the content inventory provided you with. This assessment will vary from user to user depending on what you're hoping to learn.
Upon completion of your assessment, you can decide what kind of content audit makes the most sense for you and your website needs. It's common for audits to track what website pages should be removed, whether the content within the website should be revised or revamped, and what content should be written or added to your website in order to fill in the gaps. Furthermore, a content audit will help you track and understand where content should be mapped to if it's being moved or redirected.
In addition to the above, a content audit is imperative to the success of content marketing campaigns, SEO strategies as well as a website's maintenance as a whole, regardless of how established or new the particular site is. For instance, when it comes to newer websites, a content audit will help you understand how to accurately compete in your market and what market opportunities you might have. Additionally, it will provide you with the opportunity to truly understand the importance of high-quality content, especially when it comes to the success of your site. After all, companies that have incorporated a blog into their website get 55% more web traffic than those that don't.  
Now, if you're about to attempt to dive into performing a content audit it's important for you to know that a good content audit can be a time consuming process; meaning it can take hours to complete without the use of a content inventory tool. There are other options that you can take advantage of as well, such as utilizing outsourced workers through various websites such as Upwork, Guru or Elance, but a content inventory tool is likely to be much more cost-efficient in the long run as you will need to complete content audits in the future, preferably every month, if not two or more times a month. That said, you will actually save on your marketing budget by using a content inventory tool and you can keep your hair, since performing an audit is actually a pretty difficult task—you need to know how to write well and be knowledgeable when it comes to the basic technicalities of bad SEO and website errors.
If you'd still rather perform a content audit yourself, you will first want to figure out how many pages your website has. Exact pages, not a guesstimate. When it comes to determining your page count there are a variety of tools out there that you can use to crawl your site and detect how many pages you have, as well as point out any major mistakes such as missing meta content or 404 errors. One page could take you four hours to carefully analyze for a thorough content audit—multiply that times your number of pages.
That takes a lot of time, and who has time for that? Especially if you're a small business owner who is working hard to get to the top.
The Important Components of a Content Audit
Since we're on the topic of content audits, it's important to understand the components that make up this important procedure:
Content Type: This includes graphics, images, text or a mix of both (i.e. infographics).
Content Source: Is the website's content original or is it curated? Do outbound links reference your source for the content and cite original creators if necessary? Your audits should ensure that your content is properly sourced on each page of the website.
Audience: Where does your audience originate from and how does that relate to the marketing channels in which you've invested?
Performance: Does the website content draw in your audience? And if your visitors stay on the page, do they take the next step to convert? Do they come back for more?  
All of the above components can be evaluated using your website's analytics. In previous articles we have talked about DYNO Mapper's Google Analytics feature—but in this article we are going to discuss how analytics and content audits go hand in hand, because most people don't realize they can use analytics for content auditing purposes.
Once you've reviewed your website's analytics, the following analytics data will help you identify the success of a particular piece of content:  
Unique Visitors: The number of unique visitors you have can be evaluated to see just how successful your content is. If your visitor count is down, you can up your content game and revamp your existing content. A content audit will help you learn more about your content and what can be improved on.
New Visitors vs Returning Visitors: This metric is a great gauge when it comes to the popularity of your content over time and whether or not your current content is good enough to make your visitors return.
Referrals: The referral metric can be used to evaluate your directed strategy on social media or through email marketing campaigns to identify the most valuable referral sources.
Bounce rate: If a visitor comes to your website but clicks away because they didn't find what they were looking for, they are considered to be a "bounce"—something that makes up a metric called bounce rate. A high bounce rate will indicate just how many visitors are not finding the page valuable enough.
Load time: Your page's load time is directly related to its bounce rate. Identifying higher load times on both desktop computers and mobile devices will allow you to streamline elements in order to make for a more user-friendly experience.
Keywords and ranking: It's important to evaluate how your pages rank for the keywords you've identified as being important. After evaluating you can modify as necessary to aim for high-volume, low-competition keywords to achieve a solid page rank.
Outbound links: Determining the links between your website and others are imperative—backlinks are one of the most important aspects of an SEO strategy. They also provide a measurement of how well your website is regarded. That said, by cultivating good outbound links you will increase the reputation of your own site. Additionally, you will provide your website with exposure from those sites to which you've linked.  
Conversions: If the page on your website gets the visitor to the next page or next step, such as a subscription sign up or purchase, they are counted as a conversion. You can gauge how many page visitors were not impressed by the content and simply opted out of the website as opposed to those who converted to the connecting page.
Location: This metric enables you to evaluate the success of your localized content or SEO campaign. It also serves as a means of separating useful visits from non-useful ones.
By identifying the components of your content on each page and measuring them with your diverse analytics, you will have the ability to create rock star content that will perform well. Not only that, keeping an audit and your analytics working hand in hand will also let you learn about what content is doing well, what isn't and frankly, what needs to be removed. In some cases you might even decide to revamp all of your content, repeat a content audit and then eventually match with your analytics.
As we've talked about in previous posts, you will want to ensure that your website has an HTML and XML sitemap in order to complete an inventory or content audit. Now, many website owners have an idea of what a sitemap is, but they don't necessarily understand how imperative a sitemap is for the success of their website, ensuring that the site is both search-friendly and user-friendly. With that said, it's apparent that sitemaps can be useful in a variety of ways—especially when they can be integrated with Google analytics data. Furthermore, sitemaps are a protocol that allows the webmaster for a website to inform Google and other major search engines about the URL's on a website that are available for crawling. They are also an important step of the user-centered process, ensuring that website content is in places users would expect to find it.
This user-centered process is imperative because if a user can't find what they are looking for on your website, it's more than likely that they will leave and never return—which is the last thing any website owner wants. How information is organized and presented on your website is vital for good usability, in addition to well-formatted content that is easy to scan.
To learn more about DYNO Mapper, the innovative sitemap generator equipped with Google analytics integration, visit www.dynomapper.com and signup today. 
Back