Being able to share content online has become commonplace in today's online environment. One of the easiest and most common methods of sharing is through capturing screenshots. The method is fairly self-explanatory: it simply involves recording and saving an image of what one is looking at on one's web browser. Once saved, screenshots can be edited, personalized, and transmitted through the internet, to any target audience that one chooses.
Today, practically every computer on the market comes pre-installed with basic screen-capture functions. Most users are familiar with the "Print Screen" key on the keyboard and know how to save and manipulate a screenshot captured this way. This basic functionality might be sufficient for most, but for users that go the extra distance, basic editing may not be enough. Fortunately, there is a wide variety of screen capturing tools on the market that can provide the extra options that savvy users look for.
Screen capturing programs cover a wide arc in their capabilities, and their availability. Some are geared towards editing and sharing 2-D images, some offer 3-D options, and some programs even have audio functionality. Several tools are specific to one operating system or browser (Windows, Mac, Linux, etc.), while others can function on multiple systems. Finally, some of these tools are offered free of charge, while others require a fee. The type of posting that users prefer will determine exactly which tools they will need. Although the number of tools available is far higher than what we cover here, we will focus on 50 of the most popular programs.
Mac
Users who prefer Mac and other Apple devices need not fret, as there are just as many screen capture tools available to them. These are just a handful of the programs that are exclusively compatible with Mac OS.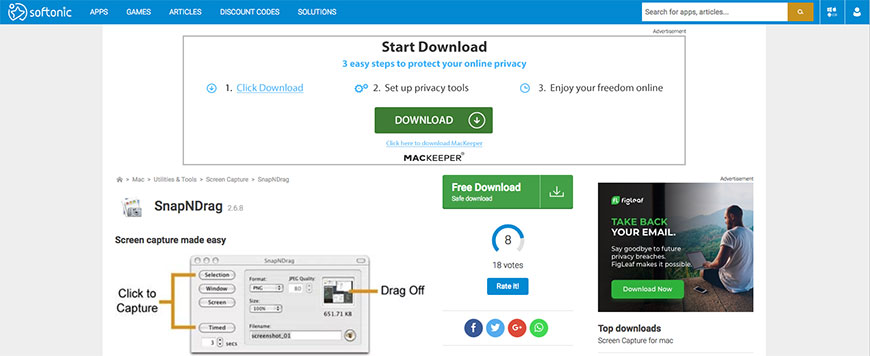 Users that need a program to simplify screen capture need look no further than SnapNDrag. With the humblest of beginnings—as a simple app for one-click screenshots that users dragged to Mail—this tool has evolved into a full content management platform. Despite the expanded features, SnapNDrag has maintained its user-friendly interface, as well as its ease of use. In its repertoire, SnapNDrag boasts its trademark one-click capturing, along with organization by folders and the ability to annotate while keeping the original image intact. This app can easily post content via Mail, Messages, and social networks like Twitter or Facebook, in PNG, JPEG, or TIFF formats. SnapNDrag is free to download and use, but it can be upgraded for a reasonable fee to its Pro version for more advanced features. Regardless of which version users prefer, SnapNDrag makes taking and posting screenshots beyond easy.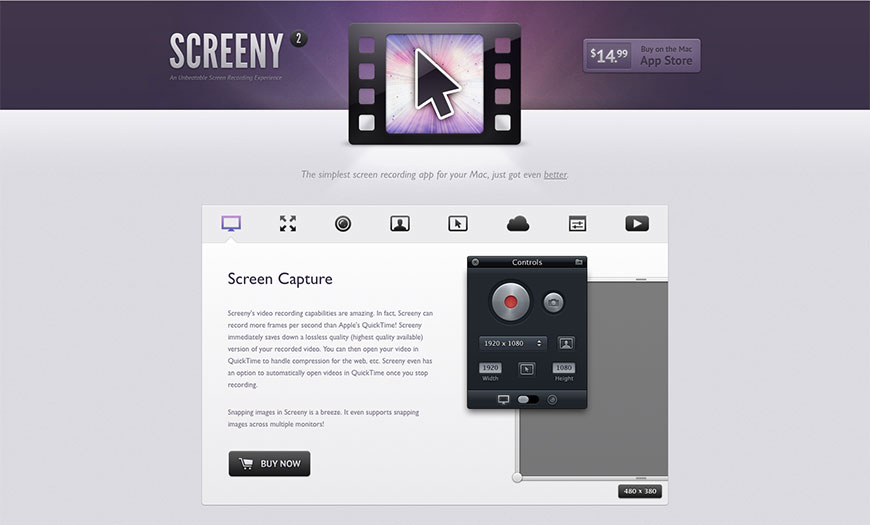 Able to record both videos and screenshots in ways that would make photographers envious, Screeny is the complete package. With a recording function that can outpace even Apple's QuickTime, Screeny automatically saves the highest quality version of a video. Its capture area is completely adjustable, allowing users to select only what they want to record, both on video and in a screenshot. Not limited to just taking screenshots, Screeny can also use a webcam to take photos, all without the pesky "mirroring" effect that Mac OS' camera capture shows. Fully compatible with CloudApp, Screeny can compress files to speed uploading, and automatically copy a URL to the image file to the clipboard for easy posting. Screeny's interface boils down to a simple control panel for intuitive use; if you can operate a remote control, you can operate Screeny. If users want to dabble in cinematography, Screeny is a great help.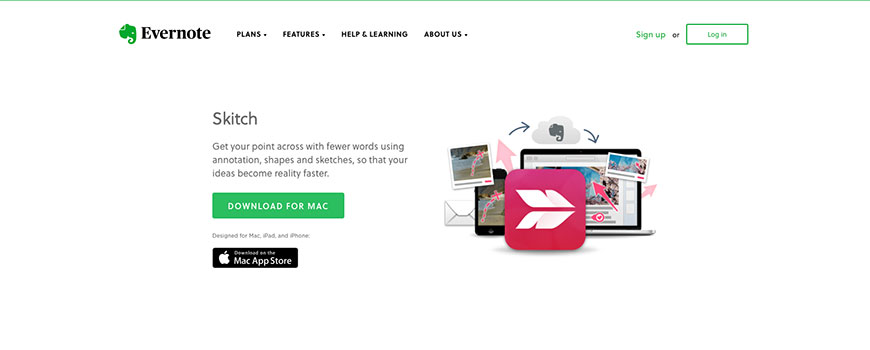 After being purchased by Evernote and refurbished, Skitch is a competent screen capture program that anyone could make use of. Skitch's Screen Snap can easily capture whatever image, or part of an image, a user needs, be it a whole window, a portion, or the entire screen. Skitch also boasts a Timed Snap, allowing it to record screenshots after a set delay, or over a programmed period of time. As an editor, Skitch sticks to the essentials, allowing users to focus on adding text, highlighting, stamps, pixelation, and cropping. While some of its earlier functions may have been lost after its remodel, Skitch is still capable of getting the job done. The interface may be awkward to start with, but it is intuitive once it is mastered. Any user that wants to skip all the bells and whistles that other programs use will still have a lot to like about Skitch.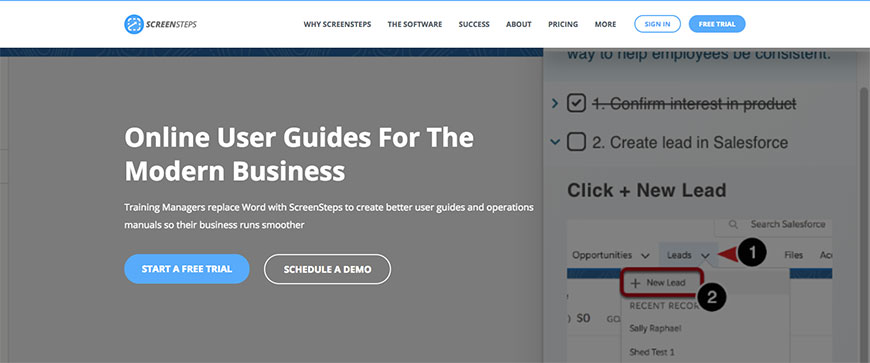 A capable screen capture tool on its own, ScreenSteps was purpose-built for a specific niche: how-to guides and tutorials. When it takes a screenshot, ScreenSteps can insert it as part of a "step" in a document, with each screenshot having its own step. From here, it offers annotation features such as lines, text, highlights, and shapes, among other things. While ScreenSteps works best in creating these kinds of guides—as trademark. ScreenSteps files—it is perfectly capable of saving single screenshots as PNG or JPG files. Upon completion of a guide, This tool can export it to PDF, Word, or HTML. Guides can be shared through ScreenSteps own service, as well as Dropbox, Evernote, or WordPress. Needless to say, ScreenSteps falls outside the box; it does a unique job, and does it well, at a minimum price of $99 per month. Users whose aims are educational will find that it suits them just fine.

As its name implies, CloudApp is designed to help users share their content through the cloud, and it does a masterful job of that. Once installed, CloudApp can record screenshots, webcam videos, and even audio files, and store them all in the cloud, minimizing desktop clutter. From the cloud, this program can easily annotate files to include comments, arrows, lines, shapes, and other elements to boost their impact. When recording video, CloudApp also creates a custom URL on the clipboard; users can paste this link to share their content however they choose. CloudApp is capable of adding personal logos to content, including a link to users' websites. With secure sharing and controlled access, users can maintain control of their content at all times, whether from CloudApp's own storage or other storage sites. When it comes to working in the cloud, users will never go wrong if they go with CloudApp.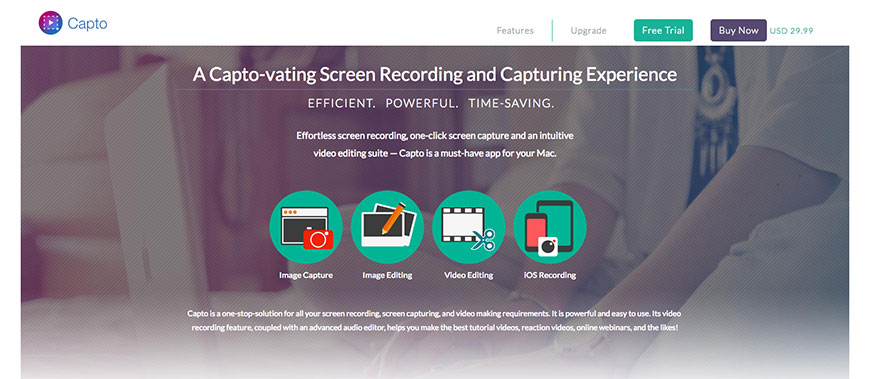 In terms of simplicity and efficiency, Captur is tough to beat. Eschewing bells and whistles like advanced editing tools or integration with third-party sites, Captur focuses solely on taking screenshots. Working in tandem with Mac's onboard screen capture functions, Captur stands by in the menu bar, waiting to be called to action. Captur allows users to take instant screenshots as well as timed ones, and can easily select which parts of the screen to capture. This program can also save images, and load them in Preview for editing, which provides a slight expansion to Mac's normal functionality. Captur allows for times and dates to be added to all screenshots. It can also change files to a different format, along with default file names. Users who want an efficient, no-nonsense screen capture tool will not be disappointed with Captur.

As its name implies, Paparazzi is an apt program for taking quality screenshots from virtually anywhere. Designed to work with both Mac products and iPhones, Paparazzi can capture screenshots of entire web pages. To take a screenshot at the best size, users will need to select from a number of pre-set browser sizes or input a specific size. Once Paparazzi takes a screenshot, users can easily save it, share it on social media, or send it via text or email. While Paparazzi does not have much in the way of editing options, its ability to rapidly take and move screenshots can rapidly assemble a collection. This makes it an ideal tool for putting together a collage or portfolio. Users who need to take a lot of good screenshots quickly, and edit them from home later, will find that Paparazzi lives up to its name in the best possible way.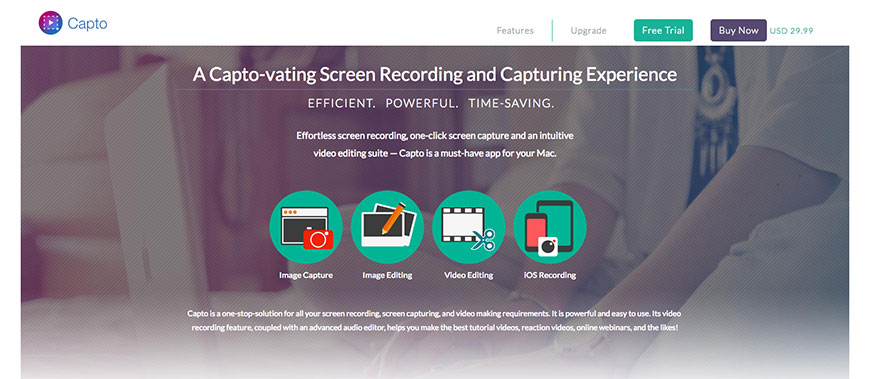 A top-class screen capturing, video recording, and editing platform, Capto brings efficiency, power, and timeliness to the table. When capturing either screenshots or videos, users can easily select the portion of the screen they want to capture for excellent image control. When editing, Capto provides a full editing suite, allowing users to highlight, blur, add text and shapes, and adjust colors to their hearts' content. With its identifiable smart folders, Capto makes organizing and locating image files and videos a cinch. Offering seamless integration with social networks alongside cloud and hosting services, Capto lets users share files with confidence. Although it is available as a free trial, users who want to make long-term use of Capto will need to shell out $29.99. With so many features, however, this is an excellent deal; Capto will make sharing image content as easy as taking a breath.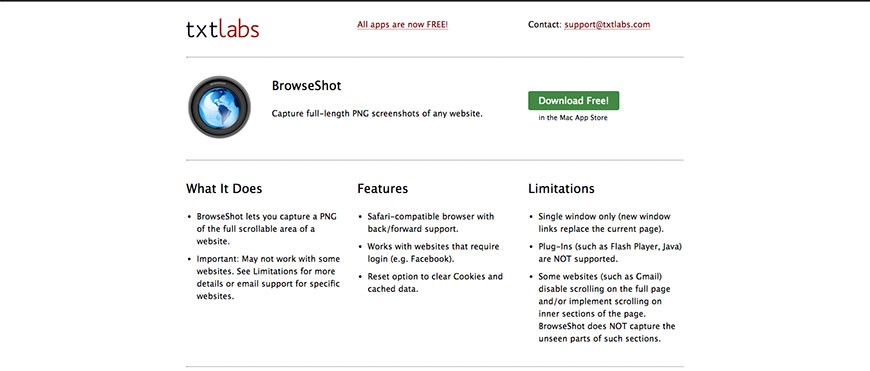 Users who need to record image content from websites need look no further than BrowseShot for help. Optimized for PNG screenshots, this capture tool can record full-length images of scrolling websites. Able to function as a browser as well, BrowseShot eliminates the inefficiency of always having to paste links into an address field. Even if a site requires login credentials—such as Facebook, BrowseShot can work with it. BrowseShot is fully compatible with Safari, and can clear cookies and cached data when required. That said, BrowseShot does have limitations. It can only work with one window at a time; opening new links replaces the current page. BrowseShot also cannot support plug-ins like Java or Flash Player, and if a website has disabled scrolling, it will not capture the off-screen sections. Despite its drawbacks, BrowseShot is a worthy addition to a user's image capture toolkit; anyone using it will not regret doing so.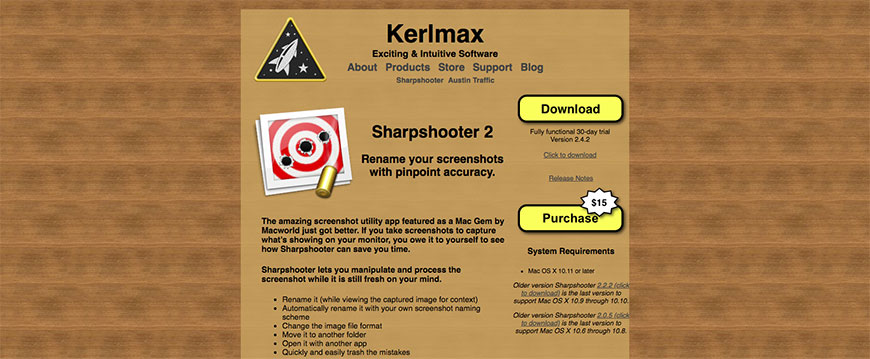 For those who have too many screenshots or need just a bit of help in organizing their images, Sharpshooter may be exactly what you need. While Sharpshooter isn't used to capture screenshots, it is an expert at managing the ones that users already have. Sharpshooter offers automatic screenshot naming algorithms alongside manual naming functions; users can put images in perfect context. Sharpshooter can also change an image's file format, in case users are concerned about compatibility issues. With Sharpshooter, users can easily move images to new folder locations, open them with different apps, and delete the screenshots that are no longer needed. Even though Sharpshooter has no capturing or editing functions, its organizing capabilities are top-notch. Sometimes users need assistance in keeping their image files tidy, and in pruning the images they don't need. That is precisely why some users need a Sharpshooter to keep things in order.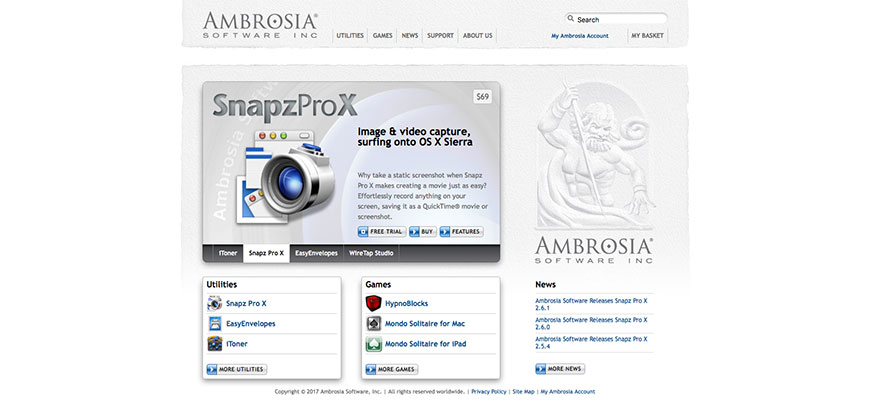 Users who want professional quality videos and images need look no further than Snapz Pro X. With a price tag of $69, this program is quite expensive, but users definitely get what they pay for and more. With Snapz Pro X, anything on screen can be recorded as a QuickTime movie or screenshot. Offering full motion recording, audio, and the option for microphone voice-overs, Pro X seems like it would be at home in a Hollywood movie studio. Now sporting new features after an upgrade, Snapz Pro X possesses a redesigned user interface that boasts an elegant kind of simplicity. Able to preview screenshots before saving them, Snapz Pro X can save in multiple formats, including GIF, JPG, and TIFF, as well as add watermarks. Snapz Pro X may demand a premium price from users, but it will give consistent, premium results in return, time after time.

Windows
Die-hard Windows purists will be happy to know that they have a wide variety of tools to choose from. Here are some of the more well-known programs for editing Windows image content.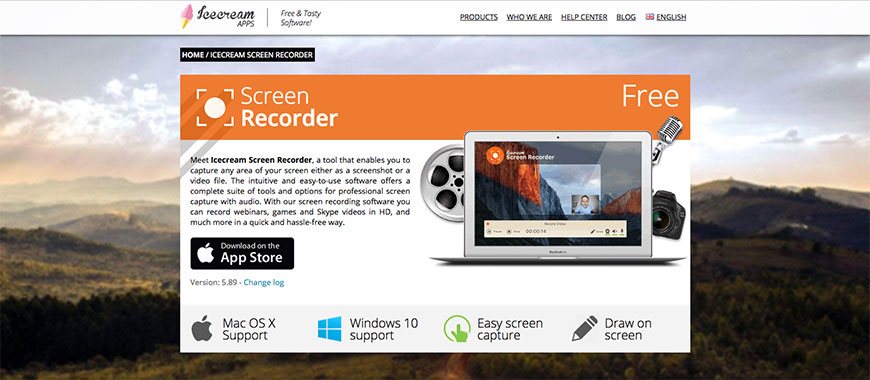 A professional, innovative, and streamlined screen recording program, Icecream Screen Recorder has been optimized specifically for the Windows 10 operating system. For users that are disillusioned or tired of "conventional" screen-capture tools, Icecream offers an excellent alternative to sharing image content. Users who make use of multiple browsers will find that Icecream works even better than any built-in screen capture tool. In addition to all the expected screen capture features, Icecream records videos in multiple formats, such as YouTube, Vimeo, and Dailymotion. Icecream also lets users insert arrows, lines boxes, and other annotations into video files. Finally, Icecream makes recording content as easy as pushing a button, and simplifies saving screenshots to one's hard drive, in whatever format one chooses. Hailed as a bestseller, Icecream is available for free trials, allowing users to see how it suits them. For those who want a sleek, easy-to-use screen-capturing system, Icecream Screen Recorder will not let you down.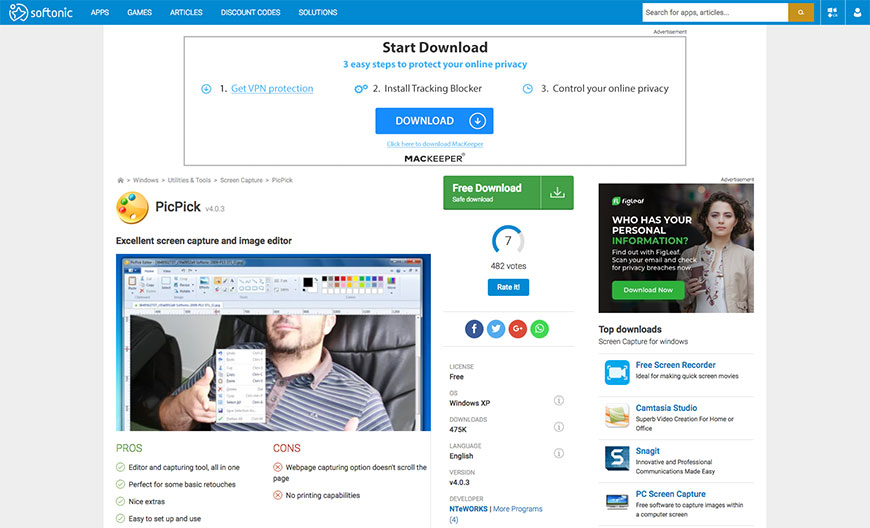 One of the more user-friendly programs for capturing and editing images, PicPick has an extensive array of features to choose from. PicPick's user interface boils down to a list including screen capture, image editor, color picker and palette, whiteboard, protractor, and pixel ruler. From these, users can easily navigate which images to edit and how to do so, making PicPick easy to use. The onboard editor also allows for text insertions, arrows, shapes, and a variety of advanced editing features. Remarkably, PicPick is not only free, but it is a portable program, as well. Users can simply download it, store it on a USB stick and take it with them wherever they go, and edit content from any computer or workstation. For users who need something they can take on the go and use easily, PicPick will get the job done.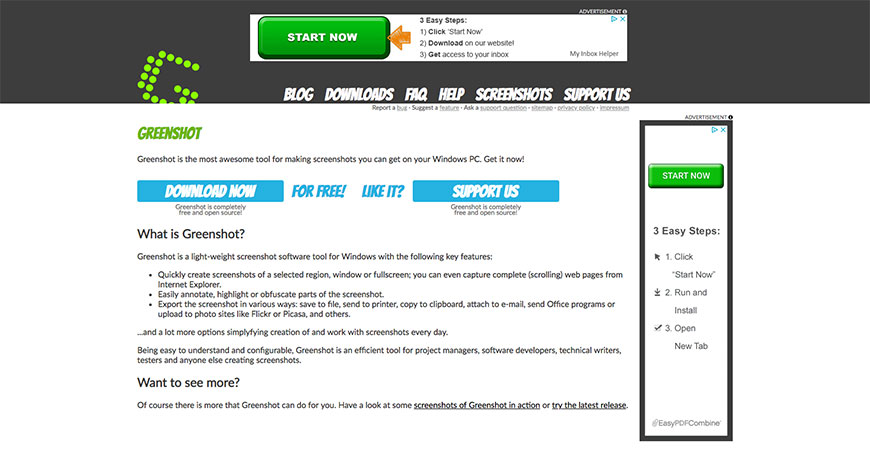 An open source screen capture program, Greenshot is both free and optimized for productivity on Windows. This tool lets users quickly take screenshots, as well as specify what to capture, be it part of a window, a whole window, or the entire screen. In addition, Greenshot can capture scrolling web pages, instead of having to take multiple screenshots. On the editing side, Greenshot can highlight text, insert annotations, and even blur unnecessary parts of the image. It has several options for saving images; users can copy them to a clipboard, save them as files, or send them straight to the printer. It can even send images to office programs like Word or Excel, attach them to an email, or upload directly to photo sites. For users who need a complete screen capture package on a budget, Greenshot may be exactly what they are looking for.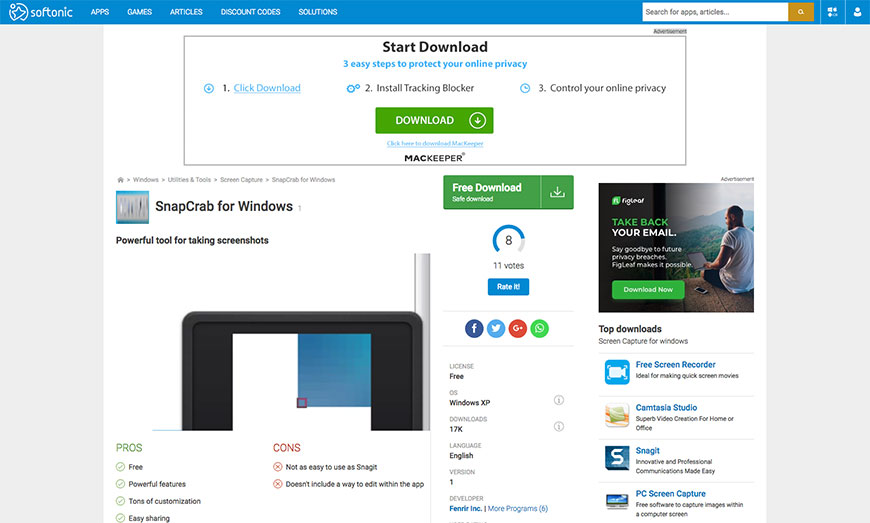 For users who are still on an older Windows system—Windows 8, 7, Vista, or XP—SnapCrab is an incredibly useful screen capture program. Able to save images in multiple formats: JPEG, PNG, and even GIF, SnapCrab lets users specify what to capture, be it part of a screen or the whole thing. With its Sleipnir compatibility, SnapCrab can also capture web pages and translucent windows. Furthermore, SnapCrab has onboard social features that make it easy to share across social networks. Finally, SnapCrab's self-timer feature can give users peace of mind, knowing that not a single instance will be lost. Users who haven't been able to upgrade to the current Windows operating system need never despair; their ability to share images is well in hand. Whether a user has a state of the art system or an older Windows product, SnapCrab can make sharing image content as easy as pie.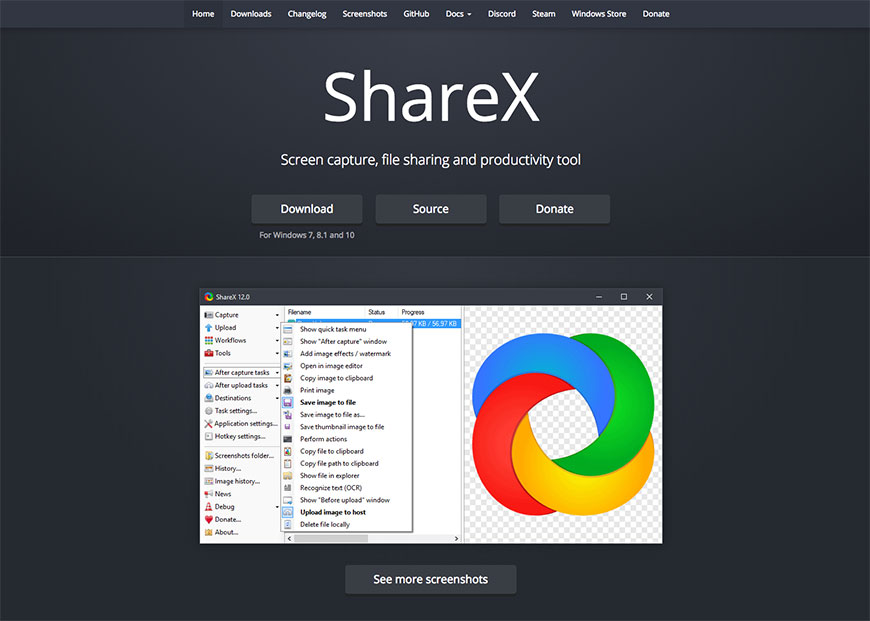 Another member of the open source family, ShareX boasts an editing arsenal that can stand next to any premium program with pride. Part of what makes ShareX unique is the strategy it takes to sharing content. While other programs save images on their own servers, ShareX is configured to work with any of your existing third-party accounts. Alongside its image capturing functions, ShareX can shorten URLs, upload texts, and record your screen, in regular and GIF format. Able to integrate with virtually any hosting platform, ShareX also sports automation features. Finally, ShareX can be configured to annotate images, add watermarks, and a variety of other tasks. Users who post content across multiple hosts—Flickr, Dropbox, or Imgur to name a few—at once will find a best friend in ShareX. Fans of unconventional methods of sharing and those who prefer to use their third-party accounts regularly will also get a lot out of ShareX.

One of the more popular image capture programs, Gadwin PrintScreen has earned its reputation many times over. This program has PrintScreen as its default capture function, but it also sports multiple hotkey combos. Users of Gadwin can configure this tool to suit their style, making it very easy to start taking screenshots. Like other programs, Gadwin can focus a screenshot on part of the screen or capture the whole screen. Upon taking the image, users can specify what to do with it; they can print it, email it, save it to a folder, or put it on the clipboard. Gadwin also lets users save images in any of six formats, all of which are fully customizable. If users want a program that is tried and tested for delivering quality image content, Gadwin PrintScreen may be exactly what they are looking for.

Online gamers may already be well-acquainted with this program. Although FRAPS has cut its teeth on frame rate measurements, its screen capture functions can be put to good use outside of the gaming culture. An option that gamers can make frequent use of is its ability to configure the capture hotkey to automatically name and timestamp images. Needless to say, its video-recording options would also be a welcome sight for users. All these features are included in the free version of FRAPS. The $37 premium version has a number of additional features, including the ability to take longer video recordings. One thing to bear in mind is that the current version of FRAPS supports Windows 10, but the user interface is still limited. Fortunately, the next version—3.6.0—will address these issues. With FRAPS, any user—from gaming diehard to the casual poster—can devise quality image content and share it as they so choose.

As a combined screenshot capture program, webcam and sketchboard recorder, and editor at 670 kB, efficiency is the name of ScreenToGif's game. Providing a streamlined service, this program is free and open source, with not a single ad anywhere in sight. In addition to screenshots and videos, ScreenToGif lets users capture content from its own digital sketch board, allowing for far greater creative license. The editor function here is quite extensive and can let users edit gifs from other sources besides their own. Though the default language is English, ScreenToGif is available in over 18 languages, and can detect a system's language settings automatically. Far from content to rest on their laurels, the developers of this program welcome feedback of all sorts to improve this program constantly. With such an efficient system, users will be able to prepare and share content in a flash.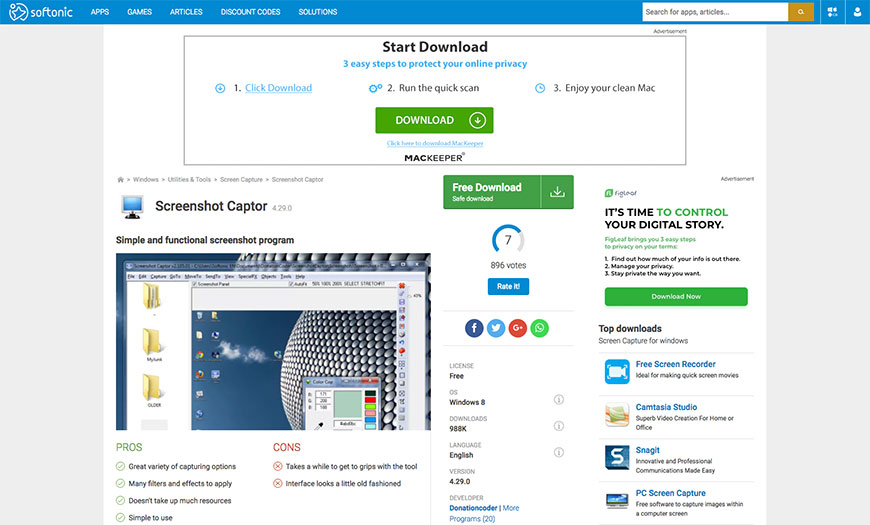 A top-class tool for screenshot takers with a finger on the Print Screen button, Screenshot Captor is optimized for lots of captures. Boasting a full complement of acquiring screenshots, this program can take advantage of transparency effects used in Windows 7. Screenshot Captor offers unparalleled multi-monitor functionality in all its capture modes, all of which have separate customizable hotkeys. When editing, Screenshot Captor can easily insert text boxes and arrows, along with file comments and eye-catching captions. Its special effects array is among the best, and features ragged edge splicing, smart text removal, and pixilation, just to name a few. Screenshot Captor can easily rename saved images, as well as convert files to other formats, and can even make thumbnails and watermarks. With its ability to integrate with many tools from a 3rd party, Screenshot Captor's versatility is second to none and will serve any user exceptionally well.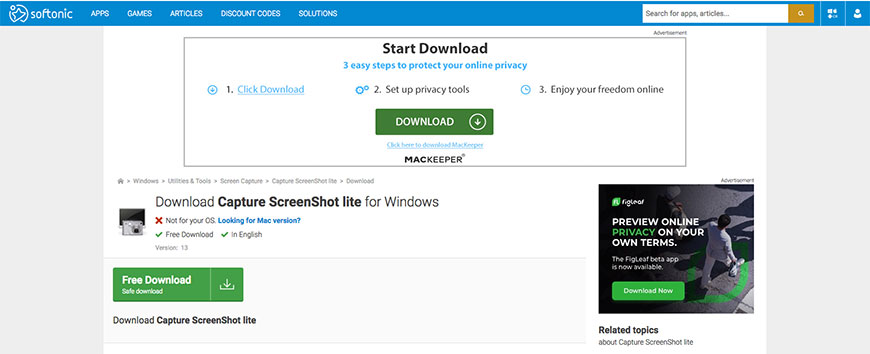 Offering a fast and effective screen capture functionality, Capture integrates seamlessly with all versions of Windows, all the way back to Windows 95. Capture lets users take screenshots of single windows as well as the entire screen, at any depth or resolution they need. Users control Capture from the Windows tray and need only left-click on its icon to take a screenshot. After capturing an image, Capture can save it as a Bitmap file, where users can easily edit it. While Capture is not designed for editing images on its own, its ease of use makes it ideal for taking screenshots. If a user has an older system that cannot handle some of the more feature-rich programs, Capture can offer a solution to their image capturing woes. Even newer systems can make excellent use of a program that takes screenshots with one click. Users that want to take screenshots quickly and effectively can easily find a spot in their toolbox for Capture.

An extremely user-friendly program, CaptureExpress lets users create and edit premium image content with virtually no hassle whatsoever. With the ability to modify the selected media in the middle of the capture process, this program gets the right image every time. CaptureExpress offers a streamlined capturing process, cutting the number of steps involved down to a minimum. This program also has an automatic repeating capture; users who want to monitor what a computer does over time will find this quite helpful. Once it captures a screenshot, CaptureExpress can save it in several formats, including .bmp, .gif, and .jpg, to name a few. After selecting compression and resolution levels, CaptureExpress can email images, copy them to the clipboard, or send them to the printer. While not a free offering, CaptureExpress is available at a very reasonable one-time price, which includes free tech support. Anyone who wants to capture quick and easy screenshots will like CaptureExpress.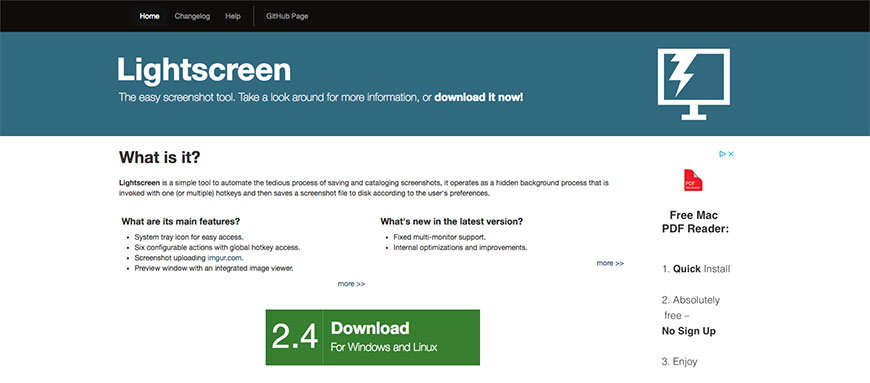 Available for Linux as well as Windows, Lightscreen works behind the scenes to capture quality screenshots from multiple monitors. Operated solely by hotkey controls, this program fully automates the capturing process; users need only set their hotkeys and their saving preferences beforehand. With the ability to adjust the capture box, Lightscreen makes it easy for users to select exactly what they want to record. After capturing an image, Lightscreen lets users preview it in a separate window before they upload it. While Lightscreen has no true editor function, it easily organizes images automatically, so users will have no trouble finding them with an editor program. Lightscreen also sports compatibility with imgur.com, giving users a readily available platform to post their image content in no time at all. Available as a free download, Lightscreen can get an aspiring user up-and-running content in record time.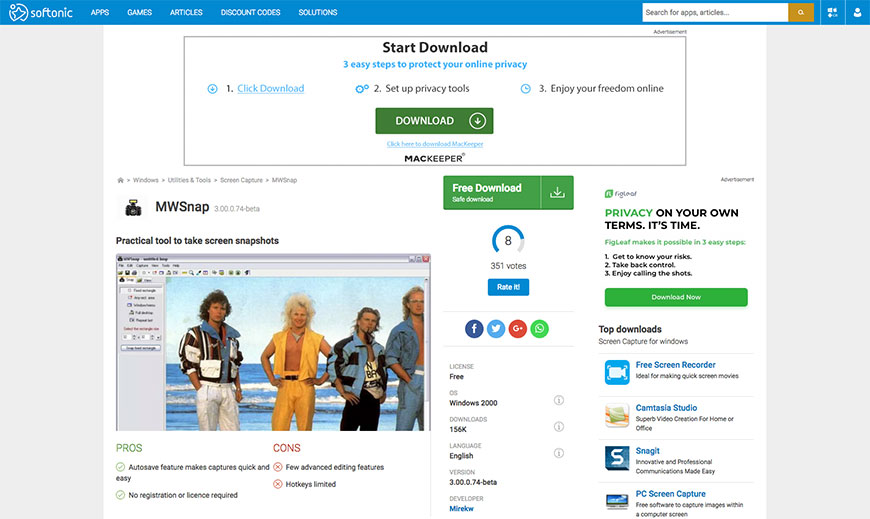 A pint-sized capturing powerhouse, MWSnap is offered as a freeware Windows addition, needing no installation or specialized files; it can integrate with any 32-bit system easily. Offering snapping modes for the entire desktop, highlighted windows, active menus, controls, or specified parts of the screen, MWSnap easily locks onto whatever a user wants. This program can support five graphics formats—BMP, JPG, TIFF, PNG, and GIF—and can double as a viewer and converter. As an editor, MWSnap provides a color picker, ruler, and zoom tool to fine-tune images, and can paste content to the clipboard. With a fully configurable user interface, this program is operated by system-wide hotkeys. Available from the system tray, MWSnap automatically starts, saves, and prints images, keeping these hassles out of users' hair. After devising such a potent, efficient screen capturing tool, the creators of MWSnap deserve a hat-tip at the very least.

After a complete remodel and several extensive upgrades, ScreenHunter 7 stands head and shoulders above other programs, including its earlier incarnations. Optimized for Windows 7, 8, and 10, ScreenHunter offers both a free screen capture tool and screen recorder, though two premium versions are also available. ScreenHunter's basic version can easily meet a user's requirements, as it can select whatever portion of an image a user wants, as well as record up to 10 minutes of MPEG-4 video. The basic version also features flexible hotkeys, a desktop toolbar, and automatic naming when you save a file. Users who opt for the Plus or Pro versions of ScreenHunter will receive sound and webcam recording, game captures and shapes, and auto-capture, just to name a few. With premium options priced at $30 or less, even the most pennywise users would have little cause to object. Anyone who needs a quality video and screenshot recorder will be happy with ScreenHunter 7.

Combining screen capture functionality, editing, and sharing tools, Screenpresso is a streamlined freeware powerhouse. Upon installation, Screenpresso integrates with the Print Screen function seamlessly, all the way down to turning the cursor into a target crosshair. By moving the crosshair, users easily highlight exactly what they need to capture; users who prefer to use hotkeys and take scrolling screenshots can easily set these up. Screenpresso can also capture the cursor itself and delay capture, to put the image in whatever context is needed. With a state-of-the-art editor, Screenpresso can add shapes, text boxes, speech bubbles and more to screenshots. From Screenpresso's Workspace widgets, users can drag and drop files to any location, such as the clipboard, e-mails, or any other programs. Optimized for sharing, Screenpresso is compatible with Google Drive, YouTube, Dropbox and Facebook, to name a few, and can export content via tiny URLs. Users who are looking for a perfect workflow will find it with Screenpresso.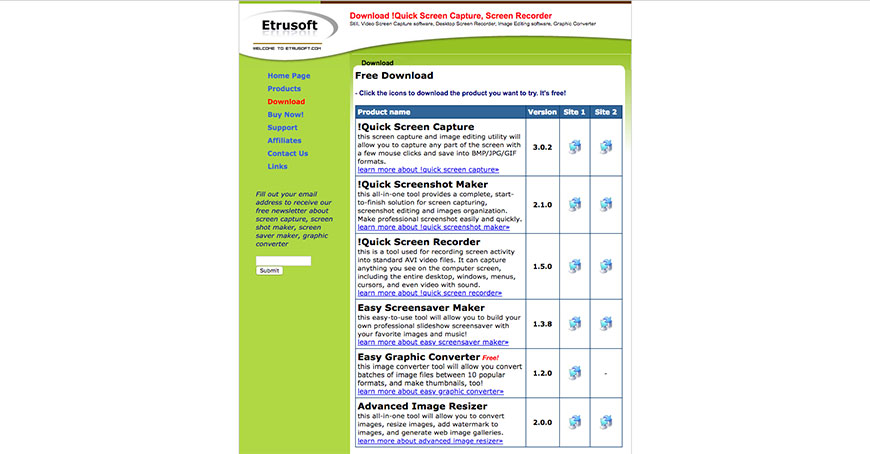 Available as a free download, !Quick Screen Capture lives up to its name, providing a feature-rich screen capture and editing tool. Offering maximum flexibility with 10 unique capturing methods, !Quick can operate from the system tray with its customizable hotkey controls. !Quick provides an exhaustive menu of editing tools, including zoom, drag, crop, resize, eraser, text, shapes, and flood fill, to name a few. Able to save files in BMP, JPG, or GIF formats, !Quick can easily address many file compatibility issues. This program effortlessly supports auto-saving and posting to the clipboard, giving users multiple ways of getting their content ready for posting. With multiple top ratings and glowing comments, !Quick Screen Capture would be a welcome addition to any user's repertoire of screenshot capturing and editing programs.

A fully-fledged screen capturing and recording platform, FastStone Screen Capture offers a complete package free of charge. Able to capture anything and everything on the screen, FastStone can also record on-screen activities, including mouse activity, and off-screen audio. FastStone's editing suite allows for a variety of annotations, such as lines, arrows, shapes, text boxes and highlight, just for starters. This program can also utilize hotkeys, automatic file-naming, screen magnification, and external editors, if necessary. Able to save with BMP, GIF, JPEG, PCX, PNG, TIFF, PDF and WMV formats, FastStone takes file compatibility out of the equation. When it comes to sharing options, FastStone can send images to print, email, clipboard, Word or PowerPoint, or to a website. When not in use, FastStone stays in the system tray, behind the scenes and out of the way. If users need a premium program without a premium price, FastStone is a good way to go.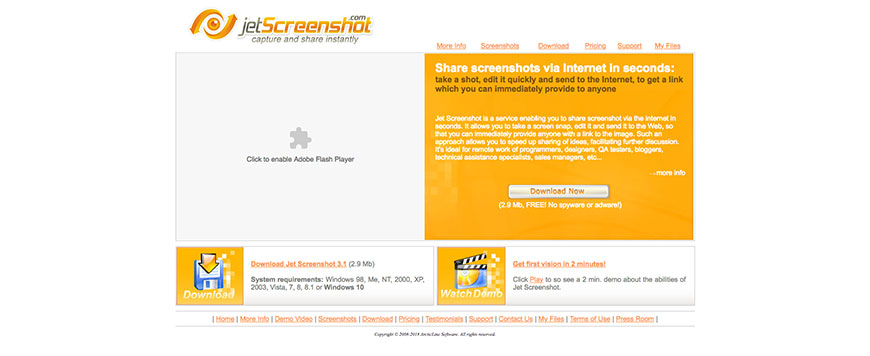 Designed for both casual users and professional clients, Jet Screenshot turbocharges content sharing like few others. Offered in a free package alongside two premium options, Jet Screenshot works entirely from the taskbar; a single click will load the selection marker. Once the image is selected and captured—all in seconds—Jet will prompt users to either edit or "Share to Web." Clicking the latter will create a link to the image in the clipboard, where users can share it however they choose. On the editing side, Jet's basic package gives a good toolkit: crop, pen, text, arrow, ellipse, rectangle, and line features, with more advanced options reserved for the paid packages. Casual users will be satisfied with the free package, but anyone who intends to share content for business purposes will need one of the paid plans. In any case, whether for business or leisure, Jet Screenshot is tough to beat.

At $39.99, Ashampoo Snap 9 is one of the pricier programs, but anyone who pays will say it is worth the money and more. Combining screen captures, video recording, editing, and cloud compatibility, Snap 9 is a complete content sharing platform for Windows 7 and above. With only a few clicks, Snap 9 can capture images or record videos, even from webcam conversations, live streams, or Skype calls. Snap 9's editor function is integrated and intuitive, able to insert shapes, text, and other graphics, as well as extract text from image files. Snap 9 also possesses automatic features, such as the ability to stop recording when the action is over, taking some of the work out of users' hands. Fully cloud-compatible, Snap 9 can interact freely with sharing applications, such as Evernote, making it easy for users to get their content online. With so many features, Ashampoo Snap 9 is the very definition of a premium program.
A time-honored, tested screenshot utility, the Snipping Tool offers excellent screen capturing functionality for Windows users. Originally introduced to Vista, this tool has been updated to remain compatible with modern systems, including Windows 10. Its screen-capture functions let it record still images of open windows, specified rectangular areas, a free-form space, or the whole screen. The update to Windows 10 has since added the option for time-delay screenshots. Snipping Tool's editing features are admittedly somewhat basic, limited to different colored pens, an eraser, and a highlighter, so users may need a separate editor for fancier annotations. That said, Snipping Tool is compatible with both mouse and tablet, giving users added flexibility in where they can work from. Snipping Tool can store images as PNG, GIF, JPEG, and MHTML files, as well as e-mail images. Users of older systems will be relieved to know that the Snipping Tool can support their content sharing efforts.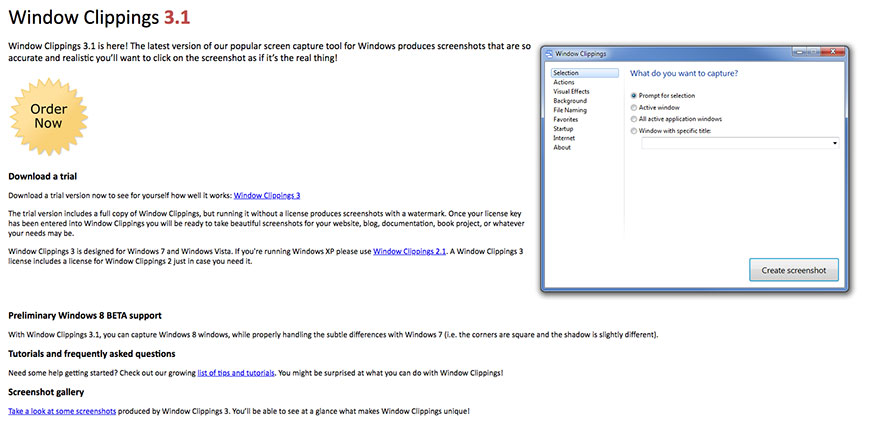 A focused screenshot capture utility, Window Clippings gets down to the business of taking screenshots quickly. While it is available in trial form, users will ultimately need to pay a fee to make use of Window Clippings. This tool allows users to capture screenshots that include the effects of more recent versions of Windows. Where other programs miss the transparency, shadows, and glass-effects in Windows Vista and above, Clippings sees these and records them, so users need not worry about images being affected. While it has no editor of its own, more recent versions can send images directly to Paint.NET or OneNote for easy editing access. Users that would like to expand its functionality will have no trouble finding the add-ins they need for this program. With its focus on taking screenshots and sending them for editing, Window Clippings is a fine addition to any content creation stable.

Cross-Platform
For users who do not have any preference for a single operating system, or who work on several systems, several tools are available. These are some of the more popular programs that are compatible with multiple systems.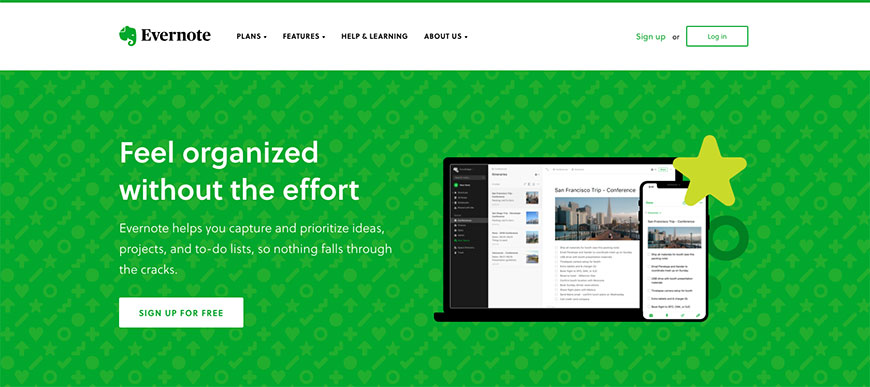 Less a program and more of an online service, Evernote goes beyond cross-platform and is also available for iPhone and Windows Mobile. Evernote offers a myriad of tools to users, though some of its services are exclusive to those who pay. Evernote is available in three packages: a free Basic subscription, a Premium package at $89.99 per year, and a Business option at $14.99 per user per year. Even the Basic package would please casual users, offering an allowance of 60 MB/month in uploads, the ability to clip pages, images, and PDFs. It also lets users share notes with other users, and search images for text, while offering online support for mobile and desktop apps. The Premium and Business options go further, increasing the upload limit, forwarding emails, annotating PDFs, and digitizing business cards. With Evernote, anyone from casual users to digital professionals can upload content.

Snagit's baby brother, Jing is another creation of the TechSmith family. Whereas Snagit offers a wide array of customization options, Jing focuses more on ease and speed of posting. Jing is free to download, but users will need to create an account online, and link it to either a Flickr or YouTube account. Once this is done, however, users will be able to capture screenshots and share them via URL in a matter of seconds. For users with a little extra cash, there is an option to upgrade to Jing Pro at $15 per year. Jing Pro offers all the benefits of the free download, as well as removing the Jing watermark, and adding MPEG recordings. Users that like the idea of Snagit, but don't need all its bells and whistles will like Jing. Anyone who wants to get their images ready and online fast will fit into Jing's niche.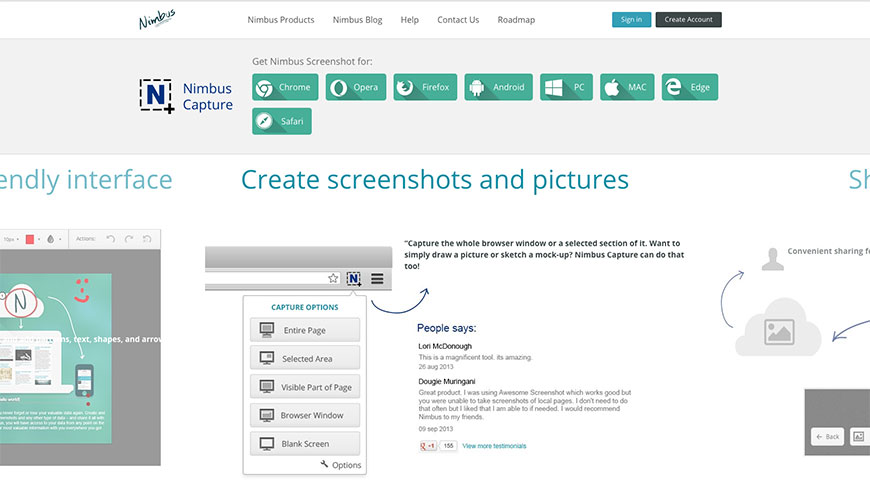 Also known as Nimbus Screenshot, this program offers a very friendly interface across all web browsers. With its ability to capture the entire screen or just a portion of it, Nimbus lets users select exactly what they want to show. Its editor function is state of the art, and can resize, crop, or even blur out parts of the screenshot. Furthermore, the editor can add patterns, text, and arrows to any image, making it easy for users to draw pictures or mockups. Nimbus can also save images, copy them to the clipboard, and even send them to the printer. Finally, Nimbus is fully compatible with Google Drive, and has its own storage drive, giving users flexibility in how to share content. With its ease of use, availability, and editing features, Nimbus would be an asset. Anyone using Windows or Mac to share image content would have a faithful friend with Nimbus Capture.

Developed by the company with the same name, Monosnap has been praised by several sites, including Addictive Tips, OneDayOneApp, and MakeUseOf. Its screen capture function has two modes: one to capture the whole screen, and one for a partial capture, including a magnifier. Once an image has been snapped, Monosnap automatically opens its editor, though this can be toggled off. Mac users will be pleased to find that Monosnap can open any other editor program compatible with png files. Like other editors, Monosnap offers a wide complement of tools, such as pen, line, shapes, arrows, texts, and blurring. It also provides a crop tool, to filter out unnecessary details that users might not see at first. Monosnap is fully cloud-compatible and can support Dropbox, Evernote, Box.com, and CloudApp connectivity. With its virtually limitless cloud space, Monosnap can easily stand next to any premium screenshot capture program.

An excellent addition to any image capturing toolbox, LightShot is both free to download and exceptionally easy to use. Its user interface is extremely friendly, allowing users to take screenshots in two clicks or less. With a top of one hotkey, LightShot can record an image, be it a portion of the screen or the whole screen. Despite being free, LightShot has an editing repertoire comparable to any premium image capturing program. Its editor function allows for a wide range of customizations, including text annotations. In addition, LightShot users have the option of creating a free account. Here, they can create their own gallery of images, for reference and storage, sharing, and even online backup, should the worst happen. Striking an excellent balance between editing features and ease of use, LightShot makes posting simple. Users who want a good array of editing options at a bargain should consider using LightShot.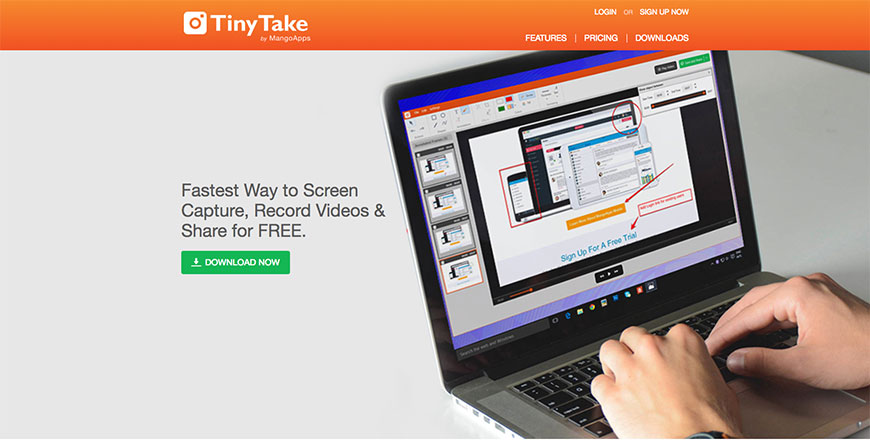 Created by Mango Apps, TinyTake allows users to capture and share image and video content. Once loaded, TinyTake guides users in specifying what type of capture they would like – image or video – and what size, through an expanding box. Those who opt for videos will be delighted to find that TinyTake can record up to 120 minutes of video. Once users are finished capturing, TinyTake's editor makes refining content simple. Users can insert or remove image details, add different wallpapers, highlight details or blur them out. Even the interface can be modified, as TinyTake allows users to use customized shortcut keys. TinyTake can even make use of a webcam to capture images and video. Finally, TinyTake can save content locally, move it to a clipboard, store it in the cloud, and share it via customized links. With such a feature-rich experience, TinyTake is anything but tiny.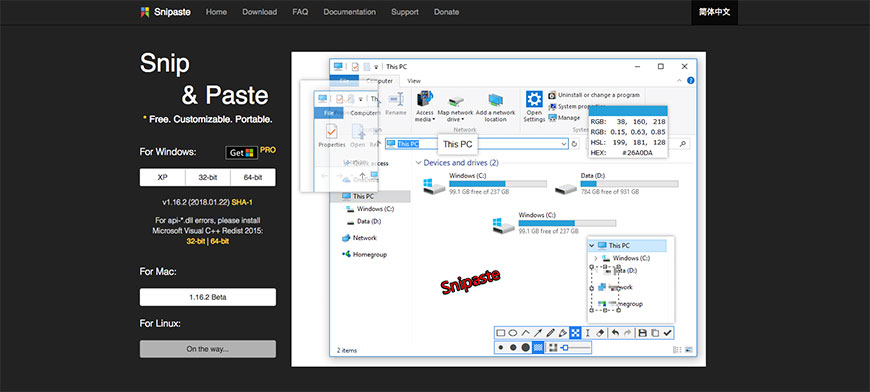 With a seemingly perfect mix of simplicity and power, Snipaste takes intuitive use to a new level. Getting started is as easy as pressing F1 to snip an image, and then F3 to paste it into a floating window. From this window, Snipaste's editing features can be used, practically all of which can be used with a few buttons, streamlining the editing process. This does not mean that Snipaste is feature-light; far from it. Users can zoom in or out on images, rotate or flip, set transparency, use thumbnail mode, or edit the image itself. Image annotation features include shapes, text, and arrows, along with advanced options like mosaic, blurring, and eraser. For those who are interested in Snipaste's hidden features, an online user manual is available, along with online support. Any user who enjoys a sleek, intuitive experience should check out Snipaste; it would be well worth the time.

The brain-child of TechSmith, this program has an extensive array of options for customizing screenshots. With built-in advanced editing and screen recording, Snagit is a one-stop shop for creating and refining image-based digital content. Able to capture anything on a screen, from the entire desktop down to a single message window, Snagit makes it easy to get the right picture. This program also has a full complement of image-editing tools, including text-boxes, designing shapes, stamps, and fill colors. Snagit can also add images to an e-mail or create a short URL to let contacts find your content with ease. It can even extract text from a screen capture to be pasted elsewhere, eliminating the hassle of retyping again and again. While Snagit must be purchased from TechSmith, there is a free trial available from their website. This way, users can see if Snagit is right for them. With so many features, Windows users the world over should find something to love about Snagit.

Another free-to-download program, LICECap is aimed more towards users who aspire towards being videographers, rather than photographers. While its screenshot capturing options are limited, it allows users to record videos in GIF and LCF formats. With an intuitive, flexible user interface, LICECap also boasts high-quality videos and even higher performance; users need only stay aware of video file sizes. LICECap can adjust its maximum frame rate, allowing for throttling CPU use, while maintaining excellent video quality. LICECap makes use of global hotkeys to toggle pausing during recording. It can even move the capture frame during recording and insert text messages while recording is paused, without affecting framerate. LICECap is fully compatible with multiple versions of Windows and macOS, all the way back to Windows XP and macOS 10.4+. Users who fancy themselves as electronic directors will find that LICECap is exactly what they need to see their visions realized.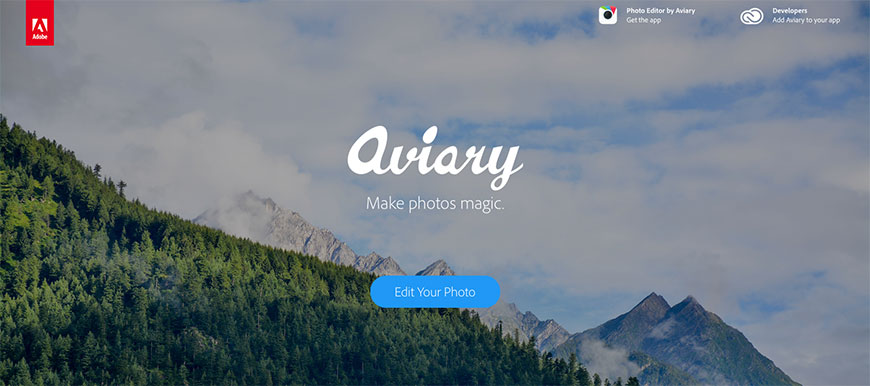 Available as both a mobile and a desktop app, Aviary puts professional photo editing in the hands of everyday users. Brought to market by the minds behind Adobe, Aviary is focused more on editing images rather than capturing them, although this hardly matters on a mobile device. Users will find that Aviary's array of filters can create any effect they desire, from sharpening an image to softening parts of it. Aviary also lets users add captions and doodles to photos, and comes pre-loaded with creative supplies like frames, stickers, and overlays. For users that need a little inspiration, Aviary provides a gallery of curated photos made by other users, to jump-start those creative juices. Even if one is away from one's devices, Aviary lets you sign into the Adobe Creative Cloud with your Adobe ID for access anywhere. With Aviary on your side, any device can be a photo lab.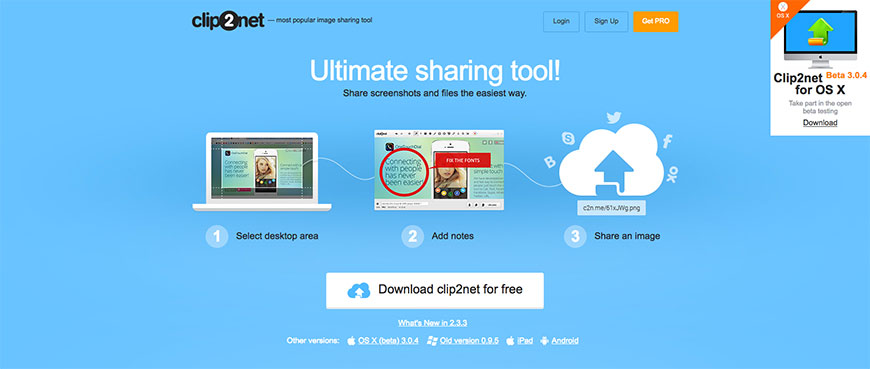 Not so much a program as an online sharing service, Clip2Net provides an excellent way to edit and share content. Clip2Net is available as a free download as well as through two premium packages, which offer additional features. Even the basic download delivers an extensive toolkit for tweaking screenshots, however. The interface hotkeys are fully customizable, and the editor comes equipped with arrows, markers, and notes. Clip2Net can also record video, save files to your servers, create short, ad-free links to your content, and store files on its servers. Naturally, the premium plans offer more storage space, storage time, more uploads, and a higher maximum file size. That said, at a price between $12 and $30 per year, users might want to consider going premium. With a service like Clip2Net, editing and sharing images and videos couldn't be simpler.

Though its name might suggest that it's specific to one browser, Fireshot is an effective tool for Chrome and Internet Explorer users, along with Firefox. Able to save screenshots in both PDF and image format, Fireshot has a wide range of editing options, including text annotations. With Fireshot, users are just a few clicks away from taking a screen capture, be it a small section of a page or the whole screen. Once captured, images can be used on a clipboard, saved to hard drive, printed, e-mailed, or posted to social media. Fireshot's editor even lets users draw on the image, and add text, arrows, or shapes. Users that work on multiple browsers will find plenty to love about Fireshot's myriad customization features and flexibility. With Fireshot on your side, you can create and share content with ease, no matter what platform you use to create your online presence.
Browser Extensions & Plugins
While not full-fledged programs on their own, there are several add-ons and extensions to existing programs that make capturing easier. The following are some of the more prominent examples of these kinds of plugins.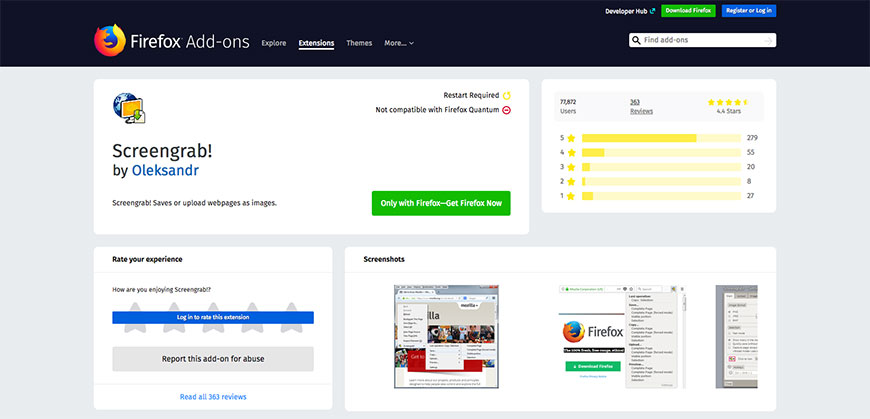 Although it may not be the flashiest screenshot editor on the market, ScreenGrab has muscle where it counts. Able to capture both partial and full-screen images, this Chrome and Firefox add-on can save automatically, post the image to a clipboard, or let users save manually in a number of formats. With an intuitive interface, ScreenGrab lets users get down to business quickly, and has a Help function available for anyone with additional questions. The interface hotkeys can be customized to users' preferences to further optimize the screen capturing process. Its upload functions are fully compatible with sites like Imgur, making it easy for users to post new content. ScreenGrab's features might be considered spartan, but users who do not need a lot of bells and whistles will not complain about its performance. If you want an editing program that can do the job, without any frills, ScreenGrab is the right program for you.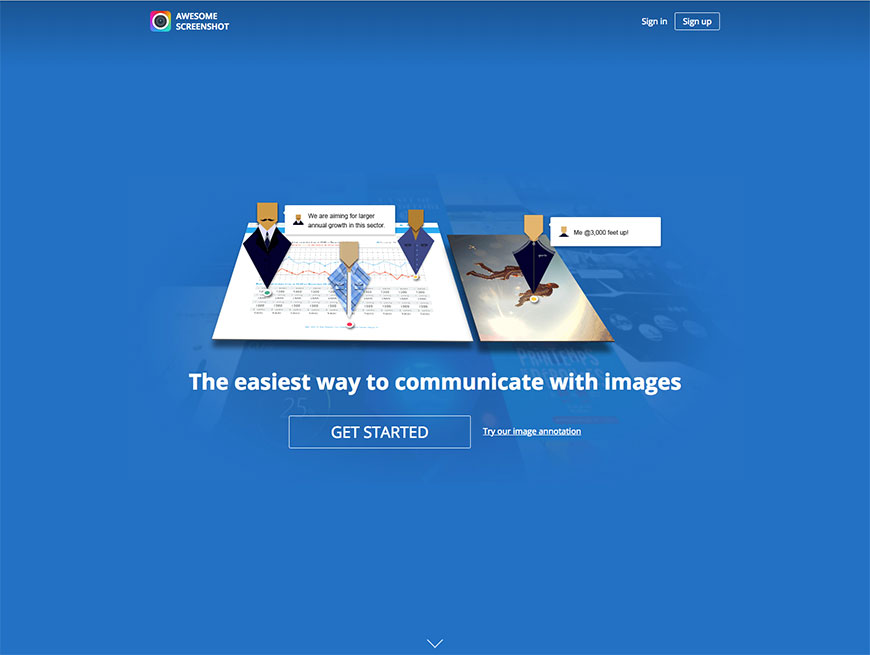 An extension to the Chrome browser, Awesome screenshot provides a good supplement to an existing screen capture functionality. After capturing a screenshot, this extension can store images directly to its own servers, cutting down on memory usage. Awesome screenshot has its own editing options, letting users add annotations, such as shapes, arrows and text, and share images directly. The extension also gives users the option of blurring parts of a screenshot, to either highlight or emphasize important parts, or to obscure sensitive information. When sharing, this extension lets users request feedback on their images; for professionals and businesspeople, this is potentially very useful. When paired with another program—more focused on taking screenshots or editing them—this extension can potentially fill gaps in functionality, while still functioning alone. For Chrome fans who need just a little bit of extra help, Awesome screenshot can certainly provide.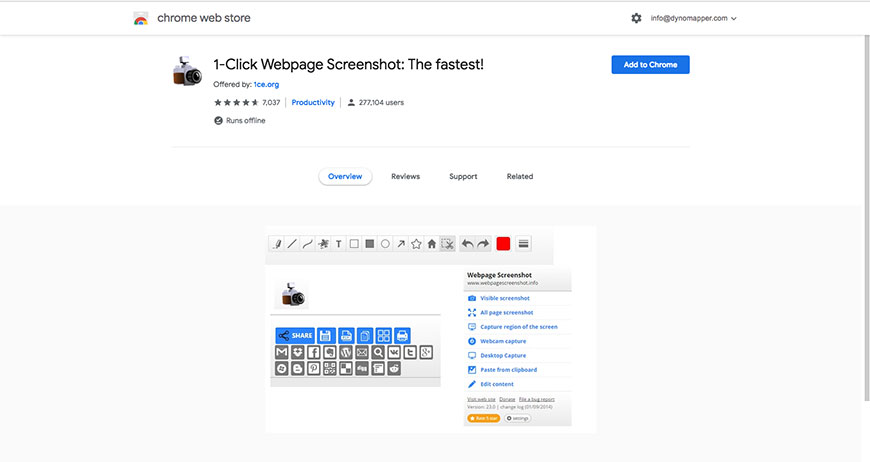 Another Chrome addon, 1Click provides a fast, effective way to save and share screenshots. Offered as free, open source software, 1Click is able to capture any and all webpage content, be it horizontal or vertical. Its editing features include shapes, arrows, lines, and text, along with a spray to provide image blurring. Once the editing is complete, 1Click can send the image for printing, save it as a PNG file or a PDF, or upload it elsewhere. Featuring compatibility with social sites such as Facebook, Google Drive, Gmail, and Evernote, 1Click can also use its own storage, which offers unlimited space for content. Users who prefer quality screenshots at a fast pace will like 1Click Screenshot.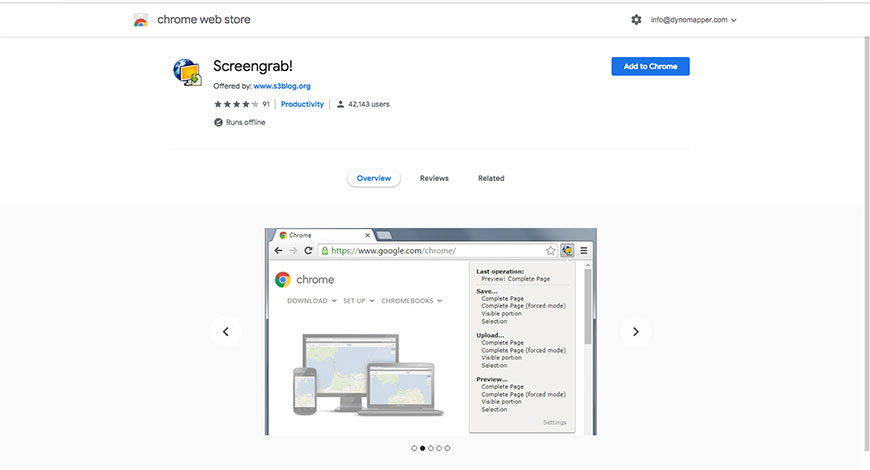 Offered as an add-on for both Chrome and Firefox, Screengrab is a boon to those who are quick to capture screenshots, and who need a simple tool. In both cases, Screengrab meets that need by automating the entire process; users need only set up a shortcut beforehand, and Screengrab does the rest. Screengrab captures images in two modes—either the whole screen or the active windows—and can save files as BMP, JPG, TIFF, and PNG. Compatible with sharing sites like Snaggy or Imgur, Screengrab allows for quick previews before uploading directly to a hosting site. Fans of Chrome and Firefox who like taking screenshots with minimal effort will find that Screengrab suits their browsing style just fine.

An add-on specific to Firefox, Full Web Page Screenshots says it all in its name. This extension lets users take screenshots of entire web pages; it can even capture all active tabs in a single swoop. This program offers annotation and editing features, allowing users to fine-tune their content before setting it in stone and sending it out. The extension can also save images in PDF format, and send them to the clipboard or printer, in addition to uploading them to sharing sites. Firefox users can confidently add another tool to their screen capture toolkit with this extension.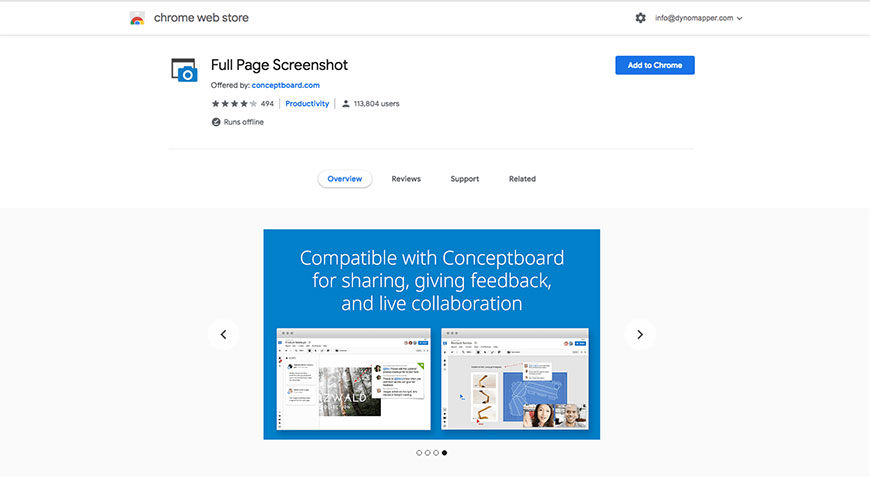 With a simple and efficient interface, Full Page Screenshot integrates seamlessly with the Chrome browser. Able to take screenshots with only a click, this extension can save images in PNG format on your device. Even when the web is unavailable, users need not fret; Full Page Screenshot can access images while offline, as well as take screenshots from an intranet or from local files. By fine-tuning the capture settings, users can configure delays to record animations, or cut out pesky headers and footers. Sharing is made even simpler, with this extension allowing users to drag and drop images directly into other apps. Finally, this extension's privacy policy is ironclad; thanks to server-less processing, all captures and data stay on the user's device. If you are taking screenshots with Chrome, you should have this extension.
The previous tools and programs are only a sampling of what is available on the market. A user's specific image-capturing requirements will determine what apps, add-ons, or other software products that user will need. In closing, we will urge all prospective users to be fully aware of what software you need, as well as what is on the market, good and bad.
Good luck, and happy screen-capturing!
Back