Have you ever tried to post a URL to a social media site or elsewhere and were frustrated by how long the link was? This is where a URL shortener would be helpful. There are different URL shortener tools out there on the internet to do this for you automatically, but it might not be easy to figure out which one is best. Here is a list of the top 14 URL shorteners online that you may find helpful. When using any online tool, it is important that you find the one that is right for you.
What is a URL shortener?
Links can be long, complicated, and difficult to track. A URL shortener is a tool that can take your link and make it your own by using your brand. Many URL shorteners can also give you information about who is clicking on your links and why. Keeping track of this information is one way to increase the visitors to your site.
What are the benefits of a URL shortener?
You might be thinking that shortening your URL is an extra step, but it is an important one. URL shorteners are beneficial because they can make a link more visually appealing, it allows you to show off your brand, and shortened links will fit in places where you have a limited number of characters to use. Take Twitter, for example. Even though 280 characters are allowed now, that is still not a lot of spaces when you have more to say.
Using a URL shortener can also help users to feel more comfortable clicking. Sometimes links can be spam, but with shorteners, your users will be familiar with your brand. With shortened links, you may even get more clicks.
Top 14 URL Shortener Tools

Bitly is one of the most popular shortener tools out there on the internet. While you may not know it, links can have an impact on customer experience. It can help make that experience great. Not only can it create shorter links, but the service can also help to optimize the brand of the company and keep track of link analytics. Whether you are looking to shorten links for social media or mobile apps, Bitly can help to make sure the links being used make a positive impact on customers by ensuring that they work properly, so the user gets where they need to go.
Bitly is a service that has been trusted by major companies such as McDonald's, Dunkin' Donuts and GE. You can create a free account by logging in with a Gmail account, Facebook or Twitter. If you are looking for more, you can contact Bitly to learn more about their customer service to look at options.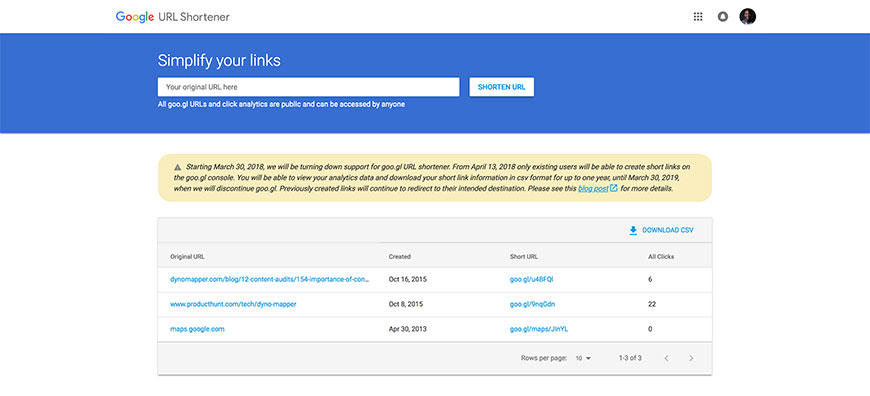 Goo.gl is another URL shortener that can be used to quickly get a shortened link. By having a Google account, you can go to the app and copy and paste the link you would like shortened. Goo.gl also offers tracking and analytics services, but beware that the information is available publicly online. Once you submit the link to be shortened, the information will pop up on the bottom of your screen. This is a neat way to see all the shortened links in one place in a list. This can be helpful to keep track of the links you have shortened.
Goo.gl also offers the opportunity for you to learn from the information you have gathered from the analytics feature. By learning about who is clicking on your links, you can understand what your audience needs from you for your next post. Unfortunately, Goo.gl will be disabled in March of 2019, but links will still go to their destination.
TinyURL.com is another great tool where you can shorten your links. It offers the opportunity to customize that last few characters of the link, so you can stay consistent with your branding. If you need to shorten links often, then TinyURL.com may be perfect for you. It can be added to your browser's toolbar for easy access. This way, you don't have to go looking for the tool. It can also be used to make shortened URLs for your website. This can come in handy and make link developing much easier.
By using TinyURL.com, you will have easy access to a totally free tool that can make your life much easier. All you'll need to do is click on the button when you are on the page you want to turn into a smaller link. Then you can copy and paste it to where it needs to go. The links made by TinyURL.com will never expire, so you don't have to worry about breaking links.

Ow.ly is a shortener tool that is best known for its connection to Hootsuite. It can be used right inside the HootSuite Dashboard so that all your information is in one place.
It is also a tool that can help you to measure data about how your links are performing and use this information to your advantage. Just by using the free version of HootSuite, you can get Ow.ly for free as well. You will need a Hootsuite account to use it. The benefit of needing a Hootsuite account is that the tool will be more secure than if everyone were able to use it. While there is a free account, you can also upgrade to get more features.
Plans range from $19 per month for 10 profile and one user to $499 per month for 50 profiles and 5-10 users. With these plans, you can get real-time analytics, a custom branded URL, and many other great features.

By just bookmarking the link, you can get Is.gd quickly to shorten your links. This is one of the fastest tools if all you're looking for is a shorter link. It also has the ability to create a QR code that can be added to your business cards or advertisements, so that users can get to your links that way as well. This is a neat feature as many smartphones have the ability to read QR codes. This can help your reader to get where they need to go quicker. It also allows them to go straight from your business card or magazine article in print.
You can automatically check your link's statistics by previewing your page with the preview feature. The links will be available forever, as they do not change. They are permanent once they are created. Another great feature is that you can also customize the links at the end to make them unique to your brand.

Buff.ly is a product of Buffer, a popular social media management tool. After shortening your links, they can be scheduled to post at a later time. This can be beneficial if you have certain times you would like your posts to show up on your social media accounts. This is the perfect tool for someone who is looking to shorten their social media links.
A free account will allow you to plan and post links on social media accounts such as Facebook, Twitter, Instagram, LinkedIn, and Google+. If you are also looking to post to Pinterest, you may want to consider getting a paid account.
Plans range from $15 per month to $399 per month, so it depends on how much social media you are looking to post on. For a $15 account, you can plan up to 100 scheduled posts per month. If you need more than that, then you should look into an account with more features.

AdF.ly is a unique service because it not only helps to shorten links, but it also allows its users to make money just by using it. You can earn money when unique visitors click on your shortened links on your blog or social media site. All you need to do is sign up for an account and get started. The best part is it is free to use. The service offers safe advertising with no popups.
You can also get data on how your links are performing, so you can use this information to make better decisions about the links you are posting and what your audience is looking for. By pasting your links on social media accounts like Twitter and Facebook, you can get information about how your links are doing in a simple way. You don't have to be a pro at understanding posting links because it is all done for you with this great, free service.

The online URL shortener tool Bit.do is very easy to use. You can use it by signing up or just by going to its homepage and copying and pasting the long link you would like to have shortened. If you sign up for an account, you can also have access to data on how your links are performing and who is using them from where. In addition, you can have your own personal domain that is related to your business. Many URL shorteners have you use their name, which is how they are able to advertise.
By using Bit.do, a customizable domain is used, so that your brand can be supported when you share links. You will get detailed reports on each click. In this report, you will be able to see information about when the link was clicked and where it came from. The links created with Bit.do will never expire, so you won't have to worry about broken links.
You may recognize the name Mcaf.ee as a popular computer security company. Did you know they also offer a URL shortener tool that you can use to make your links shorter? It allows you to share links on your social media website or blog that have been shortened. In addition to shortening links, it can also give information about where a shortened link has come from. This can be peace of mind if a user is unsure of whether or not they should click on a link.
This service can provide you with the original link, so you know whether or not it is safe to click on. If using a browser such as Chrome or Mozilla Firefox, the plugin can be added right to the browser. This means when you are on the page you need a shortened link for, you only have to click one button. This can save time from having to copy and paste.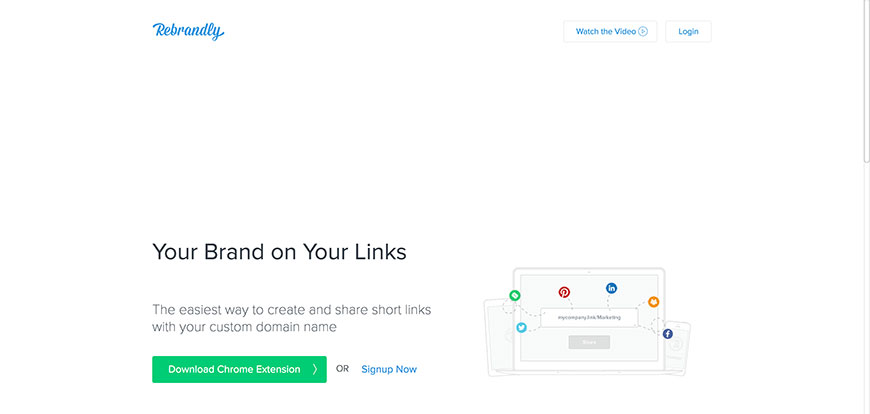 Rebrandly is another URL shortener that can be a great tool to use for anyone looking to shorten their links for social media posting as well as other applications. This tool allows a user to create custom short links that go along with the company's brand. It also allows the editing of already created links, which is not something offered by every shortening tool. This makes this device unique and useful if you are looking to edit links. The links can be shared on any major social media site such as Facebook, Twitter, Instagram and even Pinterest or LinkedIn. It is even known to drive click rates up by over 30%.
There is a free account that allows you to make 1000 short links. If you are looking for more than that, there are paid plans we well. These plans range from $19 per month to $499 per month, depending on what you are looking for. Rebrandly is great if you are looking to rebrand your links as your own.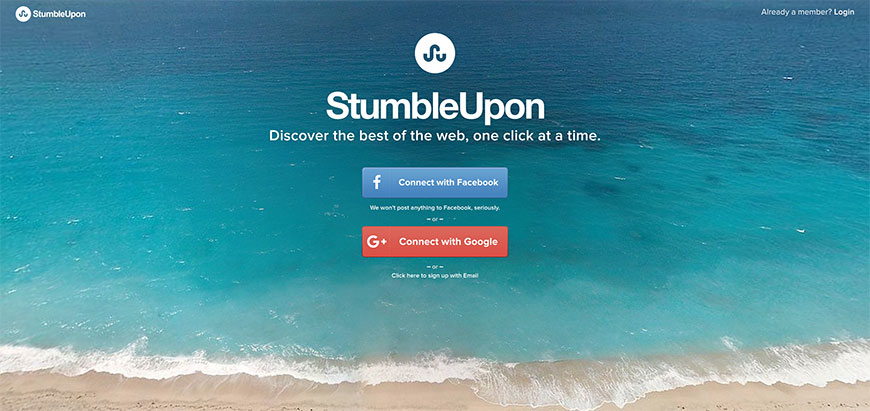 Su.pr is another tool that can help to shorten links and is owned by the Stumbleupon website. If you are unfamiliar with Stumbleupon, it is a website that suggests posts and websites to its users. It is a great site to go to if you are bored and looking for interesting content that is relatable to what you like. It also offers a shortener tool to its users. The service allows posting to Twitter and Facebook, so it is perfect if you are looking for short links for those two social media sites.
If you are looking for short links for other sites, you might want to consider a tool that allows posting on a variety of social media sites. When you use Su.pr as your URL shortener tool, it allows the users to like or comment on your post. This information is then stored in your account and can give you data about how your posts are doing.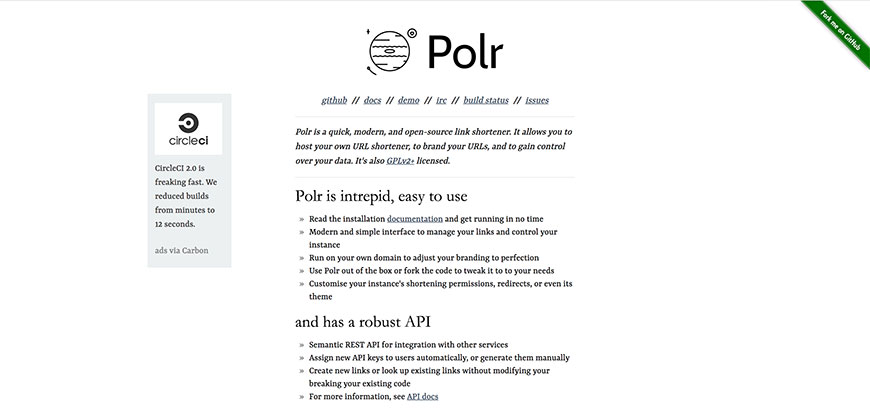 Polr is a URL shortener that is known for its feature of self-hosting, which allows for better branding and therefore better customer trust. It is also a great service to use for shortening links because it has a demo page, which not many other shorteners have. This allows you to try it before you make the commitment. For anyone who is a pro at understanding how URLs and programming works, it can be beneficial for self-hosting.
On the contrary, for those who are not inclined to put forth this extra effort, Polr can also be used as is. No extensive background in programming is necessary to be successful with it. It really is for anyone with any kind of URL shortening experience. Other benefits of using Polr are that you can get analytical data about how your links are performing and the self-hosting ability allows you to give your links any brand you'd like. Since the demo is free, why not give a try?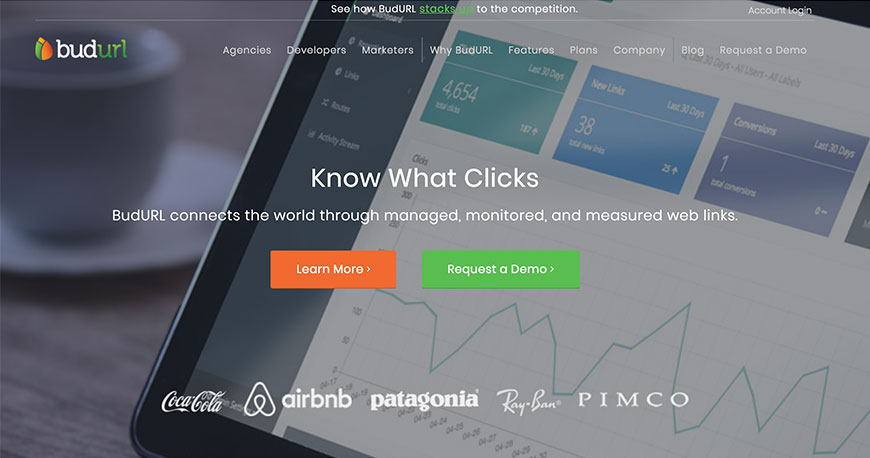 BudURL is another online service that can help to shorten URLs for posts on social media, in emails, and anywhere else you need. The interesting thing about this tool that makes it different than the others is that it offers extensive tracking and managing features. This makes it so it is super easy to share anywhere you need. The tool also offers 100% privacy and control, the ability to publish your link and change the destination at a later date, and the option of changing your content based on current location and device.
By just clicking a button, you can see how many people have clicked on your link. The service is a bit pricey, with plans starting at $99 per month but it is well worth it. Shortening links with BudURL ensure data flexibility, and the company promises that your security will never be compromised!

When going to Moourl.com, you are greeted with an adorable cow. Just copy and paste the link you would like to have shortened in the box and click on "Moo!". Created by Rodrigo Franco, Moourl.com is a URL shortening service that he created as a challenge. Being a software engineer, he has many other projects that have been published to the web. His goal was to create an easy-to-use URL shortener for anyone who needs it.
No matter how long your URL is, you can quickly get it shortened for the benefit of your users. There really isn't much to this site, which isn't a bad thing. It is perfect for someone who is looking to just have a few links shortened. There is no data available to users, but that doesn't mean it won't be helpful. If you are not looking for that and want to try a URL shortener out for the first time, moourl.com may be the place for you.
Back