Website Accessibility Testing
You can test any website that you have crawled using the Create from URL option in the sitemaps menu.
After you have created a sitemap, Click Accessibility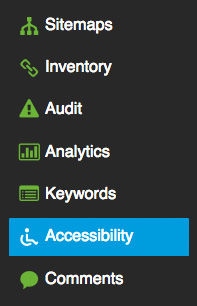 In the dropdown located under Accessibility. Select the website that you would to run an accessibility test on.

Click Run a Test after you have selected your website from the dropdown menu.

Choose one or multiple Guidelines to test your website against.

Choose from the following Accessibility Guidelines:
● BITV 1.0 (Level 2)
● Section 508
● Stanca Act
● WCAG 1.0 (Level A)
● WCAG 1.0 (Level AA)
● WCAG 1.0 (Level AAA)
● WCAG 2.0 (Level A)
● WCAG 2.0 (Level AA)
● WCAG 2.0 (Level AAA)
● WCAG 2.1 (Level A)
● WCAG 2.1 (Level AA)
● WCAG 2.1 (Level AAA)
Then click Run
Your accessibility test will be available to view within a few minutes. The results of your accessibility test can be viewed by clicking the Test Title.

Status
This column displays the pass or fail grade of a particular page. You will see a green checkmark if your page is accessible, a red X tells you that your page did not pass the accessibility test.
Known problems
The number of accessibility issues that have been identified with certainty as accessibility barriers. You must modify your page to fix these problems, then retest.
Likely problems
The number of issues that have been identified as probable barriers, but require a human to make a decision. You will likely need to modify your page to fix these problems;
Potential problem
The problems that DYNO Mapper cannot identify and require a human decision. You may have to modify your page for these issues, but in many cases you will just need to confirm that the problem described is not present and harming usability.
Click Review or the number to see the Accessibility Review page that displays detail for the known problems, likely problems, and potential problems.

This pop-up displays the details of the problems that were found. The description of the problem, the code where the problem appears, and a suggestion of how to repair the problem identified provides you everything you need to fix the accessibility problem. You can export individual page reports by clicking CSV or PDF in the Accessibility Review pop-up or you can export a site wide report by clicking the Export Button on the Accessibility page.